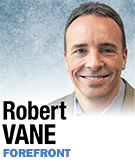 Unquestionably, the biggest political news of this young year was the decision by City-County Councilor Jose Evans to join the Republican Party.
Now, political party switches aren't an everyday occurrence, but they are not particularly rare.
Officials have flipped to become part of a governing majority (U.S. Sens. Richard Shelby and Ben Nighthorse Campbell switched to the GOP after the sweep of 1994).
Sometimes, however, the core values of an elected official become estranged from his party, and he flinches at sedentary party requirements (see U.S. Sen. Joseph Lieberman in Connecticut).
Evans clearly belongs in this latter category. A proven winner who has served on the council since 2008, Evans took a look around his party and his caucus, and determined he was serving the best interests of neither his district nor his conscience by remaining a Democrat.
In many ways, there are no more courageous people in politics than African-American Republicans. Subject to personal attacks by Democrats, ignored by the media, and mostly scorned by fellow black politicians, these brave public servants face almost unbearable ridicule for simply having a different point of view.
Courage may be contagious, however, as more and more black Republicans are gaining national prominence by embracing a free market approach to our economy, education reform and a platform of self-reliance.
One of two African-Americans serving in the U.S. Senate is a Republican, Tim Scott from South Carolina. Artur Davis, the congressman from Alabama who helped nominate Barack Obama at the Democratic National Convention in 2008, had a speaking role at the 2012 Republican National Convention. The speaker of the Oklahoma House of Representatives, T.W. Shannon, is a Republican. Obviously, there are many others.
Now, when compared to the list of African-American Democratic elected officials, the GOP's list is frustratingly short, and that is a significant problem for Republicans. The question is, how can Republicans break the Democratic stranglehold on 90 percent of black voters?
A serious, sustained and funded outreach effort must be a top priority at every level. State Chairman Eric Holcomb and Marion County Chairman Kyle Walker have made this "opportunity messaging" integral to their work. Republican National Chairman Reince Priebus recently announced a $10 million Growth and Opportunity Project aimed at fostering greater minority participation in the GOP.
Will it work? A great question—it simply cannot get any worse, both for our image and in the ballot box. Besides the intrinsic value a more diverse party would bring, Republicans' ability to bite into the Democrats' voting coalition would be a tremendous boost to its political fortunes.
Indiana is positioned to be the epicenter of both the opportunity initiative and improved results on Election Day. Both Mitch Daniels and Greg Ballard did better than average in winning minority votes. Mike Pence has shown a remarkable ability to connect with African-American voters. Hoosier Republican Party leaders are committed to recruiting black candidates and giving them the tools needed to win.
Evans based his move to the GOP on the twin pillars of principles and ideals. Even though he is now in the council minority, Evans will be an effective advocate for Republican governmental reforms and ways to grow our local economy.
The Grand Old Party has a long way to go to be competitive with Democrats for the hearts, minds and votes of African-Americans. We can only hope that our sincere outreach efforts find an audience who is willing to listen and embrace our growth and opportunity project.•
__________
Vane, a U.S. Army veteran, has worked for elected Republican officials including Indianapolis Mayor Greg Ballard, and currently owns the public relations firm Veteran Strategies. Send comments on this column to [email protected].
Please enable JavaScript to view this content.