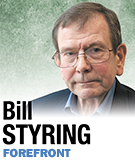 The local business guys and gals I talk to watch the coming full implementation of Obamacare with a sense of angst.
There are too many moving parts. Too many unknowns. Too many what-to-dos.
Larger firms with employer-sponsored health insurance plans must decide whether to keep their plans, or drop the plans and dump their employees on the exchanges and pay the penalty of roughly $2,000 per worker.
Smaller firms face the threshold of 50 full-time workers where Obamacare kicks in. If they're flirting with this cliff, do they fire employees to get under the threshold or perhaps manufacture part-time employees (less than 30 hours per week) out of current full-timers? Or, if they have fewer than 50 employees, just stop growing and avoid Obamacare altogether?
All of these familiar considerations focus on what the employer may want to do. Almost nothing has been said about what the employee will want to do.
The way this cockamamie mess is structured, Obamacare in many cases will make the employee want—even demand—that his employer drop coverage and let the employee shop in the exchanges. He could get a better deal.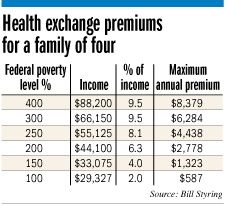 Here's why. Consider the accompanying table. The maximum premium an employee can be charged in the exchanges varies by family size and income.
For example, an employee making $15 an hour (twice the minimum wage) will work a little less than 2,000 hours a year and have a cash income of a little more than $29,000. That falls between 100 percent and 150 percent of poverty. His maximum premium will be 2 percent of income ($587). Beyond that, the federal subsidy kicks in.
We don't know what the "essential health benefits" minimum coverage will be for plans approved for the exchanges. That ruling is still pending from the feds. It's apt to be on the generous side. You can bet the ranch that every niche health care provider group has the lobbying valve cracked to full open to be included. Megabucks are at stake.
Now, refer back to the table and consider that the total premium cost for the run-of-the-mill family plan in 2011 was a little over $15,000, according to the Kaiser Family Foundation. How can a lower- and middle-income employee possibly not do better in the exchange?
He'll get pretty good coverage for a small fraction of the real cost, with the feds paying the lion's share. Compared to his employer's plan, if he has one, it's likely to look pretty good. A similar calculation can be made for individuals.
What does all this mean? The number of persons going into the exchanges has been seriously underestimated. Which means the cost of Obamacare has been wildly underestimated. The demise of employer-sponsored health plans will come sooner than anyone imagines.
The march to eventual single-payer national health care, which many, including me, suspect was the objective all along, will be short.•
__________
Styring is an economist, a former Indiana Chamber of Commerce lobbyist, and a former senior fellow at the Hudson Institute. Send comments on this column to ibjedit@ibj.com.
Please enable JavaScript to view this content.