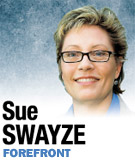 One-sixth of our economy has a big question mark around it. It's OK to call "it" Obamacare now, but we still don't know what it is.
The federal health care plan has gone nowhere fast. Squarely in the second presidential term, we still have more questions than answers. Hoosiers don't like that; if families don't know whether to plant corn or beans, we won't eat later.
What will we do come October, when enrollment hits? Do we enroll in a plan that nobody can explain? Must we pay higher prices for a plan nobody knows how to administer—a hot potato game between the feds and the states?
To be fair, some provisions in Obamacare are already in effect, such as carriers' reporting summary benefits and coverages and limitations on flexible spending accounts.
Yet some are still undefined. My friend is interviewing with a big company in Indiana, but the company is not hiring seasonal people until the difference between "workers" and "employees" is defined.
Come Jan. 1, 2014, when corporate costs skyrocket and/or my taxes increase and the IRS becomes the cashier, the impacts will be stunning.
Small business stands to take the biggest hit: Those with fewer than 50 full-time-equivalent employees will be forced to buy the federal insurance with all of its rich, costly mandates or pay large penalties for not doing so.
As a political hack, it continues to amaze me that there was no provision for women or minority business enterprise relief, a key constituency of the president. This will be painful for them, many of whom are small-business owners.
Individuals will be mandated to purchase insurance, and, with underwriting unavailable through the exchanges, costs for the expanded federal plan are expected to increase at least 20 percent for existing plans; new plans will go up 200 percent to 300 percent.
Most of us don't understand our plans now, let alone under the new scheme. The gap between my ability to pay and my eligibility for Medicaid could be great—will I be in tax default if I don't pay? Or will I pay the $95 default fee the first year, forgo insurance and be uninsured? (Not the idea.)
A big surprise also awaits individuals whose companies decide to continue coverage: disclosing their full income (other part-time jobs, owning a small business) so that their employer can compare it against premium amounts and determine their payments.
Policymakers are also groping in the dark to make decisions for the health (literally) and fiscal welfare of their states.
Gov. Pence and the Legislature appear poised to expand the Healthy Indiana Plan because it controls costs and has overwhelming customer satisfaction. For this reason, the governor has refused to expand the traditional Medicaid program.
For the rest of us, especially small businesses that need predictability and workers who need jobs, the situation is nearing a crisis. A health care crisis of a different proportion—we don't know what we're getting, but, according to the U.S. Supreme Court, we're going to be taxed for it.
Pence's keen statement in a recent Wall Street Journal op-ed showed that his federal experience is paying off for Indiana as he compared Obamacare to a baby elephant: It's a cute gift when it's little and the federal government supplies the hay, but soon the feds will stop providing the hay and we'll have to grow the beast.
Hoosiers don't want a baby elephant. Pence is wise to stay the course and reject administration of an "it" the feds can't explain.•
__________
Swayze leads the Indiana Family Institute's Hoosier Congressional Policy Leadership Series and has held numerous lobbying positions with not-for-profit organizations. Send comments on this column to [email protected].
Please enable JavaScript to view this content.