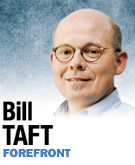 A recent Ball State University study showed a growing movement of Marion County residents to Hamilton County and triggered a series of columns pinning a lot of the blame on poor-quality city schools.
While many would argue this point, we should all chew on the results of a recent report by a little-known not-for-profit in Chicago called IFF that examines availability of quality K-12 educational "seats" in Marion County neighborhood by neighborhood (http://iff.org/resources/content/2/8/documents/INDreport.pdf).
The results show that some portions of Indianapolis are indeed woefully underserved by quality schools, but it also shows that large areas have enough quality schools to provide excellent educations to all neighborhood kids.
The methodology was developed for similar analyses of Chicago; Washington, D.C.; Milwaukee; and several other cities to guide local decisions about investing in education. It determines the "service gap" between the total number of school-age children in a sector of the city and the available number of quality educational seats in any type of school.
The analysis is designed to examine which areas have the greatest need for high-performing seats.
The Indianapolis analysis destroys many popular assumptions, while confirming others. For example, the universal superiority of township schools over Indianapolis Public Schools was disproved by the fact that seven of the 11 areas with the largest service gap were in township districts.
Another surprise is that half of Center Township actually has some of the lowest service gaps in the city. Speedway schools also posted strong results. This well-served core geography stretches from 30th Street south to Troy Avenue, and from White River/Eagle Creek east to the inner loop of Interstate 65. There are similarly strong areas in Washington, Lawrence, Warren, Wayne and Franklin townships.
These portions of the city should be promoted as excellent places to raise school-age children.
Indy's private (or independent) schools had the highest concentration of "performing" schools, with 87 percent to 93 percent rated by the state as A or B. In spite of ongoing debates over the academic performance of charter schools, they had a higher percentage of A and B ratings (43 and 48) than district schools.
Possibly the most important information in the study is the fact that Indianapolis has 17 district and charter schools that provided high-performing seats to students drawn heavily from low-income households.
While charter schools are sometimes perceived as "creaming" from district schools the kids already likely to succeed, they actually showed their strongest relative performance in serving low-income students compared to both independent and district schools. The report quite rightly lifts these schools up as models for how we can better serve low-income students.
There are 11 geographic pockets of the city the analysis recommends for dramatically increasing the number of quality seats. This is designed to guide school boards and groups like The Mind Trust that support creating or replicating quality schools. These targeted areas are scattered among Washington, Perry, IPS, Wayne, Pike and Decatur school districts.
My guess is a similar study of surrounding counties would reveal a similar patchwork of success and failures.
Indy should make the case that superior amenities, convenience and cultural resources make a great place for families with school-age children to live. Now we just need to market our educational strengths and expand the proven educational efforts already at work.
The study shows that this is both achievable and essential if we are to reverse the flow of families from the city.•
__________
Taft is Indianapolis executive director of Local Initiatives Support Corp., a not-for-profit that invests in neighborhood redevelopment projects. Comment at ibjedit@ibj.com.
Please enable JavaScript to view this content.