Two adjoining Chrysler Group factories on the west side of U.S. 31 in Kokomo couldn't be busier. Parking lots seemingly as vast as nearby cornfields empty and fill within minutes as shifts change and the plants churn out thousands of fuel-efficient transmissions.
Since Italy's Fiat snatched Chrysler out of bankruptcy in 2009, the Auburn Hills, Mich., company has announced $1.7 billion in investments in the two plants as well as two other transmission plants it operates in the city.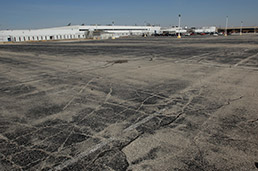 General Motors Component Holdings is struggling to survive after being severed from Delphi engineering prowess. (IBJ Photo/ Perry Reichanadter)
In February, Chrysler said it would pump $212 million into the factories and hire about 400 workers. Another $162 million and 850 workers would be allocated to a never-used plant in nearby Tipton to produce nine-speed transmissions.
Corporate and government leaders explained that the investment reaffirmed how Kokomo, where Chrysler employs more than 6,000, is rebounding with the automaker's own recovery.

But as crowds celebrated the accomplishments, the scene was decidedly different at a General Motors Co. factory across the highway.
Hundreds of parking spaces outside the sprawling plant were unoccupied and many of the windows were dark.
The plant, which makes semiconductor microchips, thick-film printing and an assortment of electronic vehicle components, still has about 1,000 workers. But a decade ago, it boasted four times as many.
Its managers hope a new strategy to find customers outside the automotive industry will sustain, and maybe even grow, the operation.
Industry experts aren't so optimistic. The plant has been cut off from its engineering wing and fallen behind in technology, leaving it with little direct access to innovation.
Staff at the Center for Automotive Research in Ann Arbor, Mich., said General Motors never wanted the plant, but a union contract guarantees ownership of the factory for at least a few years.
"The new structure of automotive [supplier] arms is to not make components at all at that level of detail," said Sean McAlinden, CAR's executive vice president and chief economist.
A failing plant is the last thing Kokomo needs. As one of the most manufacturing-intensive cities in the state, the city lives and dies by the fortunes of Detroit automakers.
Thanks to the Chrysler resurgence, unemployment—over 20 percent in June 2009—has fallen by half but still hovers at 11.5 percent, three points higher than the state average.
Chrysler has long been the biggest employer, but the General Motors plant and GM's former subsidiary, Delphi Automotive, have always been a prominent No. 2.
General Motors absorbed the plant in 2009 when the automaker underwent its own government-forced restructuring. The plant belonged to Delphi Corp., a former GM unit, but the government forced GM to take it and sister electronics manufacturing facilities in Michigan and New York.
Now organized within an arm of GM called General Motors Components Holdings, the plant has an uncertain future at best.
Automakers increasingly are looking to Silicon Valley to help quickly and cheaply ramp up vehicle technology.
"Importantly, Silicon Valley is [composed] of companies that contribute to the prototyping segment, especially important when the entire automotive industry is looking to move from its [internal combustion engines] to [electric vehicles]," Aravind Seshagiri, global semiconductor program manager for consultant firm Frost & Sullivan, said in an email.
Some of the automakers, such as BMW and Volkswagen, are going as far as to open offices in California so they can be close to the companies as they conduct R&D, but not do the research or production themselves.
"Also, some [original equipment manufacturers] are able to give money to support research efforts or to fund projects by nascent Silicon Valley firms that in turn become very influential to drive the market in the automotive space with newer technologies in their chip sets," Seshagiri said.
No longer attached to engineering-centric Delphi, GMCH doesn't have the research and development resources it once did, said Brian King, business development manager of the Kokomo plant.
Instead, the company practices "build-to-print," meaning it takes customers' designs and adjusts manufacturing operations to produce the orders.
"This is our capability," King said. "We have all this production capability and capacity. It's not an uncommon thing out there to do the build-to-print work."
All but an orphan
Evidence of GM interest in GMCH is scant.
The parent's corporate office, for the most part, is hands-off day-to-day operations.
The publicly traded automaker makes no mention of its wholly owned subsidiary in earnings reports or in any other Securities and Exchange Commission filings.
And while Kokomo officials' interaction with management at companies such as Chrysler tends to be a blend of speaking with local leadership and corporate officers, at GMCH, it's almost entirely local.
General Motors would have been able to offload the plant had it not been for a memorandum of understanding among GM, Delphi and United Auto Workers two years before the 2009 reorganization that forced GM to take back the plant and the sister facilities, said Kristin Dziczek, a labor analyst for CAR.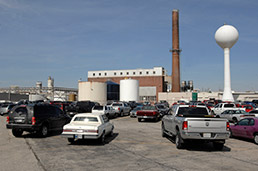 Chrysler's bustling plants have benefited from heavy investment from a resurgent automaker. (IBJ Photo/ Perry Reichanadter)
Part of the agreement—copies of which disgruntled union members posted online in protest—specifies certain products GM would buy from Delphi through 2016 at the latest. When the facility traded hands back to GM, a new agreement maintained the production commitments, meaning GM was supplying itself with the parts made in Kokomo and the other operations now belonging to GMCH.
Dziczek noted the fate of a Delphi-owned parts factory in Flint, Mich., that was part of the same 2007 agreement.
Hourly employees worked for GM while Delphi paid for the managers and equipment. That deal was extended beyond the original September 2011 expiration but will now end in November, and the work will be moved to Mexico.
"I would suspect that when contracts are up, we would see there what happened in Flint," Dziczek said.
Diversification thrust
Managers at GMCH Kokomo would not say how much of the facility's business is dedicated to supplying GM.
But it remains the "primary customer," according to King and Personnel Director Kent Eaton.
To sustain the business, GMCH is searching for customers not only outside of GM, but outside of the automotive industry.
King and Eaton would not name specific customers, but said they are pursuing sales contracts in industries such as aerospace and health care.
"There're a lot of circuit boards in just a hospital bed," Eaton said.
Both men expressed optimism that more sales orders would roll in as the company looks for additional non-auto customers to sustain the operation longer term.
"We've had a lot of success in bringing in new customers," King said. "Obviously, these things take a long time to materialize."
Empty space
A big concern of local government is finding others to fill the empty space.
"They've been very cooperative in trying to market that facility," said Greg Goodnight, Kokomo's mayor. "We've had a lot of people that have looked at it," he added, without divulging names.
McAlinden at CAR said Kokomo might need to consider a public-private approach.
There is precedent for such an idea in the city, his organization noted in a report last year. In 2003, Delphi closed and demolished a 675,000-square-foot building, but donated the nearby administrative offices for a business incubator and Ivy Tech Community College nursing center.•
Please enable JavaScript to view this content.