Unlike his predecessors, Center Township Trustee Eugene Akers has no interest in hoarding cash.
The township ended 2012 with $6.7 million, the lowest bank balance in recent history, but the money won't be going back into taxpayers' wallets.

"Saving money is not one of my business deals," Akers said. "I am here to help the indigent."
Yet the biggest checks Akers has written didn't go to people in need of food, shelter or other emergency services, which is the township's main mission. Akers, a Democrat elected in 2010, has launched a job-training program, acquired real estate, and made major improvements to the Julia M. Carson Government Center on Fall Creek Parkway.
The trustee's activities show how little has changed in the world of township government, while cities and towns struggle to balance their budgets under property-tax caps. Indianapolis Mayor Greg Ballard and City-County Council leaders are trying to cut an additional $30 million from the 2013 budget, in anticipation of another revenue shortfall next year.
"This is sad because the city is up against budget problems," said state Rep. Ed DeLaney, a Democrat who has pushed for eliminating township government. "And yet this goes on underneath."
Akers inherited a cash balance of $8.5 million, the result of years of accumulating surpluses that began under Julia Carson, the late Democratic congresswoman who was Center Township trustee from 1990 to 1996. A friend and political ally of Carson's, Akers, 67, served as Center Township assessor before running for trustee.
He said he found the township had a reputation for turning people away. He tried to reverse that, telling his staff, "We're here to help people. You don't send people away unless they're just really, really beyond reach."
Township spending on direct aid, or poor relief, has fluctuated from $2.6 million when Carl Drummer held the job in 2008 to $1.15 million under his successor, William Douglas, in 2010.
Under Akers, the township spent $1.7 million each of the past two years. Poor relief accounted for about 20 percent of the $8.57 million taxpayer-supported budget in 2012.
The biggest chunk of that budget, $3.7 million, went to personnel costs for the township's 74-person staff.
Center Township also oversees a $1.8 million trust fund for people who have trouble managing their Social Security or other benefits, as well as the downtown small-claims court, which generates more than $2 million a year in fees.
Including those funds, the township spent $12.7 million last year, $2.5 million more than its income.
Large capital expenditures in 2012 forced Akers to tap into cash reserves. He spent $608,714 on an industrial building that houses a new job-training program and more than $572,000 renovating space in the Carson Center to house the small-claims court.
The only hang-up: Small claims Judge Michelle Smith Scott objected to moving the court from the City-County Building downtown and filed an order to prevent it.
Akers went ahead with the renovations, amid a legal showdown. A special judge last year sided with Scott, but Akers appealed to the Indiana Supreme Court, which is expected to rule this spring.

Akers pushed for the move as a cost-saving initiative that would avoid $16,000 in annual rent payments to the City-County Building.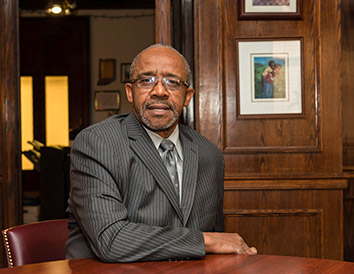 "I am here to help the indigent," Center Township Trustee Eugene Akers said. But poor relief consumes only about 20 percent of his budget. (IBJ photo/Eric Learned)
The battle has been expensive, however, costing the trustee more than $300,000 in legal fees last year, on top of the half-million dollars in renovation costs.
Center Township Budget Director Eric Bailey defended the township's financial management, and said officials continue to look for ways to operate more efficiently.
For now, though, the burden on taxpayers is growing. Center Township's property-tax levy has risen from $2.7 million in 2009 to more than $3 million this year.
The township also collects a share of local income tax, $1.9 million last year.
The township's 2012 cash balance, $6.7 million, represented more than 50 percent of the budget, or about five times the amount typically recommended for reserve funds, but it hasn't voluntarily reduced the tax levy.
"Does that mean we're not thinking of ways to lower that?" Bailey said. "Yes, we are."
Teach a man to fish
The township's emergency aid doesn't address the persistent unemployment that Akers sees among felons, veterans and high-school dropouts.
Inspired by a Sunday sermon about the "teach a man to fish" proverb, Akers decided last fall to launch his own job-training program.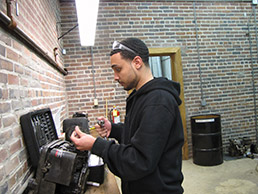 Tyree McGraw, 24, hopes to work in small-engine repair after taking an eight-week job-training class through Center Township. Classes are free.(IBJ photo/Kathleen McLaughlin)
He bought an industrial building at 2917 Roosevelt Ave., off Interstate 70 at Rural Avenue, to house the classes.
A retired Indianapolis Public Schools maintenance supervisor, Akers tapped his network of skilled tradesmen to donate their time teaching the basics of carpentry, electrical wiring and small-engine repair. The classes are free, but they result in no certification.
Twenty-two of the 42 students who signed up completed their courses. A few have jobs, and a few of the computer-skills students are planning to attend Ivy Tech Community College, Akers said.
Tyree McGraw, a 24-year-old who has a recent conviction for conspiracy to commit robbery hanging over his next job search, said he enjoyed learning how to take apart a lawn mower engine and make it run again. He plans to get the industry certification and look for a job in a repair shop.
"It was a good program," he said.
But to Rhiannon Edwards, executive director of PACE offender re-entry services, the trustee's program was a waste of time and money. Most people coming out of prison can't afford to spend eight weeks on a class that probably won't lead to employment, she said.
Edwards was dismayed to learn that Akers spent more than $600,000 on a building when half as much would have provided scholarships for accredited training.
"Come on," she said. "There's agencies out there already doing this."
Most township trustees leave direct services to the private sector. Warren Township Trustee Jeff Bennett said he considered starting a food pantry after he was elected in 2007, but decided it would be more efficient to support the one operated by Old Bethel United Methodist Church.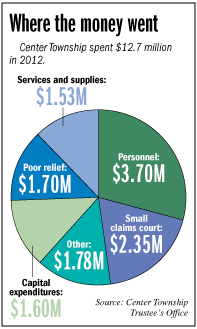 The township covers 20 percent of the food pantry's administrative expenses and refers clients there instead of providing grocery gift cards, Bennett said.
"They're going to get a far greater amount of food that we know is high-quality and nutritious for far, far less than if we wrote a check to Kmart to pay a grocery bill," he said.
Wayne Township, which has the largest assistance program outside of impoverished Center Township, this year set aside $5,000 for clients to attend a 10-week program by Training Inc., a United Way-supported not-for-profit.
Training Inc. teaches basic office and life skills. If those clients end up getting jobs, the township may allocate more money for Training Inc.'s services in the future, Director of Operations Lynn McWhirter said.
Akers said he didn't reach out to the private sector for job training because, "I don't have any extra money to give away to another program. The money I have here is quite adequately spent on the people I need to help."
His job-training program, "Operation Fresh Start," runs on a shoestring, Akers said. He plans to generate cash for its ongoing support by opening a thrift shop and small-engine repair service in the Roosevelt Avenue building.
Used furniture and fixtures filled the open floor space of the expansive brick building last month, ahead of the thrift store's April 6 opening. The repair shop will be staffed by students.
"I'm literally sacrificing a lot to get this going," Akers said, though he declined to explain further. "I want to help folks. That's exactly why I got into the trustee's office."
Valuable assets
Critics of township government have long complained that the trustees spend too much money on overhead while providing few services.
"They spend more to heat those buildings than they do for poor relief, which is their mission," Indiana Chamber of Commerce Senior Vice President Mark Lawrance said of Center Township.
Even Akers would agree with the first part of Lawrance's complaint. The cost of maintaining the township assistance office, an old bank building at 863 Massachusetts Ave., is "ungodly," he said.
The building sits on a block that's long been targeted for redevelopment.
"I could sell everything and build something new," Akers said.
Center Township's real estate holdings also include the seven-story Carson Center office building; a smattering of vacant lots in the surrounding Fall Creek neighborhood; and the site of the former Fall Creek YMCA at 860 W. 10th St.
Akers would like to unload the vacant lots, but said he would never part with the Carson Center.
Some of the township's real estate is already generating cash: $500,000 in rents last year. A large portion of that is from a ground lease to Buckingham Properties, which put apartments and retail in the old YMCA site. Buckingham has the option to buy the site for $3.3 million.
The township also entered a ground lease for 875 Massachusetts Ave., next door to the headquarters, where Riley Area Development Corp. built the Trail Side apartments and retail development.
Akers has an interesting take on his financial resources.
"I wish I had more money to access," he said.
In reality, he sees little pressure from property-tax caps, which are one reason Indianapolis officials are scrambling to cover budget shortfalls.
Under Indiana's caps—adopted by the General Assembly in 2008 and now part of the state constitution—a property owner's tax bill cannot exceed 1 percent of the assessed value of residential property, 2 percent of the value of farms, or 3 percent of the value of commercial property.
"When a county is tapped out with property-tax caps, inefficiency and waste in one area of government means essential programs being cut out in another," Lawrance said.
With that dynamic in mind, Lawrance said the chamber might lobby in the future for legislation giving county councils the power to reduce township budgets.
The movement to eliminate township government fell apart in the face of bipartisan resistance after the 2010 legislative session, but township services still deserve closer scrutiny, Lawrance said. "The issues that they have are not going to go away."
Township funds have come up in conversations about the city's budget, City-County Council President Maggie Lewis said. "I do remember last year folks were saying, 'Can they pitch in?' I've heard that question."
But there was never detailed discussion about how townships could help, Lewis said.
Despite the potential to reduce township levies—and thereby boost its own—the Indianapolis council isn't likely to grab power from townships. Lewis said she knows too well how that feels.
Her Democratic majority is fighting state legislation that would remove at-large council seats and consolidate authority under the mayor.
"When we go to revamp local government, we should have a conversation with the folks in office," Lewis said.•
Please enable JavaScript to view this content.