As tourists flooded the streets of downtown Indianapolis for last year's Super Bowl, Fishers resident Heather Hogan Pirowski stocked a City Market boutique with clothing, trinkets and accessories she thought would appeal to hoards of shoppers.
Her store disappeared along with the crowds—by design. But the experiment with pop-up retail helped Pirowski find her place behind the wheel of mobile boutique Retro 101.
Heather Hogan Pirowski takes her wares on the road in her vintage bus named Ellie. (IBJ photo/Eric Learned)
"People are used to seeing food carts and not realizing that the same can be done with other products," said Pirowski, 37. "I wanted to be the first in our area taking advantage of that very concept."
She is one of a growing number of business owners who have chosen the nomadic lifestyle in recent years. Looking for an alternative to the fixed overhead that comes with a permanent location, they set up shop at a site for a few days or weeks—think mall kiosks and seasonal specialty stores—then pack up and move on.
Nationwide, pop-up retail shops brought in more than $8 billion in 2010, according to the Specialty Retail Report. Sales increased about 14 percent in the first two quarters of 2011 alone.
"Pop-up shops solve a problem for retailers who cannot get their merchandise in front of consumers because opening stores with big leases is expensive and difficult," said Richard Feinberg, a consumer behavior professor at Purdue University. "If the store does not work, the pop-up can leave with minimal impact. You cannot do that as easily with real stores."
Pirowski knows that from experience. She co-owned Lucky Lou in Fishers for five years until the boutique went out of business in 2008, forcing her to file for Chapter 7 bankruptcy.
She said that experience not only provided valuable lessons about retail, but also gave her insight into how to engage with customers, a factor that made her want to try again.
The City Market pop-up shop got Pirowski back onto the retail scene. In September, she fired up Retro 101, the mobile boutique she runs out of a 1978 Chevy bus she found on Craigslist for $1,200.
Since then, Pirowski and the bus—named Ellie in honor of her grandmother—have made more than a dozen stops at events around Indianapolis and Hamilton County.
Pirowski, a graduate of Indiana University's Kelley School of Business, has had the support of her husband, Chad, and her two sons, along with a little help from other small-business owners in the area.
Early this year, Pirowski and other independent business owners joined forces for a one-day "Fashion Frenzy" showcase at the Baymont Inn in Fishers. Pirowski and the others decided they all would benefit from cross-promotion.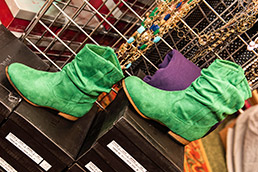 Retro 101 clients use social media to find Pirowski's bus full of unique fashions—such as green cowboy boots. (IBJ photo/Eric Learned)
"It's all about helping each other out and promoting each other," said Sarah Boutwell, owner of Indianapolis-based Photography by Sarah Boutwell. "Running a small business is hard, so it's important that we are there for each other."
Starting any business has its challenges, but mobile pop-up shops present a different set of obstacles, Purdue's Feinberg said.
Customers know where to find brick-and-mortar stores, for example, but they have to seek out a shop on wheels. Pirowski turns to Twitter for help with that, sending her weekly schedule to nearly 500 followers on @shopretro101.
"I don't know what I would do without social media," Pirowski said. "It's important that I maintain an audience through Twitter so that they'll keep coming back."
Mobile businesses also can have unpredictable expenses like fuel and vehicle maintenance. Last month, Pirowski had to cancel an event in Greenwood because the bus needed some work.
And weather is much more of a factor.
"It's hard to get people to go shopping on a bus when it's 17 degrees outside," she said. "Winter will always be hard in this business."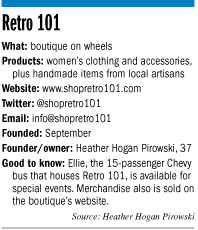 Pirowski said it is still too early to determine whether her business is a winner. Because it's such a new concept, she doesn't have revenue targets as much as outreach goals.
"As long as I'm picking up events and people are starting to know who I am and what we do, I think that's success," Pirowski said. "It's hard to know how much money I will make."
Retro 101's schedule is filling up for the spring. Pirowski had a half-dozen events in March and has more lined up for this month.
Sales run the gamut: During one of her first events in front of the State Capitol downtown, she brought in only $75. Her most successful outing generated sales of about $1,000.
The pay is unpredictable, so the job is not something for someone dependent on a steady income. But the ability to literally chart her own course is worth the uncertainty.
"I don't answer to anyone," Pirowski said. "I decide when I want to work and where I want to work. I know that I can go where the people are and that we can move around when we need to."
Pirowski doesn't have employees; friends and family members help out as needed.
The success of food trucks in Indianapolis and elsewhere is evidence that pop-up retail can work, Feinberg said. Customers like the variety and convenience of food truck cuisine. Truck owners like being able to follow the crowds.
Like many pop-up business owners, Pirowski is hoping to expand her reach, both on the streets and online.
Her five-year goal includes owning a fleet of four or five buses so she can cover more ground. Of course, she would need the sales to justify the additional expense of employees, gas and maintenance.
Pirowski has also been working on getting the online component of the boutique up and running.
"The more I can get my name and product out there, the happier I will be," Pirowski said. "I'm not thinking in dollar signs because that can be a little overwhelming at times."•
Please enable JavaScript to view this content.