Health care reform was supposed to be a boon to hospitals, right? Tell that to Dan Evans.
The CEO of Indiana University Health set a goal this year for the state's largest hospital system to cut expenses 20 percent to 25 percent over the next four years.
That's $1 billion to $1.2 billion annually, based on IU Health's expenses last year.

Evans
The reason? Even though President Obama's 2010 health reform law likely will expand health insurance coverage to an extra 500,000 Hoosiers over the next few years, Evans expects the amount IU Health gets paid per patient to fall as the federal government, employers and patients all push back on sky-high health care costs.
"This is my highest priority," said Evans, reclining in an armchair in his sixth-floor office overlooking the Central Canal downtown. He added, "I believe that, as an industry, we have been inefficient."
Indeed, most other hospitals are in the same boat. Numerous forecasters predict reimbursement to hospitals per patient will fall 15 percent to 20 percent over the next few years. So, even if health reform brings more paying customers to hospitals, they'll need to trim expenses to stay in the black, said Ed Abel, a hospital accountant at Indianapolis-based Blue & Co.
"Hospitals need to be prepared to do what they're currently doing with between 15 to 20 percent [less than] what they're currently getting," Abel said. He added, "If they want to survive, they're going to have to find a way to do it."
Community Health Network—whose Indianapolis market share is second only to IU Health's—started trying to cut its expenses back in 2009, even before the health reform law passed.
It set a goal to trim $300 million—or about 20 percent of expenses—by 2015. So far, Community is more than one-third of the way toward its goal, progress it achieved by streamlining its supply chain and leaving many vacant positions unfilled. It is now focusing on cutting waste out of its internal processes.
"Essentially, there are going to be more and more people covered in terms of health care with a government or quasi-government payer source," said Tom Fischer, Community's chief financial officer, noting that government programs like Medicare and Medicaid pay less than it typically costs hospitals to provide care.
"So," he added, "we know we have to deliver care more efficiently."
That's a big change from before. For decades, hospitals operated in a build-it-and-they-will-come environment, in which they sought out well-heeled customers in the newest suburbs and built shiny new facilities to serve them. Health insurance plans sponsored by employers or governments shielded patients from most of the cost of the care they received.
Evans' 11-year tenure leading IU Health, which used to be called Clarian, has been marked by building new hospitals and acquiring others. He took over what was then a three-hospital system and has built it into a 19-hospital system that stretches statewide.
That strategy has proved enormously lucrative for IU Health. The not-for-profit piled up $5.6 billion in revenue last year, up 29 percent over the previous year, according to its 2012 audited financial statements.
IU Health's operating income nearly tripled last year, to $548.7 million. That represents a profit margin on its operations of 11.7 percent—far higher than IU Health has achieved in its recent history.
But IU Health executives don't expect the good times to last.
Starting in January, IU Health began rolling out Lean Six Sigma projects across its entire system. That change came just three months after Evans and 40 of IU Health's top executives went through Lean Six Sigma training.
They set aside four full days in October for the training, even conducting simulations of hospital processes, in which Evans played the role of a transporter pretending to push a patient in a wheelchair.
IU Health now has established an Office of Continuous Process Improvement, just down the hall from Evans' office. It is led by Alicia Schulhof, the former chief operating officer of IU Health's Riley Hospital for Children.
Riley and the IU Health Arnett Hospital in Lafayette are where IU Health experimented with Lean Six Sigma before taking the concept systemwide this year.
At Riley, Schulhof oversaw a new protocol for continuously monitoring ICU patients on ventilators, which allowed Riley to order fewer blood tests to check patients' status. The change has saved about $750,000 a year.
At IU Health Arnett, which has worked with professors at Purdue University to improve its processes, officials put extra emphasis on on-time starts for surgeries, based on estimates that it can save $150 for every minute shaved from a late-starting surgery.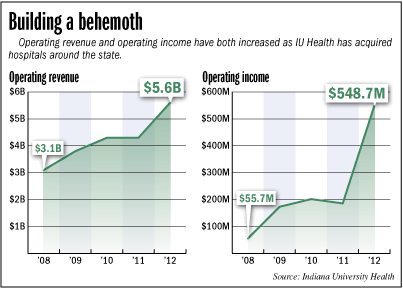 And in one effort that has started systemwide, IU Health will centralize scheduling and pre-authorization functions performed by back-office staff at its sleep labs. Those efforts will cut $2 million in annual spending.
Evans, 63 , expects to achieve even more savings by further consolidating and streamlining back-office functions, such as purchasing.
That means staff reductions over the next four years are likely—although IU Health spokeswoman Lauren Cislak said attrition and slowed hiring would be used before outright layoffs.
Already, she noted, IU Health has not been filling about 700 open positions within its work force of nearly 30,000.
"You can expect health care writ large to behave more like a business than it has in the past," Evans said.
In fact, he added, IU Health has been tapping the expertise of executives in other industries—such as Tom Easterday, executive vice president of Subaru of Indiana Automotive Inc. in Lafayette—to help it measure its performance on quality and efficiency.
"It's just like building a car that doesn't break down. That's the outcome we want," Evans said. "The only way to do this is to have the outcomes improve."
The idea behind Evans' statement is that, by keeping patients healthier, health systems can avoid expensive hospitalizations.
That's never before been in the interests of hospitals, which had hundreds of beds and dozens of operating rooms they tried to fill up every day.
But now the federal health reform law, the 2010 Patient Protection & Affordable Care Act, calls for hospitals and doctors to form accountable care organizations, which will be paid bonuses if they demonstrate high-quality care and reduce expenses from year to year while managing the health of a specific population of Medicare patients.
IU Health and Franciscan St. Francis Health have signed up with the Medicare program to be accountable care organizations.
Private health insurers, such as Indianapolis-based WellPoint Inc., are pushing similar arrangements on behalf of their employer clients. Community Health Network, St. Vincent Health and the Suburban Health Organization are talking to WellPoint and other private insurers about accountable-care-based payment contracts.
More immediately, however, reimbursement for hospitals is being pushed down by Congress. The Jan. 1 deal to avoid the so-called fiscal cliff took a $15 billion bite out of hospital reimbursement over the next decade. And the federal sequester, which took effect March 1, will chop another $10 billion from hospital payments.
On top of that, employers continue to shift their workers' health benefits to high-deductible policies, which makes patients more sensitive to the price of health care. Many health care analysts also expect most of the newly covered Hoosiers to have high-deductible health plans, which doesn't bode well for hospitals' traditional high-cost ways.
"[With] the combination of all these things, hospitals have figured out there's not going to be as much money in the system as before," said Abel, the hospital accountant. "Initially there was a degree of euphoria, if you will, that, 'Oh, everybody's going to be covered.' But now we've uncovered what's really in it."•
Please enable JavaScript to view this content.