As the food truck industry heats up in Indianapolis, leaders of its fast-growing northern suburbs are starting to rewrite the rules of the road.

Fishers last month became the first Hamilton County community to pass an ordinance specifically regulating the new fleet of mobile businesses. The controversial measure was intended to encourage food trucks to roll into town, but vendors say it could have the opposite effect.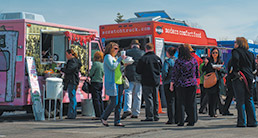 Mobile vendors gather at Cluster Truck events at suburban office parks to draw larger crowds. (IBJ photo/Eric Learned)
The economics of operating in the 'burbs are uncertain to begin with, Indianapolis-based Scratchtruck owner Matt Kornmeyer said, citing the typical sprawl that limits foot traffic.

And since the rules vary in each community—for instance, Noblesville requires a permit but Carmel and Westfield do not have food-truck-specific rules—figuring out what's allowed where can be complicated and time-consuming.

Then there's the cost: $200 a year to do business in Fishers, for example, on top of the $100 county permit required to sell food. And the ordinance says vendors must agree to a separate revenue-sharing agreement to set up at special events or "special locations" like town parks.



It doesn't sound like a lot, but Kornmeyer said he would need eight profitable trips to Fishers—drawing more than 40 diners at each stop—to justify the cost of the permit. Then there are other extra expenses like fuel for the truck, which gets six to eight miles per gallon.

"Will there be a mass rush into Fishers? No," predicted Kornmeyer, who also leads the 19-member Indy Food Truck Alliance. "We have to figure out how to make it work."

Scratchtruck was the ninth food truck to hit the streets of Indianapolis less than two years ago. Now, he said, it's among 60-plus that pay the $194 annual fee to operate in Marion County, which is largely free of regulations.

"It's much harder to find parking spaces than it used to be," Kornmeyer said.

Indeed, Indianapolis' one-page ordinance—drafted decades ago with ice cream trucks in mind—requires only that mobile vendors stay off city streets between 10 p.m. and 6 a.m. and abide by the same parking regulations as other vehicles. Trucks can stay on private property indefinitely with the owner's written permission, said Crystal Williams, an attorney at Indianapolis-based Barnes & Thornburg who specializes in food law.

Cities nationwide have taken a variety of approaches to regulating the burgeoning businesses, she said. Some, like Indianapolis, rely on laws already on the books. Others are revisiting old laws or writing new ones—often stirring controversy in the process.

Chicago, for example, is being sued over its requirement that food trucks be equipped with GPS tracking devices. On the other end of the spectrum, Portland, Ore.'s limitations on where trucks could operate spawned a village-like outdoor food court that Williams said teems with activity.

"It brings so much vitality to the community," she gushed.

Competitive advantage?

Still, not every community welcomes food trucks. Among the most common points of contention: whether allowing mobile businesses to operate gives them an advantage over brick-and-mortar competitors.

That's why Town Council member Scott Faultless voted against Fishers' ordinance, which he said picks winners and losers.

Faultless
"The council literally gave food trucks a free pass—that makes no sense," he said. "Existing restaurants, food shops and business in general have to subsidize food trucks. To me, that's a problem."

Fellow Fishers councilor Pete Peterson disagreed, ushering the measure through the contentious approval process. Peterson said food trucks offer a different dining experience from sit-down restaurants, and he insisted there's plenty of room for them all to coexist. If anything, he said, competition makes businesses—and the community—stronger.

"It's free enterprise at its finest," he said. "Businesses that are good expand, and the ones that aren't go away."

He pushed to allow food trucks after the town approved construction of the $1 million Nickel Plate District Amphitheater, an outdoor venue in the municipal complex downtown that opens April 19. More than 30 events are scheduled through mid-September, including the popular Summer Concert Series, which draws thousands to free Tuesday night shows.

"That was the impetus," Peterson said. "You've got 4,000 people coming out to watch concerts. What are you going to do for them, open a snack bar? We've got to find another way to encourage business down there."

Events at the amphitheater and the expected influx of food trucks will help Fishers develop a much-needed "sense of place," he said. And drawing residents downtown can only help businesses of all kind.

"We're not amending the Constitution here, folks," Peterson said. "We're allowing mobile food trucks in Fishers. If it becomes a problem, we'll fix it."

Barnes & Thornburg's Williams has deliberately avoided becoming embroiled in the debate, but she said the Fishers regulations are in line with many other communities'.

"When you compare it to other ordinances, it's really not very burdensome," she said.

Kornmeyer nevertheless takes issue with Faultless' argument that food trucks are the "winners" and traditional businesses "losers." Food trucks have plenty of overhead of their own, he said, citing business insurance, kitchen rental and fuel costs, among other expenses. And most operators abide by a code of conduct that calls for keeping their distance from competitors.

Still, Faultless is far from alone in his stance. The Fishers Chamber of Commerce also opposed the ordinance, and Kornmeyer recalls an incident in Carmel a year or so ago when "a bunch of business owners came out with pitchforks and torches when a truck was on private property with permission."

A brief social media firestorm followed, but it petered out before the City Council could take up the issue. Food trucks have operated there without incident since then, he said. Noblesville-based Cutie Pie's Pizza, for example, makes regular visits to Union Brewing Co. in Carmel.

Other cities

Carmel City Council President Rick Sharp said he would support an effort to consider how to capture tax revenue from food trucks and "provide an equal playing field for bricks-and-sticks businesses," but he hasn't heard any concerns from constituents about the lack of formal regulations.

Zionsville has an existing ordinance that prohibits any sales from the public right-of-way, but food trucks have been allowed to operate on private property for short periods of time—usually by invitation during special events, Town Council President Jeff Papa said. That policy hasn't posed any problems yet, he said.

Leaders in the Hamilton County seat of Noblesville likewise haven't had reason to further regulate food trucks. Mobile businesses there must get a temporary use permit to operate on private property.

City Planning Director Christy Langley said the idea of revisiting the rule has been discussed as food trucks gain popularity, but officials have been "hanging back," waiting for Fishers to act.

Food trucks haven't flocked to Westfield, either, but City Council President Jim Ake said the growing community will need to set rules for mobile businesses before its Grand Park sports complex opens in 2014. Officials expect the youth-sports venue to draw 400,000 visitors its first year—likely attracting the attention of food trucks in the process.

"It will be important that our policy considers local business interests and is fair to all," Ake said in an email. "It will be important that we support our local business community. … After all, local businesses drive our economy by providing jobs."•