The Indianapolis area's largest employers have spent millions of dollars studying and promoting regional mass transit, but if the idea is going to get past the Legislature, they might have to put money into the $1.3 billion system as well.

This year's mass-transit bill has been tagged for a post-session study committee, where lawmakers are likely to ask whether the current plan has employers paying a fair share.

"I'm always skeptical of proposals in the Legislature that the advocates think should be paid for by somebody else," said Sen. Brandt Hershman, chairman of the Tax and Fiscal Policy Committee, which voted unanimously on April 2 to amend the transit bill for further study.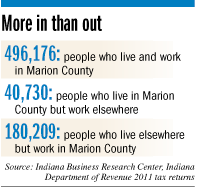 The proposal would have allowed Marion County and participating suburban counties to hold referendums on whether to raise the local income tax to pay for a regional system. While that would apply to business owners that pay taxes as individuals, it means no extra burden for major corporations or not-for-profits like universities and hospitals.

The Central Indiana Corporate Partnership, a group that represents universities and the area's largest employers, has underwritten most of the cost of the Central Indiana Transit Initiative since 2008 and will continue to do so, Executive Director Ron Gifford said.

"The private sector has put literally millions of dollars into studying this issue," he said. "And it is for the benefit of the entire community."

There are examples around the country of corporations, hospitals and universities providing financial support for mass-transit service, said Joel Volinski, director of the National Center for Transit Research in Tampa, Fla.

"Around Chicago in particular, you'll find companies that are paying for feeder services that are getting people from the nearest train to their place of employment," he said.

The Central Indiana Transit Authority last year launched three reverse-commute services that shuttle people from the end of their IndyGo bus routes to major employers in Carmel, Fishers and Plainfield. The Hamilton County shuttle routes also tie into park-and-ride lots for the Indy Express Bus to downtown.

The employers provided information about workers' shifts to help CIRTA plan routes, but none has paid into the service or bought passes for their employees, Mobility Manager Christy Campoll said.

The Carmel shuttle stops in front of St. Vincent Carmel Hospital and Indiana University Health North, as well as Adesa Inc. and Delta Faucet, while the Fishers route covers Community Hospital North, Roche Diagnostics, Wal-Mart and Sallie Mae, Diamond Foods and Comcast.

CIRTA started the service, which is paid for with limited-time federal grants, out of an interest in helping people get to work, Campoll said. The Plainfield connector was specifically requested by Indianapolis social service agencies trying to help unemployed people reach the warehouse district, she said.

Dave Emerson, general manager at Adesa Indianapolis, said he's struggled to draw temporary workers to the company's Plainfield auction facility. Once a week, he needs about 100 sets of hands to help run a 1,500-vehicle auction. The jobs, provided through a staffing agency, pay about $8 per hour for a four-hour shift.

That's not much to justify driving from Indianapolis, Emerson said. "It is a challenge we have to overcome," he said.

The Plainfield Connector recently added the Adesa site to its loop, and Emerson said he's noticed more of the temps using it. If the route were permanent, he said, he might be able to round up enough labor on his own and cut out the cost of a staffing firm.

"I've always been amazed that a metro area the size of Indianapolis doesn't have a transit system, other than a bus line," Emerson said.

The fact that riders are willing to take one or two IndyGo buses, plus a shuttle, to get to work shows there's a need for a permanent regional system, CIRTA Executive Director Ehren Bingaman said.

Who pays?

Those who don't use the system might not be willing to pay for it. As Plainfield resident LeRoy Dierkes told the Senate Tax and Fiscal Policy Committee, "If the Plainfield warehouses need a way to get their workers to work, let them pay for it."

Rider subsidies are the most common way major institutions and employers support mass transit, Volinski said. Agreeing to buy a number of passes every year provides the system with a stable stream of income.

"It gets to be quite substantial," he said.

The presence of a university usually means a big boost in ridership, Volinski said, and IUPUI Chancellor Charles Bantz has been an outspoken advocate of the central Indiana plan. As he testified to Hershman's committee, 95 percent of the campus population, which includes more than 30,000 students, drive there, and 87 percent of them travel alone.

Bantz told the Senate committee he supports the transit plan because students, faculty, staff and hospital visitors want alternatives, and it would make IUPUI more viable in attracting talent.

He declined IBJ's request for an interview about IUPUI's future financial support.

"There's no proposal on the table," spokesman Rich Schneider said. "Until we have clarity on that, it would be premature for IUPUI to speculate on what position it would take on funding the system."

IUPUI appears to do little to encourage use of the existing IndyGo bus service. A program that provided free year-round passes to every student, paid for through student fees, was discontinued after the 2011 academic year. IndyGo's student ridership, which encompasses all local colleges and trade schools, has since declined from 763,443 in the 2011 calendar year to 558,225 last year.

Other large employers that have advocated for and would see improved service under the mass-transit plan—IU Health, St. Vincent Health and Eli Lilly and Co.—also declined to talk about future financial contributions.

"Our focus is squarely on the long-debated core issue," Lilly spokesman Greg Kueterman said. "Our communities in central Indiana should have the ability to vote on whether they want to fund a regional transit system.

"The issue has been studied extensively, and it's time for voters to decide whether they want to fund such a system."

Tax question

Gifford said it's unfair to assume that corporations won't pay their share. Those that are in Marion County pay property taxes that support the IndyGo bus service, which would be absorbed—along with its tax revenue—into a regional system.

There has also been discussion about advertising and sponsorship of buses and stops, Gifford said, but that wouldn't raise enough revenue to eliminate the need for broad-based tax support. "You're talking about a system that costs $140 million a year to operate when it's fully operational."

Volinski agreed. "It's going to have to be funded primarily by local taxpayers."

The most popular form of local financing around the country is sales tax, which spreads the burden to visitors, Volinski said. Property tax, which targets direct beneficiaries of route improvements, also has been used.

Both seemed unworkable in Indiana, Gifford said.

"Our first choice was sales tax," he said.

When the task force approached lawmakers in 2010, "the fiscal leadership in the Legislature made it absolutely clear the state was not going to allow local communities to have sales tax authority and took that off the table."

Some mass transit has been funded by special assessments on property owners. The new Silver Line, which extends the Washington, D.C., Metrorail into northern Virginia, will get $1 billion of its $6 billion in funding through special assessments.

In a review of the growing use of special assessments, the Urban Land Institute noted that property owners on the Silver Line route wanted to raise their own tax rates because the new service means high-density development opportunities.

With Indiana's property-tax caps now enshrined in the state constitution, Gifford said, "There's absolutely not political support for raising property taxes to pay for anything."•