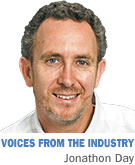 Tourism and hospitality are often described as the invisible industry—the industry "hidden in plain sight." Every day, we use its services—whether local restaurants, traveling leisure or visiting one of the many attractions across the state—from national or state parks, to museums to home-grown theme parks.
But tourism and hospitality is more than that. It enables businesses to build the relationship or "get the sale" and incorporates everything from business meetings over lunch to conventions.
People are often surprised when I point out that tourism and hospitality in Indiana supports more than 250,000 jobs and that tourism is one of the largest employers in the state. Yes, many of those jobs are entry-level, but the recently released Fast Forward research from the U.S. Travel Association shows people who start careers in hospitality have significantly higher lifelong income.
Entry-level tourism jobs give young people flexibility to get the education they need for their chosen career and while in that first job they learn important transferable skills like personal communication skills and customer service.
Despite the idea that hospitality jobs are "burger flippers," it is true there are many well-paying managerial positions. Indeed, the travel association says more than 4 million middle-class Americans work in travel-related industries. And while not as flashy as high-tech, there is opportunity for entrepreneurs. Indeed, some of the wealthiest Hoosiers, including entrepreneur and lodging industry icon Bruce White, of White Lodging in Merrillville, have built fortunes.
If the employment numbers surprise people, then economic-impact numbers tend to be a real shock: $2 trillion nationally, over $10 billion here in Indiana. These numbers fail to tell the full story of the value of tourism. Recent research is starting to take us in exciting new directions of understanding the value of tourism to our communities.
One new stream of research focuses on tourism's contribution to quality of life in communities. While I hear the occasional grumble that tourists take all the best parking spots or tourists drop too much trash, there is at least tacit understanding that visitors support and enable many cultural and sporting events that Hoosiers love.
The over 400 museums across the state that preserve and celebrate our heritage know the value of the visitors that help keep their doors open. And main streets and small towns across the Midwest know that to keep their businesses thriving, and their rural lifestyles viable, they need to attract money from visitors.
Of course, that is to say nothing of innkeepers' taxes that often maintain community resources and reduce the tax burden for these things for residents.
Policymakers and economic developers are starting to realize that tourism and hospitality resources are key assets of communities, as important to attracting new companies and residents as shovel-ready sites and tax incentives. Hospitality resources of destinations create competitive advantage for communities, and the same tourism assets that attract visitors make investment decisions easier for companies looking to relocate businesses.
Rather than just including the visitors' brochure in the pile of papers they give prospective companies, many progressive towns and cities are developing deeper strategic ties between convention and visitors bureaus and economic developers.
But this is just the start of this process of using tourism as a tool for economic development. New research from some of the leading convention cities of the world describes conventions as "short-term" business clusters that encourage growth of intellectual capital and stimulate investment and business development.
This approach moves us beyond thinking of visitors in terms of what they spend and asks what they bring to the state. It takes us from "heads in beds" and asks, "What is in the heads in the beds?"
What international conventions should we attract—not just to fill hotel rooms and convention spaces, but to support long-term economic growth? These strategic issues go beyond the domain of our world-class convention center management and include senior policymakers and economic developers.
Tourism—in this case meetings and conventions—needs a place at the table at the "big end of town." If this sounds a little strange—and not the way we do things around here—it is important to remember that our global competitors are taking this strategic approach to attracting or "seeding" conventions for the intellectual and social capital they bring.
Tourism, so often overlooked or considered lightweight compared with "real" industries, is not only an important industry in its own right but a powerful tool for economic growth.•
__________
Day is an assistant professor in the School of Hospitality and Tourism Management at Purdue University. Views expressed here are the writer's.
Please enable JavaScript to view this content.