Bill Shirk was sitting in a Hamilton County jail cell—handcuffed and with heavy chains around his neck.
An hour and 37 minutes later, he'd escaped—as he would some 25 more times over the years to earn eight world records. Once, he slithered out of a straitjacket as he dangled from a helicopter 1,600 feet above the ground.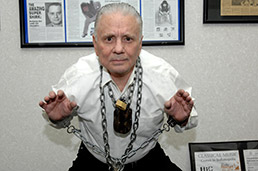 Bill Shirk no longer performs daring escape tricks, but he can't escape the draw of commercial radio. (IBJ photo/Perry Reichanadter)
Cable TV networks still replay Shirk's 1992 attempt to escape from a Plexiglass coffin buried in concrete. The coffin lid shattered and Shirk was nearly smothered.
"I've really kind of lost interest in trying to kill myself," said Shirk, now 67.
He's retired the straitjacket, but Shirk can't escape the lifelong allure of radio broadcasting. His firm, Hoosier Broadcasting, in recent years bought a handful of radio stations on the Hawaiian islands. Moreover, Shirk owns and is investing more money in a Boone County radio station. And he wants to buy frequency space for so-called translator stations that rebroadcast content of other stations in places they can't now be readily heard.
Hoosier Broadcasting by year end plans to move studios of its "RadioMom" WIRE-FM 91.1 in Boone County, from the Pyramids office park near North Michigan Road and Interstate 465 to new studios in Lebanon.
Hoosier Broadcasting owns another station locally, WSPM-FM 89.1/90.9, which is used by Catholic Radio Indy.
Shirk's current activity in radio isn't quite what it was in 2000, when Hoosier Broadcasting reached the pinnacle of its empire. It sold three stations, including hit music station WHHH 96.3 FM, to Radio One Inc. for $40 million.
In 2006, Shirk and Hoosier Broadcasting co-owner Bill Mays sold another station, WIKL-FM, to Educational Media Foundation, operator of the K-LOVE and Air 1 radio networks, for $2 million.
Around the end of this year, they will have transferred ownership of WSPM to the Catholic group, which has been using it on a rent-to-own basis, for a purchase price to total $2.4 million.
That will leave WIRE/RadioMom as Hoosier Broadcasting's last local station.
With millions of dollars in their pockets, most people would simply retire. Not Shirk.
"I still love radio, but I am slowing down. … I have been on the radio every week, basically, for 48 years," said Shirk, whose chubby face from his stunt days is now more angular. That big shock of disheveled hair is now gray and meticulously combed straight back.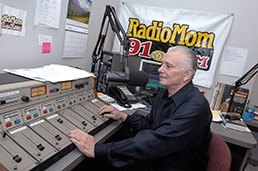 Bill Shirk has been on the radio for 48 years. These days, the radio entrepreneur and record-holding escape artist owns a station in Boone County and a handful in Hawaii. (IBJ photo/Perry Reichanadter)
That Shirk still has radio stations to operate is a good thing, said business partner Mays, an Indianapolis businessman who founded Mays Chemical Co.
"It was not like he was broke or anything, [but] it gives him something to do every day," said Mays, as if an idle escape artist could be a danger to himself or to society.
Or a danger to Mays' investment in Hoosier Broadcasting. When the two became partners, Mays told Shirk he'd need to think about cutting back on this whole stunt thing.
"Not to be morbid, but I told him, 'You're also running the properties I have millions of dollars invested in.'"
So about seven years ago, when Shirk brought to Mays his latest scheme, Mays was relieved it didn't involve escapes. Rather, Shirk wanted Hoosier to buy a half dozen radio stations in Hawaii. Mays was happy to oblige.

Mays
The stations serve distinct Asian populations on the islands, including Japanese and Koreans. Local staff in Hawaii keeps a close eye on the format content. Mistakenly playing Japanese programming on the Korean station could lead to an international incident, given Japanese rule of Korea in the early part of the 20th century.
Oddly enough, some of the content for the Hawaiian stations originates from Hoosier Broadcasting's Indianapolis studios. Shirk records the disc jockey segments for Hoosier's Top 40 station in Kauai, which are then inserted between songs and commercials by broadcast automation software.
"I can do a seven-hour show in about 20 minutes," Shirk said.
Later this year, after completing the sale of WSPM to Catholic Radio, Shirk wants to move Hoosier Broadcasting's studios to Boone County, where RadioMom (the tag line is, "Always listen to your mom") in January enjoyed a No. 1 or No. 2 share in several key time slots. It's remarkable for a 3,200-watt FM station, which is about 1/10th the power of Indianapolis stations that blanket Boone County.
As for some of the music on the station, it sounds like stuff from a discount music bin at Kmart—in 1983.
But it sure doesn't sound like everything else being played by the unadventurous stations from Indianapolis, which may be why it can fetch about 7,400 listeners on a given day.
Still on Shirk's to-do list is buying a half dozen so-called translator frequencies: low-power FM stations that can rebroadcast AM stations, particularly during the evening hours when they have to power down.
"I don't know. It will be interesting," he said. "I've been battling for a translator for 12 years."
Just as long as he doesn't start climbing antennae, as he did in the 1990s when Hoosier Broadcasting still owned WHHH, formerly known as Hoosier Hot 96.3.
Wanting to boost the ratings for the new station, Shirk decided to climb its antenna—atop the 48-story Bank One Tower (now known as Chase Tower).
Shirk had scrambled up the 250-foot mast during a driving rainstorm.
"The 25-mile-per-hour winds swirled around me, bending the tower like a huge pole-vaulting pole," Shirk recounted in "Modern Day Houdini," a book he co-authored with local storyteller Dick Wolfsie.
That was until someone yelled that he had to come down—immediately. It turned out former Vice President Dan Quayle would be coming to the office tower to give a speech, and the Secret Service didn't take kindly to a crazy guy climbing its mast.
Come down or take a bullet in the head, was the bottom line.
Shirk recalled fondly that the stunt, which later boosted ratings of the new station, made him feel like a kid again—at least for a time.
"But in one way, I felt like an old man. You see, I was wearing Depends, a precaution I took in case nature called while I was on the [pole]," Shirk recalled in the book, "which it did."•
Please enable JavaScript to view this content.