A high-profile Indianapolis Colts-themed restaurant on the far north side of Indianapolis has closed.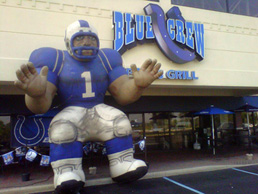 The Blue Crew Sports Grill opened in October 2006.
The Blue Crew Sports Grill at 7035 E. 96th St. shut its doors Thursday, according to a post on the eatery's Facebook page. Phone calls to the 7-year-old restaurant were not immediately returned.
"Attention Colts fans, I can't believe I'm typing these words, but the Blue Crew Sports Grill is closing its doors," the post said. "We've been struggling to stay open for a long time, but we've just lost too much money to keep going. As of this morning, we're closed."
The message continued: "We've enjoyed being the #1 destination for Colts fans for a long time, and we'll miss all of you."
It quickly became a popular hangout to watch the team's games. But questions persisted about its ability to draw a crowd during the offseason.  
Colts fans and business partners Randy Collins, Dan Dilbeck and Everett Myers opened the 4,000-square-foot restaurant in October 2006.
The restaurant was outfitted floor to ceiling with Colts memorabilia, big-screen televisions and a huge horseshoe-shaped bar.
Please enable JavaScript to view this content.