Sen. Mike Young not only knows how to stir up controversy, but seems to thrive in the face of it.
 

Young
"We're not there to necessarily make friends," the Speedway Republican said about his track record in the just-ended session of the Indiana General Assembly.
Young helped the Indianapolis Motor Speedway land $100 million in state aid, derailed a central Indiana mass-transit bill, and reshaped Marion County government. He also managed to have included in the state budget a 10-year expiration date on increased ticket and car-rental taxes, which were passed this year as part of a city of Indianapolis bipartisan budget agreement.
Marion County Democrats lobbied Gov. Mike Pence for a veto of Young's local government bill, which will eliminate the City-County Council's four at-large seats and give the mayor budgetary oversight of county office-holders, which include the prosecutor and sheriff.
Mayor Greg Ballard wanted the budgetary oversight, but eliminating at-large council seats—which give Democrats their current majority—was Young's priority. The senator, who's been heavily involved in redistricting at the state level, denied that his bill amounts to a Republican power grab.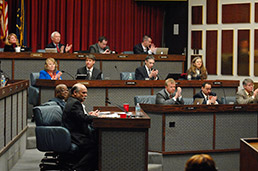 One component of Sen. Mike Young's local government bill will eliminate the City-County Council's four at-large seats. (IBJ file photo
After infuriating Democrats and irking some Republicans, Young will remain untouchable because he's popular with his west-side base and a master of legislative procedure, Republican fundraiser Mike Murphy said. "What you saw of Mike Young this session was vintage Mike Young."
Please enable JavaScript to view this content.