A once-local video production company that hit it big and moved to New York City in 2011 returned to Indianapolis last week to shoot what it hopes becomes another well-received commercial for an international jewelry company.
 
3rd Strand Productions LLC was in town, if only briefly, for the filming of a commercial for Swiss client Baume & Mercier, one of the world's top high-end watchmakers.
3rd Strand has quickly carved a niche in the jewelry advertising business, creating and filming spots for De Beers, Ocappi, Ritani, Benari, Mann's Jewelers and others. The company also has had local clients, including Reis-Nichols Jewelers and Windsor Jewelers.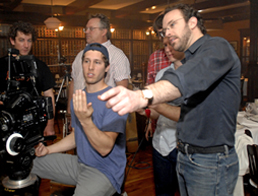 Alex Kosene, right, directs cameraman David Freemas during the local shoot. (IBJ Photo/Perry Reichanadter)
Given the abundance of acting talent in New York, shooting in Indianapolis is a testament to the chops of central Indiana theatrical talent, ever hungry for a good gig. The story also hits home in another way for 3rd Strand founder and owner Alex Kosene.
The video 3rd Strand wrote for the Web, for television and movie theater commercials is based on Kosene's  experience receiving a Baume & Mercier watch passed down from his father, well-known local real estate developer Gerry Kosene.
Few will identify with such traditions of the wealthy—after all, Baume & Mercier watches sell for between $1,750 and $19,500. It's like the average person trying to identify with the Lexus commercial in which someone receives the luxury car wrapped in a bow for Christmas.
But the video produced by Kosene aims for a more universal viewer appeal, tugging at the heart strings of a father-son relationship.
He remembered how the elder Kosene bought himself a Baume & Mercier watch in the 1970s. It was meaningful for his father, not for its bling factor, but that it symbolized the self-made entrepreneur had found success.
"It's the only [watch] he had kept. Right away I had an attachment to that brand … It was the one I remember as a kid," said Alex Kosene.
It was that memory of his father passing down the watch that Baume & Mercier liked. The 2 -1/2 minute video (the TV commercial version will be much shorter) covers a 25-year time period involving a father and son.
In a scene shot at the Capri Restaurant, on the far-northeast side, the father (played by local actor Bill Simmons) and son (played by an out-of-town actor) are sitting around the table. The son is wearing the father's old watch and the father is wearing a 2013 model Baume & Mercier "Clifton" model.
The idea is that the son realizes he's grown up to be his father. "The watch is a representation of that maturity," said Kosene's business partner, Sami Mustaklem, looking on as the film crew takes practice shots of the actors sitting at a corner table at Capri.
The son has found career success and is building a family—realizing he's imitating his father's ways. "When a father passes down a watch, it's a symbol of everything else he's passing down to his son," said Kosene.
It's a simple premise, but a somewhat-radical commercial in the upscale timepiece industry. Watch companies are typically more conservative in their approach. Often, their ads focus on technical features of the watches.
"As far as the brand is concerned, I have to give them credit. They are doing something very antithetical to the industry," said Kosene.
3rd Strand is more accustomed to weaving emotional appeals for its clients in the jewelry industry, including that of De Beers' Forevermark line. The spring version of the ad is running nationally, and the holiday version had heavy national play last year and well over 2 million views on YouTube, Kosene said.
3rd Strand's move from Indianapolis to New York City was in part due to proximity to jewelry industry clients.
It's unclear how much work the week-long Baume & Mercier shooting pumped into the local theatrical industry, but firms such as Indianapolis-based production company Adrenaline Motion Pictures LLC, which helped 3rd Strand, are grateful for the opportunities to work on commercials as well as films.
Adrenaline owner Steve Marra is an old friend of Kosene's and said finding a steady stream of work and funding in this market can be challenging, although "there's great talent here."
Please enable JavaScript to view this content.