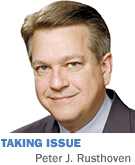 Early this month saw the passing of Otis Bowen, among the most admired, respected governors in Indiana history. Tributes following his death have been gratifying and well-deserved.
Hoosiers know the highlights. We have property tax caps for homeowners because Bowen fought for them, understanding it was vital to put limits on the natural government impulse to tax and spend. Three decades later, Bowen—at 90 years old—was still in the arena, assisting Gov. Daniels in the ongoing battle to keep property taxes under control.
When AIDS burst into national consciousness, Bowen was President Reagan's secretary of health and human services. Doc Bowen did not see AIDS as a political issue. He saw it as a medical issue the nation needed to tackle. Remarkable progress in treating and preventing AIDS owes a great deal to how Secretary Bowen responded when many others were understandably panicked.
There were a host of other accomplishments during lengthy public service that began when the family doctor from Bremen became a state representative in 1955. But the reasons Otis Bowen was and remains beloved by Hoosiers have less to do with his resume than with who he was, and how he lived.
Bowen and others of his generation came of age in the Depression; risked life and limb to defeat the tyrannies of Nazi Germany and imperial Japan; and returned home to build a strong, prosperous America that provided an unprecedented standard of living for its citizens, even as it stepped up to the challenges of world leadership and the Cold War and conquered the tyranny of the Soviet Union.
The America they bequeathed their descendants remains, for all its flaws, the most free, prosperous and generous nation on earth. It remains as well the strongest and most beneficent global power in history.
Much of what we cherish and often take for granted about our country is owed to those Tom Brokaw called "The Greatest Generation," of which Bowen was an outstanding member. My one criticism of them is that, wishing to spare their children the deprivation and hardship they overcame, they perhaps over-indulged their baby boomer offspring.
When Bowen first took a seat in the General Assembly, Dwight Eisenhower was in his first term as president. Jack Kennedy was a first-term senator from Massachusetts who had married Jacqueline Bouvier two years before. The first episode of "Leave It to Beaver" would not air until two years later.
Ten presidents and six decades later, many among us affect condescending superiority about the America of the 1950s, mocking its culture and entertainment—"Leave It to Beaver" a prime example—as laughingly less sophisticated than their modern counterparts.
Perhaps. But the values Bowen exemplified through his decades of service were those that marked the decade in which it began. Honesty. Personal responsibility. Service and selflessness. Importance of family, community and country. One's obligations as a member of each. Respect for others and their rights. Accountability for one's actions, including one's mistakes. Just the sorts of things one would find featured in a typical "Leave It to Beaver" episode.
We honor Otis Bowen and mourn his passing because he lived such values, and did so even in the rough and tumble of the political arena. Few can match his service and contributions. But all of us can continue to honor him, and the state he loved, by striving to emulate his character.•
__________
Rusthoven, an Indianapolis attorney and graduate of Harvard College and Harvard Law School, was associate counsel to President Reagan. Send comments on this column to ibjedit@ibj.com.
Please enable JavaScript to view this content.