Slingshot SEO became a local success story in recent years as demand boomed for its namesake product, search engine optimization.
But revenue flat-lined last year after Google cracked down on some of the tools companies were using to improve their positions in search results, leading the Indianapolis-based company to rethink its strategy.

Dearringer
The company considered simply dropping "SEO" from its corporate name, but another company, in Texas, already had the "Slingshot" trademark. So Slingshot opted to launch a sister brand called Digital Relevance that will focus on earning media attention—in both online news outlets and social networks—to drive traffic to customers' websites. SEO is still a component, but not the only one.
Slingshot executives expect Digital Relevance will produce the majority of the firm's revenue in a few years, allowing the firm to phase out some of its traditional SEO offerings.
"It's not just another little product that we're adding or another service that we're adding onto the side of the suite of Slingshot services," said Jeremy Dearringer, who founded the company with Kevin Bailey and Aaron Aders. "This is a very serious focus for us."
Incorporated in 2007, the company has consulted clients on SEO—the term used to describe how marketers alter websites and their content so they rank high in results for search engines.
Revenue rocketed more than 700 percent from 2009 to 2011 as its payroll grew from 18 people to 100.
But revenue stalled in 2012 after Google instigated an SEO industry-wide identity crisis.
A lot of methods, the worst of which are known as "black hat" tactics, netted a flood of consumer complaints for the search engine giant, which experts consider an undeniable force in marketing.
Among the ways to cheat, SEO firms would tack links to customers' websites everywhere they could or use unrelated tag words, such as celebrity names, to move up the results page.
Slingshot has remained adamant it's always used "white hat" SEO, but even some of those methods felt Google's wrath after it cracked down in 2011 and 2012.
"That fundamentally changed the way these search rankings happened. Google figured out a way to assign quality scores to each website," said Anindya Ghose, an associate professor of information, operations and management sciences at New York University.
"The change is going from simply trying to get more links to your site to actually working on the content of your landing page."
Slingshot in August announced it laid off about 15 people because of the changing climate. Officials said the cuts were because of the company's changing direction and not because of a revenue decline.
To cap off the year, CEO Don Kane left in February after a little more than a year and Dearringer took over the post. The company issued a statement saying Kane felt his "professional path lies in a slightly different direction."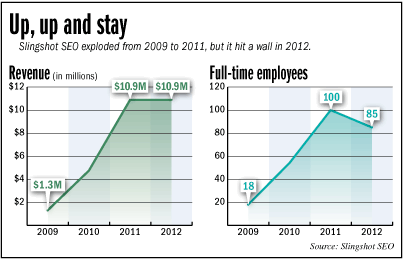 Kim Saxton, a clinical associate professor of marketing at Indiana University, said Slingshot, like other SEO firms, is finally realizing what the rest of successful marketers have known.
"We've always known you need to create great content," Saxton said. "You're now just seeing this spill over into SEO. You can't just be some little consultant creating a bunch of links. It's a natural evolution that they needed to do in the first place."
Bailey, who serves as the company's chief strategy officer, said the changes have long been in the works, even before Google's updates.
"We've been evolving in this direction throughout the last, probably, three to five years," he said.
Media matters
The end goal of driving traffic to clients' websites, ultimately leading to more sales leads, is still the same. SEO is still in there.
But Digital Relevance has shifted Slingshot's focus from tweaking clients' websites to making them more search-engine friendly.
Beefed-up blogging and public relations teams have turned the company's attention more toward better content. And the company is hiring more people—about 15, which is as many as it fired last year—to fill these positions.
A lot of the effort starts with conducting research.
The idea is to create a white paper or an e-book as a way to evoke interest in a general subject.
Digital Relevance believes it stakes better odds of earning media interest by providing research showing industry trends rather than pitching often-rejected news stories about new products or services.
Meanwhile, other employees are researching online news websites and trade journals to find who covers what subjects.
When the studies are done, the PR professionals notify news organizations or trade journals that would be interested in the research. Or Digital Relevance's own writers post guest blog entries in publications or on clients' websites. It's often a mix.
The more that stories float from media outlet to media outlet, or the more times those links are shared through social media, the higher up customers' websites appear in Google searches, driving up traffic.
Ideally, some of the readers will land on a Digital Relevance customer's website, throwing them some business.
"If you create that [research] piece right, it'll fire on all cylinders and create digital relevance, hence our name," Bailey said.

Bailey
Relevance's reign
Slingshot remains the lead revenue generator as Digital Relevance establishes itself.
"We still have our core of our business, and there's a time and a place for a lot of that stuff," Dearringer said.
But within three to five years, Dearringer and Bailey expect Digital Relevance to account for the "vast majority" of revenue.
By that time, Slingshot will likely begin to phase out some of its services, Dearringer said.
He emphasized that Digital Relevance is in no way a "full-service" digital marketing or PR firm—earned media is its niche.
However, the company will have to compete against larger, more established marketing and PR firms, said IU's Saxton.
To make it, Slingshot will need to figure out how to set itself apart. Its best bet, Saxton said, will likely be its roots in SEO.
"What you have now is a bunch of PR people trying to figure out how to go viral," she said. "Slingshot knows how to get SEO value by using quality content."•
Please enable JavaScript to view this content.