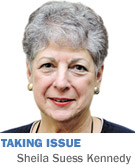 Like it or not, the United States is a country where, increasingly, people read different books and newspapers, visit different blogs, watch different television programs, attend different churches and even speak different languages. The information and beliefs we all share are diminishing and our variety and diversity are growing.
That reality makes it more important than ever that Americans share an understanding of their country's history, governing structure and philosophy. Our constitutional values are ultimately the only thing Americans have in common.
So, in the immortal words of Ed Koch, how are we doing?
The bad news: Only 36 percent of Americans can name the three branches of government. Fewer than half of 12th grade students can define federalism. Only 35 percent of teenagers can identify "We the people" as the first three words of the Constitution.
Although 94 percent of teenagers in one survey could name the Fresh Prince of Bel Air, only 2.2 percent could name the chief justice of the Supreme Court.
An avalanche of research points to what has been called a civics recession. In 2006, the National Assessment of Education Progress reported that barely a quarter of the nation's fourth, eighth and 12th graders was proficient in civics, with only 5 percent of high school seniors able to identify and explain checks on presidential power. Only 43 percent could name the two major political parties, only 11 percent knew the length of a senator's term, and only 23 percent could name the first president.
One scholar has reacted by suggesting that the amount of civic knowledge in this country may be "too low to sustain democratic governance."
The good news: Civics can be taught well. Exhibit One is the We The People curriculum and competition, created for the nation's bicentennial and sponsored in Indiana by the Indiana Bar Foundation.
In Washington, D.C., in April, I had the privilege of judging the national finals of the We the People contest. While each team had been provided with the opening question, they had no way of knowing what subsequent questions the judges might ask, and those questions weren't softballs.
The high school students I saw answered questions like, "What is the difference between classical Republicanism and natural rights philosophy?" "How and why does the Constitution provide for three competing but complementary branches of government?" "Evaluate the anti-federalist argument about the 'necessary and proper' clause." "What limits, if any, should be put on the power of judicial review?" "What are the essential features of federalism?"
The sophistication with which these students handled these and numerous other questions was impressive. They quoted from the Federalist papers and constitutional text and legal scholarship to make their points. They recognized the reasons for—and dangers of—the growth of presidential power, they were able to explain the issues raised by signing statements, and they expressed concerns about due process in the context of drone strikes.
And they were passionate about these subjects! A student who disagreed with a teammate's answer felt free to say so and explain why. One student even defended the basis upon which he disagreed with something James Madison had written in Federalist 51!
Research shows that graduates of We the People are more knowledgeable and engaged as adults. Unfortunately, its use is entirely voluntary—it is up to the individual teacher, and Congress no longer provides funding for teacher training and support.
Support for civic education was one of those earmarks Congress eliminated.•
__________
Kennedy is a professor of law and public policy at the School of Public and Environmental Affairs at IUPUI. She blogs regularly at www.sheilakennedy.net. She can be reached at skennedy@ibj.com. Send comments on this column to ibjedit@ibj.com.
Please enable JavaScript to view this content.