As the minutes tick closer to 9 a.m., the nervous chatter on the set of WISH-TV Channel 8's "Indy Style" turns to quiet anticipation.

Members of the Jenn Cristy band are set up on the floor, but their puffy eyes protest the unnaturally early hour for musicians. Across the studio, a turnip farmer and a chef stand ready at the stove. Nearby, a baby raccoon guest is snoozing in a towel and couldn't care less.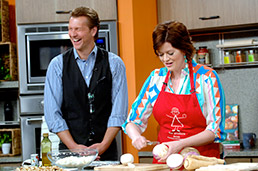 Guest Lori Taylor, right, shares turnip-cooking tips with co-host Tracy Forner. (IBJ photo/ Perry Reichanadter)
Before you know it, the big monitor in WISH's control room goes black and the show's intro starts rolling. Welcome to Indianapolis' only locally produced lifestyle show, an hour's worth of programming on everything from recipes to music to fitness to screen-door-repair tips.

More important, it's a way for WISH-TV to generate local advertising from something other than the murder and mayhem that tend to dominate local newscasts.

This format has its challenges, though. Aside from veteran TV hosts Tracy Forner and Andi Hauser, we're talking about a parade of rank amateurs as guests, five days a week.

If there's a screw-up, "we joke that at least [viewers] know that we're live today," Executive Producer Peggy McClelland said of the show's audience, which is typically women ages 35 to 49.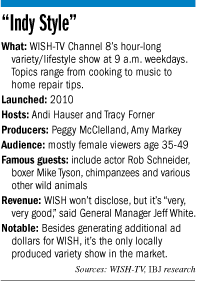 Most stations don't even bother with this sort of show anymore. Syndicated programming is cheaper and easier.

"Production is not cheap. That's the point," said Bill Perkins, of media buying firm Perkins Nichols Media.

That's not to say viewers don't like local programming and what's happening in their community, Perkins added. "Indy Style's" nearly four years on the air would seem proof of that.

There's certainly no shortage of guests—McClelland has them booked out into late next year. That is, except for the florist who got stuck in Michigan and let her know at 11 p.m. the night before. The show switched to a taped interview with another guest.

Sponsor format

Locally produced lifestyle shows haven't always endeared themselves to media critics.

In 2003, Tampa's WFLA-TV was skewered by the New York Times, which said the station's "Daytime" show was charging guests to appear on the show. It's known as "pay to play." WISH officials wince at that term, but some of its guests are sponsors of the show.

North Meridian Hardware owner and show sponsor Keith Payne appears every other Friday to present the "Fix it Fridays" segment, which gives tips on any number of home care issues. Payne, who even built the set for the segment (a refrigerator-size prop on wheels) recently talked about how customers remodeled their bathrooms with features such as heated floors.

"We're starting to see some followers. I walk out in public and people say, 'Hey, you look familiar,'" Payne said.

"I'm trying to get traffic down to the store," he said, although, "I kind of look at it as more of a community-service thing."

"Indy Style" is backed by local sponsors such as Unique Home Solutions, whose logo appears during a home care feature. Today's Unique Home tip, demonstrated by Forner, shows how a broom handle can be used to give a garbage disposal an attitude adjustment.

Of course, if a non-sponsor guest would like to run an ad on the show, the station's sales reps are just down the hall.

"Guests on the show are a combination of invited guests, sponsors and one-time-only advertisers," said WISH-TV's director of creative services, Scott Hainey.

White
He said invited guests often get such great response that they want to become a reoccurring part of the show. Hainey said the station works with advertisers to create a balance of effective sponsored content "achieving their goals, while seamlessly supporting the show's brand to entertain our viewers and provide them with good value, keeping them engaged on a daily basis."

Exactly how much money the show is generating WISH won't say. But General Manager and President Jeff White said, "The numbers have been very, very good."

Fast-paced

"Indy Style" was launched in March 2010, replacing "The Martha Stewart Show," which was heading to another network.

"This allows us to control our destiny a little bit more. We can respond to what central Indiana wants," White said.

One thing viewers want is content about food, said McClelland. WISH spent big bucks on a studio kitchen that includes a proofing oven, for example, which few viewers have in their own homes. McClelland hears from chefs who make the rounds of shows that stations like WGN-TV in Chicago have little more than glorified hot plates by comparison.

"Indy Style" is frequented by local chefs and restaurateurs, but has hosted nationally known chefs such as Richard Blais. On this day, Lori Taylor "The Produce Mom," and Mike Kocher, of Peaper Bros. Produce, are demonstrating how to cook turnip dishes and bestowing upon viewers "all the benefits of the root vegetables."

The impossibly dull vegetable that old-timers used to eat because it was cheap suddenly seems exciting after a little chopping, a little olive oil, salt and pepper. Tastes like potato.

The baby raccoon also gets its minute in the spotlight—in a lesson for viewers not to chop down trees this time of year without being mindful that critters are nesting their young.

Jenn Cristy and her band get their moment as well, documented by hand-held cameras the in-studio guys otherwise wouldn't get much practice on.

"More voice," Producer Amy Markey shouts to the audio engineer in the next room, who pots-up the microphone as instrumentals start drowning out Cristy's powerful voice.

The show is precisely scripted. Markey is laser-focused on a computer screen showing allotted times for each segment. She speaks into the earpieces of hosts Forner and Hauser, alerting them how many seconds remain for the segment.

Viewers have little time to get bored—if they're not interested in a particular topic, they need wait only six minutes or so for the next one. The pace is fast.

What's curious is that guests appear remarkably relaxed for a live show, especially for those who've never been on TV. Executive Producer McClelland has had years of experience at this, having produced local shows years ago for WTTV.

The trick, she said, is to get them to arrive at the studio early and to carefully explain to them what to expect.

Co-host Hauser said it helps that she and Forner keep the show conversational rather than using formal questions.

"We're not Mike Wallaces," Forner said of the question-averse format, as a robotic camera tried to get around him on its way back to the news studio.

It probably helps that Hauser and her "work husband" Forner are, well, personalities. She has a 5,000-watt smile that would disarm Charles Manson. The petite blonde has a wide range of interests to help her identify with a variety of guests, in her spare time running marathons and riding a Harley or Ducati motorcycle.

Forner, a former anchor at WXIN-TV Channel 59, is one of those happy-go-lucky guys who could sell an Eskimo a Frigidaire.

"I grew up around farms and agriculture," said the 14-foot-tall co-host who fashions himself a generalist. "A guy I know said, 'Tracy, you're a mile wide and 2 inches deep.'"

In this kind of show, though, Forner took that as a compliment. In fact, he said he enjoys the topics—even discussions about the lost art of canning. At one point, he said, a guest was explaining some aspect of the process and he found himself saying, "No way!" in excitement.

But the local show also has its share of semi-famous guests, people like actor Rob Schneider and boxer Mike Tyson.

The handlers for the celebrities are usually in a hurry to get their VIPs out the door after their segment, Forner said. More times than not, though, the celebs wind up enjoying themselves and sticking around through the show—like Mike Tyson did.

"He wanted to talk to the lady in the baking segment," recalled Forner, who happily obliged 'Iron Mike.'•