Two Johnson County communities are determined to capture—and control—the next wave of suburban growth.

Greenwood wants to annex 1,800 acres around a planned interchange at Worthsville Road and Interstate 65, but will keep the land zoned agricultural to enforce adherence to a master plan. Meanwhile, Whiteland has created a tax-increment-finance district in hopes of drawing a developer to participate in a new, master-planned town center.

Myers
Real estate experts think it will take many years for each community's vision to come to fruition.

On the new interchange, Greenwood Mayor Mark Myers said he wants to avoid the clutter of gas stations and hotels that sprang up at Main Street and I-65.

Myers said he's willing to wait for high-quality projects, such as professional office buildings and upscale eateries to serve them.

"We're going to stick to our guns this time on what we do and don't allow in that area," he said. "I would rather wait a few years and not make a mistake."

A suburban Indianapolis developer, however, said government officials might have trouble imposing their vision.

"My general opinion on trying to drive demand, that's very tough to do," said Brian Mann, managing partner at Mann Properties. "You think an interchange should be something—who knows if the people who have the money will agree?"

Whiteland, on the other hand, is hungry for new housing, retail and employers. At the same time, town officials have heard residents' pleas for public parks and trails, and they want to ensure that future developments provide common green space and pedestrian connectivity.

Whiteland officials think the fastest path toward achieving those goals is a new TIF district covering 359 acres. The district would capture the historic business corridor along Main Street, plus a wide swath of mostly farmland to the east. That's where they hope to create a new town center, modeled after the one under way in Fishers.

TIFs help spur economic development by using property taxes generated by new development to pay off bonds issued to fund public investment. For Whiteland, making the strategy work hinges on attracting a development partner, a tall order for a town of 4,100 people.

"It looks like they've got a really good master plan," said John Cunningham, director of sales and leasing at Allen Commercial Group, which has built offices, residences and retail buildings in the south suburbs.

"It's going to come in smaller pieces than they had originally envisioned or would like," he predicted.

Decongestant

Greenwood's push for a new interchange stemmed from congestion along Worthsville Road.

The city plans to widen Worthsville to four lanes, and it has committed up to $11 million in local money for the new interchange, which the Indiana Department of Transportation recently agreed to build in 2014.

Realizing the amount of land being opened for development, Greenwood hired American Structurepoint to help craft a master plan.

The 1,800-acre area, which is southwest and east of the future interchange, would capture 112 parcels and an estimated 195 residents. The city would classify all the land as agricultural, which allows the consenting landowners to receive 10-year tax abatements under state statute and forces future development to go through Greenwood's planning and zoning boards.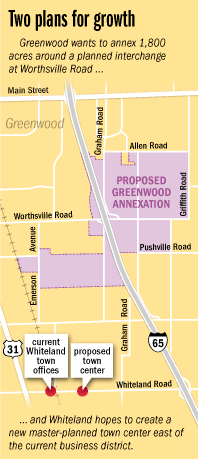 In what Myers calls a "worst-case scenario," the city estimates it would lose $581,760 over five years on the cost of extending street maintenance and police and fire service to the annexed area.

Myers said the estimate doesn't account for the area's rural nature, and he thinks Greenwood will soon see new development bringing in additional tax revenue to recoup those costs.

Real estate brokers are skeptical that there will be much demand for the new office space city officials want, at least in the next few years.

Even Fishers had to wait about 15 years to see strong demand for office space, which came after the boom town's housing and retail markets were mature, said Darrin Boyd, principal and managing director at Cassidy Turley in Indianapolis.

"I can remember in the late '90s when Fishers was telling people like me, 'Help us get offices here,'" he said. "It takes a little while."

The south suburban market has 819,802 square feet of office inventory, and 20.4 percent was vacant in the first quarter, Cassidy Turley research shows. One of the smallest Indianapolis submarkets, the south is dwarfed by the north side/Carmel, which has 6.4 million square feet.

Greenwood is attractive to companies that want easy interstate access for workers, or medical professionals setting up satellite offices, said Cunningham, who leases space at Allen Commercial's two buildings in Emerson Pointe on County Line Road.

Leasing interest has picked up quite a bit in the past three months, but Cunningham said, "Absorption is going to take a while."

Above and beyond

Whiteland acquired a reputation for conservatism in the early 2000s that's stuck, making it difficult to compete with Greenwood and Franklin.

"Now that means we have to go over and above to bring interest to Whiteland," said Nathan Bilger, director of planning and zoning.

The town in April adopted a 1,734-acre economic development area that encompasses most of its non-residential zones, including its two gateways at U.S. 31 and I-65. Town officials think there are big opportunities for development near the highways, but their focus is on the designated TIF district along Whiteland Road, which is called Main Street in the old downtown.

That's where they hope to lure a development partner and create a new town center with a government building, apartments and specialty retail. Town Manager Dennis Capozzi said the idea is modeled after Flaherty & Collins Properties' $33 million project in downtown Fishers, which calls for 203 apartments, retail and a parking garage on 3.4 acres in front of town hall.

Whiteland estimates its town center project would cost $8 million to $15 million.

The town easily could extend the TIF district to one of its more visible highway corridors, Bilger said, but chose to focus on the center because of available farmland, which provides more of a blank slate.

"It's a matter of building identity," Bilger said.

Whiteland's sparse household density looks to be a huge hurdle for the town center idea.

Allen Commercial has heard that same concern, even about the most prominent site in town, the former Mr. D's grocery store at the northwest corner of Main Street and U.S. 31, Cunningham said.

Allen acquired the former Mr. D's, an eyesore that's been vacant for 10 years, this spring. Retailers like the traffic counts on U.S. 31, but the first thing they point out is a relative lack of rooftops, Cunningham said.•