One of the highest-profile tracts of undeveloped land in Zionsville could be transformed into a commercial and residential hub if a $90 million project gets the town's blessing.
Pittman Partners LLC is proposing to build The Farm at Zionsville, a 62-acre mixed-use development at the southwest corner of Michigan Road and Sycamore Street—a key gateway into the Boone County community.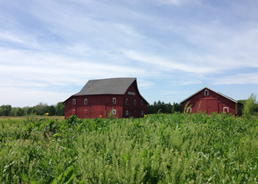 The 62-acre property on Michigan Road currently is zoned for agricultural uses. (IBJ Photo/Andrea Davis)
Plans call for 122,000 square feet of retail anchored by a specialty grocery store, plus restaurants, offices and 400 multifamily residential units. Six single-family "estate" homes are planned for the western edge of the property.
Developer Steve Pittman, whose family has owned the land for more than 30 years, said its time has come.
"The community wants something there that is going to benefit Zionsville," and the market for such a project is increasingly favorable as the economy recovers, Pittman said.
Town economic development chief Wayne DeLong called the project "long anticipated," but said it was too soon to comment on the specifics of the proposal filed May 14. Zionsville's Plan Commission is expected to consider the proposal at its June 17 meeting. The Town Council also would have to approve the project.
It's no secret that Zionsville officials are trying to ramp up commercial activity in the predominantly residential community. The Town Council in September adopted an economic development plan that lays out a blueprint for growth.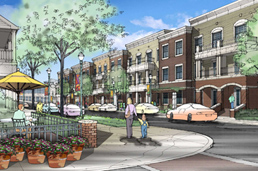 The Farm will feature 400 multifamily residential units. (Pittman Partners LLC/CSO Architects)
That plan refers to the Pittman land—now zoned for agricultural uses—as Zionsville's Gateway District, given its location at a high-traffic intersection, and recommends it for mixed-use development with "an emphasis on high-quality architecture, proportion and detail."
Pittman said he and his brother, Chad, have spent more than a year studying similar projects nationwide. Their goal is to build something that draws retailers and residents alike.
"We want to create a place people want to come to," he said, mentioning live-music venues and movie nights as possible draws. "Not just for dinner or shopping, but to hang out with the family."
A microbrewery and breakfast restaurant are on his wish list, but Pittman said landing a specialty grocery store is a priority. "If you get the right one, it will attract other tenants," he said.
Pittman said he has had "multiple conversations" with a broker for a store he would not identify, saying he didn't want to sour a potential deal.
(Asked about multiple photos of Whole Foods stores included among the design concepts in the filing, Pittman said they're intended only to show that specialty grocers don't have a uniform look.)
A preliminary site plan shows retail uses along Michigan Road and office buildings facing Sycamore Street. The 30,000-square-foot grocery and smaller shops would be at the heart of the so-called Village Core, surrounded by upscale multifamily housing.
Whether that would be apartments or condominiums remains to be seen. A fiscal analysis submitted with the Pittman application concluded the project would provide "significantly greater tax revenues" with rental housing, which isn't subject to Indiana's 1-percent property tax cap.
"As it is built out over time, I think there will be demand for both" rental units and owner-occupied housing, Pittman said.
Construction would be complete within three to five years, if it's approved. The Farm at Zionsville should support 480 jobs and 550 residents, according to the report from Phoenix-based Applied Economics.
Longtime Zionsville resident Brent Davis of CSO Architects is overseeing design, Pittman said, which should ensure the project fits in with its surroundings. Because the Pittman family has no debt on the land, he said it can afford to be deliberate about development.
"We won't go in and build a bunch of buildings and hope they fill up," he said. "We will wait for the market."
Walkable communities are increasingly popular among empty-nesters and young professionals alike, Pittman said. So, plans for The Farm include a pedestrian trail network that could connect the property to Zionsville's historic Main Street business district.
"We want the development to complement downtown," Pittman said. "It's such an integral part of the community."
Town Council member Candace Ulmer said she supports development of the site as a way to broaden Zionsville's appeal to residents of all ages. Diversifying the town's tax base isn't enough, she said.
"We need to attract the young professionals to settle in Zionsville and begin their adult life here," she said in an email. "That means offering housing and amenities" to attract them.
__
Weigh in on Pittman's plan on IBJ's North of 96th blog.
Please enable JavaScript to view this content.