When Forbes Magazine released its 30 Under 30 lists for education and for social entrepreneurship in December, two out of 60 up-and-comers were from Indianapolis.
Those two Indianapolis residents happen to have been best friends since college. And they happen to own homes in the same Meridian-Kessler neighborhood. In fact, they happen to live directly across the street from each other.
But this coincidence is no coincidence. Patrick Herrel and George Srour have been trying to one-up each other, good naturedly, for the past decade. And their "Grumpy Old Men"-style friendship has helped spur them to their present positions, in which each of them oversees a large pot of money to help improve schools.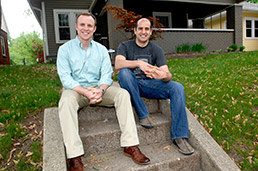 Herrel, left, and Srour have leveraged their fierce, but friendly, competition to help them succeed at careers with The Mind Trust and Building Tomorrow, respectively.(IBJ Photo/ Perry Reichanadter)
Srour, 29, is the founder of Indianapolis-based Building Tomorrow, which has built 10 schools in rural areas of Uganda and now is using a $500,000 commitment from the Clinton Global Initiative to build 50 more schools and improve teacher training in the African nation.
Herrel, who turned 30 in March, was hired by Indianapolis-based education reform group The Mind Trust to launch and run its charter school incubator, which has doled out $4 million to replicate charter school networks in Indianapolis.
"I'm sure he'll be out this next weekend working in his lawn, because I was working in my lawn last weekend. And his needs help," Srour said with a mischievous sideways glance at Herrel while the friends sipped pints of beer together at their favorite pub, Twenty Tap.
Herrel admits his lawn isn't quite as good as Srour's, but he can counter by reminding Srour of who won the last time the two high school tennis players squared off across a net.
"I think we both know what happened when we played tennis," Herrel said.
The fact that these hyper-competitive guys both landed on Forbes' national lists last year shows that Indianapolis is having success attracting talented young people who are doing "creative class"-type work on a national level. And that a growing number of those young people are focused on the issue of improving education for those in need.
But Srour's and Herrel's friendship also demonstrates that Indianapolis' recipe for talent attraction is different than in other cities: Rather than hooking people with oceans, mountains and bohemian neighborhoods, Indianapolis relies far more on relationships.
Drew Klacik, a researcher at the Indiana University Public Policy Institute in Indianapolis, said Herrel and Srour are both examples of the type of people Indianapolis does well at attracting and keeping. They tend to be from the Midwest or have a "Midwest persona" that values family, practicality, tradition and stability more than new experiences.
Indianapolis pulls in such people even if they are not from Indianapolis originally, according to Klacik's analysis of data supplied by California-based ESRI, a firm that uses U.S. Census Bureau data and proprietary surveys to help national retailers decide where to put stores and to help many other businesses target their next advertising campaign.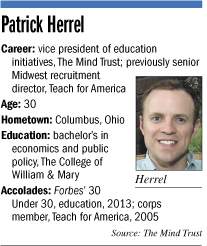 By contrast, Indianapolis ranked sixth-worst among large U.S. cities for attracting people who are open to new experiences, according to a study by Cambridge University psychologist Jason Rentfrow.
"If you kind of have that Midwest persona, then truly Indianapolis is better positioned than perhaps any other city than the global city of Chicago to attract guys like these guys," Klacik said. "But if you're driven solely by new experiences and by wanderlust, so to speak, then we don't have enough resources to invest to attract you."
'Place for incubating ideas'
Neither Herrel nor Srour planned to settle in Indianapolis when they left their respective hometowns of Columbus, Ohio, and Indianapolis to attend the College of William & Mary in Williamsburg, Va.
Herrel had his eye on law school, and a career in government. Srour didn't have a plan, but having already spent years traveling the globe to volunteer for the Special Olympics, he didn't expect to go back to Indianapolis.
But Srour found that his parents and their friends were the best way for him to quickly and inexpensively get the legal and financial help he needed to launch Building Tomorrow.
And Herrel came to Indianapolis because Srour told him about The Mind Trust job opening. Herrel at the time was director of Midwest recruitment for Teach for America, the New York-based alternative teacher training program that steered him away from law school and into education during his senior year of college.
Herrel had also visited Srour regularly in Indianapolis, detouring on his way to see his brother and nephew in Cincinnati.
"That was a big driving factor for me [to move to Indianapolis]," Herrel said of the proximity of his family members.
"Once I got here," he added, "I quickly realized it was a city that pulls you in. People were very eager to bring me into their groups."
Herrel and Srour also said Indianapolis provides a lot of advantages as a place to launch social entrepreneurial ventures, as both Building Tomorrow and Mind Trust have been doing.
"I wouldn't have thought that this is where I would end up," Srour said, but "Indy is a really great place for incubating ideas."
College competition
Herrel and Srour lived in the same dorm as freshmen at William & Mary. They first got to know each other because Herrel was planning a summer trip, and had heard that Srour was a whiz at finding airline deals.
In fact, to this day, Srour memorizes flight schedules of major airlines and can quote Delta's flights from, say, Los Angeles to Indianapolis, when asked.
Herrel gained an early edge in his friendly rivalry with Srour, being elected chief justice of the William & Mary undergraduate honor council, which the college describes as "one of its most significant traditions." Srour later became head of the student judicial council at William & Mary, an appointed position.
"I wasn't popular enough, like Patrick, to be elected," Srour said with pretended petulance. Herrel smiled and shook his head.
But before the two graduated in 2005, Srour was one of the most well-known students on campus. After returning from an internship at the U.N. World Food Programme, during which he visited numerous rural "schools" in Uganda, he decided to raise money from his fellow students to construct an actual building for one school to meet in.
Srour's Christmas in Kampala campaign, staged in 2004, raised $45,000—and paid for Building Tomorrow's first school in Uganda. Much of Building Tomorrow's subsequent fundraising was also on college campuses, including many in Indiana.
Thriving on thrift
In spite of his penchant for raising large amounts of money, it was Srour's obsessive deal-finding that brought him back to Indianapolis after he graduated.
"Loves him a bargain," said Whitney Ramsay, who lives a block away from Herrel and Srour, and has known Srour since they were in middle school together. She said whenever Srour receives a $10 promotional gift card in his mailbox, from Kohl's for instance, he promptly goes to the store and finds something just more than $10 to buy.
The only living that Srour's budding social entrepreneurial venture could sustain at the time was with his parents, so that's where he lived temporarily.
His father Eddy, a leukemia researcher at the Indiana University School of Medicine, and his mother, Samar, a computer coordinator at Washington Township schools, also helped point their son to lawyers, accountants and other professionals who helped him launch Building Tomorrow.
"We wouldn't have just been able to do this anywhere," Srour said, noting that his organization's costs are far lower in Indianapolis than they would be in D.C. or New York.
Not that he spends that much time here. Srour is on the road about 200 days a year—not only to Uganda, but also to potential supporters around the country. In October, he flew to New York to accept a $500,000 check from former President Bill Clinton at the annual Clinton Global Initiative dinner.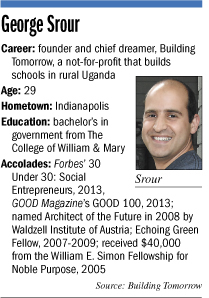 Srour also flew to South Korea in January for the Special Olympics; his girlfriend, Kristin, lives in Washington, D.C.; and sometimes he visits Lebanon, from which his parents emigrated.
When Francesca Jarosz, who works with Herrel at The Mind Trust, asked Srour if he wanted to participate in a yoga class, he said he couldn't because he'd be traveling—to India.
"I'll be in the motherland," Srour said.
Seeking challenges
Globe-trotting is one of Srour's trump cards in his competition with Herrel. Last fall, Herrel organized a group of 50 people to run in the Monumental Marathon in Indianapolis. But when he asked Srour, his friend declined because he was already scheduled to do something with his father—fly to Africa and hike Mount Kilimanjaro.
"Of course, everything George does is better than me," Jarosz recalls Herrel saying at the time.
But that's not entirely true, Srour said. Not only did Herrel beat Srour at tennis, but Herrel admits he is also the better skier.
On their most recent of regular ski trips to Aspen, Herrel spent his time conquering the "bowl," a difficult ski course that could be reached only after a long hike.
Meanwhile, Srour contented himself with doing as many ski runs as he could fit in—because he had a goal of driving his costs for the trip below $5 per run.
Herrel is always pushing himself to tackle new challenges—and often invites ribbing from Srour in the process.
Srour and Herrel co-hosted a New Year's Eve and New Year's Day get-together of friends at their houses. At breakfast on New Year's Day, Herrel brought out his laptop and shared his New Year's resolutions.
They were laid out in a Microsoft Excel spreadsheet, with measurable goals for each. One was a commitment to read a book a month—but to make them all fit into a theme of science and technology.
"George made endless fun of Patrick for that list," Ramsay said. "But I'm sure he has one, in a moleskin book, written in his perfect handwriting, which is like a font."
At work
Both Herrel and Srour are impressive in their work environments. Herrel takes the lead interviewing teams of five and six people at a time as Mind Trust staff members work to select their charter school award recipients.
During a 2012 interview with one charter school team, Herrel quizzed them effortlessly about the various models of so-called blended learning—which combines computer- and teacher-led instruction—as well as the various software programs the school would use and how it would integrate all of them.
Mind Trust CEO David Harris said it was a "coup" that he was able to hire Herrel away from Teach for America.
Srour, when he is in town, works from a former schoolroom in a downtown building with an old chalkboard on the wall behind his desk. Wearing a red Special Olympics fleece, he rattles off a string of factoids to demonstrate why building schools in rural Uganda is critical to improving education there.
Across sub-Saharan Africa, students are 30 percent more likely to attend school if it's within two kilometers of their home. Teachers are 15 percent more likely to show up to teach if there is a latrine. Lifetime earnings rise 10 percent for every year a person spent in school as a child.
The issues Herrel and Srour face in their work are remarkably similar, they say, even though they work on different continents. Mind Trust has supported education entrepreneurs trying to get students and families to focus on education during the summer or to improve teacher quality.
Srour says Building Tomorrow's biggest struggles are getting local families to value education and getting strong school leaders that can raise teacher quality.
"We have noticed that the schools that are really successful are the ones with really strong leaders," Srour said. "It's the same kind of problems you see here."
The list
What Herrel and Srour can't agree on is what Srour knew about the Forbes' 30 Under 30 lists and when he knew it.
Herrel had been nominated by his Mind Trust colleagues. In early December, the magazine's editors called to ask for a picture of Herrel, which meant he was a finalist. Knowing this, he went to an Ugly Sweater party staged by Building Tomorrow to raise money, and told his friends what a great honor it would be to make the list.
But Srour ribbed him relentlessly, accusing him of being falsely modest, of pretending not to know that he had made the list, and of being better than all his friends now.
"We should do something later—if you're not too cool to hang out with us," Srour needled Herrel while mixing among friends and potential donors.
Days after the party, Herrel and Srour each received notification from Forbes that they had made the list. But Srour, now fearing that only he had made the list and not Herrel, kept teasing his friend about the award—the very award that he himself had won.
"I couldn't raise the white flag at that point," Srour said. "That would have been terrible."
Sitting over beers at Twenty Tap, Srour desperately tried to explain himself. He said a friend who had been one of the Echoing Green Fellows with Srour had nominated him for the Forbes list, and notified Srour via Twitter.
"I totally, completely forgot about it," Srour pleaded. Then when Forbes called for his picture, one of Building Tomorrow's employees fielded the call, and didn't mention it to Srour. So he didn't know he was a finalist.
When Srour had finished his account, Herrel, smiling and shaking his head, said simply, "I don't believe a word of it."•
Please enable JavaScript to view this content.