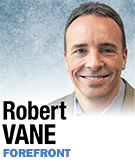 It should come as no surprise to anyone who's read what I've written in Forefront that I didn't buy a ticket to ride the "Hope and Change" express. Just because I wasn't a passenger, however, doesn't mean I didn't want the train to reach its station.
Swept into office on a personal popularity wave unlike any in recent memory, President Obama had all the tools—a fawning media, control of Congress and superb political skills—necessary to make good on his pledge. Even a conservative Republican like me rooted for him to succeed in making our Capitol more constructive and less comedic.
What has followed since Jan. 20, 2009, however, is a fulfillment of neither Obama's promise nor his promises.
And the troika of scandals that have broken over the administration in the past few weeks only reinforces the belief that he is much more at home on the campaign trail than in the Oval Office.
The backlash against the targeting of conservative groups by the IRS, the targeting of reporters by the Department of Justice, and the permitting of embassy personnel in Benghazi to become targets has rocked the White House.
The Benghazi scandal, with the loss of four American lives (including our ambassador), is certainly the most tragic. The administration's story has evolved in ways that even Darwin would find perplexing.
Maybe the controversy over talking points matters and maybe it doesn't, but there is nothing in this episode that inspires hope. As with the Fast and Furious fiasco (in which an American border agent was killed after the ATF bureau allowed the sale of more than 2,000 guns to Mexican drug gangs), the administration's response has been primer in what not to do in a public relations crisis.
Does the invoking of executive privilege in the Fast and Furious debacle fall under hope or change?
It seems every day that a new layer is added to the imperial overreach in the targeting of the media.
What started out as subpoenaing of Associated Press phone and email records has crept into something much bigger. The Department of Justice is now known to be targeting Fox News reporters and has named reporter James Rosen as a criminal co-conspirator. The department even subpoenaed the phone records of Rosen's parents and payments made to a toll booth near their home on Staten Island.
Notice, of course, that the Obama White House is not prosecuting the folks who have leaked information about events, like the killing of Osama bin Laden, that make The One look good.
Finally, you have the IRS specifically targeting conservative groups. This, more than anything, is inspiring the comparisons to the Nixon administration. Not only because it was a specific article of the congressional articles of impeachment, but also because it speaks of a fanatical drive to silence perceived enemies.
The IRS asked groups it identified as conservative what books they read! And asked for printouts of Facebook posts and which political leaders they knew.
What a disgrace.
Then, Lois Lerner, head of the IRS' Exempt Organizations Office, invoked the Fifth Amendment when she appeared before the House Oversight and Government Reform Committee.
After nearly five years in office, perhaps it's time for a new slogan for Barack Obama and his administration. How about "audit and subpoena"? Or "executive privilege and Fifth Amendment"? Maybe "golf and lead from behind"?
Any of these would be more accurate than what was once a powerful message.•
__________
Vane, a U.S. Army veteran, has worked for elected Republican officials including Indianapolis Mayor Greg Ballard, and currently owns the public relations firm Veteran Strategies. Send comments on this column to ibjedit@ibj.com.
Please enable JavaScript to view this content.