Indianapolis-based Cornerstone Cos. Inc. and several partner physician groups have sold 16 medical office buildings in central Indiana for $120 million.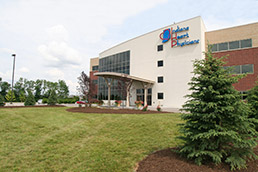 The Indiana Heart Physicians building on the south side's East Stop 11 Road was one of 16 buildings Cornerstone sold. (Photo/ Cornerstone Cos. Inc.)
The deal with Newport Beach, Calif.-based American Healthcare Investors closed late last month. The properties total 630,000 square feet and are located from Bloomington to Lafayette.

Cornerstone executives say the sale was one of the largest in the country this year involving off-campus, multi-tenant medical office buildings.

"When demand [for medical office buildings] got healthier and supply got less, guys decided they were going to pay more," Cornerstone President Robert N. Whitacre said.

Cornerstone plans to use sale proceeds to help finance projects in the works in Indianapolis, Noblesville, Bloomington and West Lafayette, in addition to one in Mississippi.

Cornerstone will continue to manage the properties for American Healthcare Investors. They range in size from 15,000 square feet to 136,000 square feet.

American Healthcare Investors has $1.4 billion in assets and owns 153 buildings in 28 states.