The iconic smokestack of Indianapolis Power and Light's Harding Street Station sits about five miles from Monument Circle, but it's at the dead center of a struggle over the future of coal-fired power plants.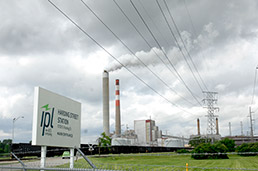 Environmental activists want IPL to retire Harding Street Station, rather than upgrade it to meet new mercury-emissions standards. (IBJ photo/ Perry Reichanadter)
The Sierra Club says shutting down Harding Street is the top Indiana priority of its national Beyond Coal Campaign, which seeks to spotlight the environmental impact of coal-fired plants and pressure utilities into using alternative energy sources.
The environmental organization wants the Indiana Utility Regulatory Commission to block an IPL plan to spend $511 million on pollution controls at the 39-year-old Harding Street plant, plus a four-unit station in the southwestern Indiana town of Petersburg.
Many coal-fired utilities are opting against such investments and pulling old plants out of service. A recent survey from the Kansas-based engineering and consulting firm Black & Veatch found that retiring plants early was utilities' most common plan for dealing with air-quality regulations. Pollution controls was a close second, and switching to a different fuel was third.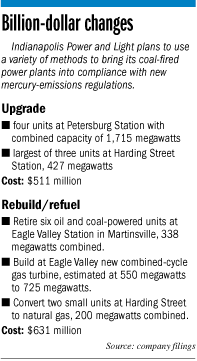 Black & Veatch predicts that new mercury-emissions rules, plus ample supplies of cheap natural gas, will lead to the retirement of 62,000 megawatts of coal capacity by 2020. That's the equivalent of 97 Harding Street Stations.
IPL says it opted against retirement because making the pollution upgrades is the least-costly alternative for ratepayers. The utility is not yet required to lay out the specific impact on electric bills. But it says the upgrades, plus other environment-driven work, will cause bills to go up 2 percent to 3 percent a year from 2014 to 2017.
At the same time, the company has decided the best course for its Eagle Valley station in Martinsville is to tear it down and build a natural gas turbine. IPL would convert two smaller and older coal-fired units at Harding Street to natural gas as part of the same $631 million project.
IPL hopes the IURC will rule on its Harding Street and Petersburg retrofit plan, announced last year, as early as this month. The company filed its request for the Eagle Valley natural gas project in April.
IPL is treating Harding Street and Eagle Valley differently because they're at different stages in life, IPL spokeswoman Brandie Davis-Handy said. The coal-fired units in Martinsville date from the 1950s, while the largest unit at Harding Street was built in 1973.
"At the end of the day, even though we're saying, yes, natural gas is definitely more economical, coal in terms of price still is one of the best options for our customers," Davis-Handy said.
Another factor is the current level of pollution control. Eagle Valley and the two smaller Harding Street generators are "unscrubbed," while the Harding Street and Petersburg units slated for upgrades are equipped with technology that will help meet the new standards on mercury, the company told regulators.
Electric utilities across the country are making similar decisions on whether to close, convert or upgrade their aging coal-fired plants, said Charles Fishman, a stock analyst at Morningstar Inc. who follows IPL's parent company, AES.
"In the case of Harding, it's probably a borderline decision, really driven by its location," he said. "That's not where you want to have a coal plant, in an urban area like that. You've still got to get the power to Indianapolis somehow."
Regulatory battles
The Sierra Club Hoosier Chapter, along with the Indianapolis-based ratepayer advocate Citizens Action Coalition, want the IURC to deny the retrofits for Harding Street. They also want the cost of retrofitting two older units in Petersburg to fall on IPL's investors, not ratepayers, in the event they're shut down in the future.
The advocacy groups, which hired their own expert witness for the case, argue that IPL didn't adequately assess alternatives, including converting to natural gas, contracting for more renewable energy like wind and solar, or shutting down Harding Street and buying more electricity on the open market.

Olson
Citizens Action Coalition Executive Director Kerwin Olson said it doesn't make sense to spend money on Harding Street when future limits on carbon-dioxide emissions could shut it down, anyway.
Carbon limits are still a big question mark, said Fishman, the Morningstar analyst. "The majority of public-service commissions across the country are not considering that now because it's such an unknown."
Other parties that scrutinized IPL's retrofit plan agreed with it. The Office of Utility Consumer Counselor, which is the state agency that represents ratepayers, and the group of industrial customers have reached a settlement with IPL, which the regulators could adopt in their decision.
IPL says its $1.1 billion environmental compliance plan would reduce mercury emissions from all its power plants 80 percent.
That's not good enough for the Sierra Club. Even with air-pollution controls, coal-fired plants continue to produce mercury-laden coal ash, which can end up on the ground and in water, said Jodi Perras, Indiana representative for the Beyond Coal Campaign.
"If we lose, we're not going away," Perras said. "We want Harding Street retired."
The Sierra Club counts among its victories a WE Energies coal-fired plant near downtown Milwaukee, which the company is seeking to convert to natural gas.
WE Energies spokesman Brian Manthey said closing the Valley plant was not an option because, like Harding Street, it supplies steam to downtown customers, and it ensures reliability on high-demand days.
WE in 2010 and 2011 built two new coal-fired power plants elsewhere in Wisconsin, which were planned when the price of natural gas was extremely volatile, Manthey said. "You want to have as much fuel diversity as possible."
IPL hasn't had to defend its base rates since 1995, but executives are girding for that level of regulatory scrutiny.
"With these expenditures, we're on the radar," CEO Ken Zagzebski said at a May 9 investor conference for IPL's parent, Virginia-based AES Corp.
In Indiana, utilities can recover the cost of items that are deemed beyond their control, such as fuel and environmental upgrades, without having to lay out all their operating costs and profits as part of a full rate case.
IPL has told investors and regulators it will file a rate case to recover the full cost of the new plant at Eagle Valley. That filing is expected around the time Eagle Valley opens, possibly in 2017.
The environmental projects mark a "fundamental shift" in IPL's regulatory strategy, Zagzebski said at the investor conference. For the last decade, IPL has looked to "get along with the regulators as much as we can, stay out of the regulatory arena, and keep high margins as long as possible."•
Please enable JavaScript to view this content.