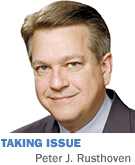 Other than the disappointing, anticlimactic Game 7 with the Miami Heat, this was a terrific year and fabulous playoff run by the Pacers. We owe the players and team officials a huge vote of thanks.
It was great to see recurrence of Pacers fever, with a roster that's skilled, disciplined, fun to watch and easy to root for.
It was a kick to see Spike Lee reprise his Spike Lee show (it stars his favorite person), mouthing-off courtside for the New York Knicks, and silenced again by the Pacers—with Reggie Miller enjoying the outcome as a commentator as much as he did as a player.
It was amusing to watch national media focus on, "What's wrong with the Knicks?" and, "What's wrong with the Heat?"—gradually realizing the key answer was, "They're playing the Pacers."
And it was gratifying to put the lie to ESPN talk show host Colin Cowherd, an honors graduate of the "often wrong, never in doubt" school of sports commentary. A few months back, Cowherd took a break from his man-crush on Lane Kiffin and all-things-USC to pronounce that Pacers attendance was lagging because Indy fans were racist.
Right, Colin. You nailed that one. We're the "racist" fans who had a long-standing love affair with the team starring Reggie, Mark Jackson and the fabulous "Davis twins," Dale and Antonio.
And please, don't tell me (as some have offensively opined) that we like Reggie because he's "non-threatening." That's an insult to Reggie, his fans and a host of others. Folks who say such things need to meet Dale Davis, preferably in the paint.
Actually, what turned us from the team were players going into the stands to trade punches with the crowd. Or players and their three-car posses involved in wee-hours, bullets-flying downtown altercations. Or players in 3 a.m. fights at strip clubs with guys named Fingers—as they say, you can't make this stuff up—culminated by firing pistols in a parking lot.
We're a community that wants its sports stars to be good citizens as well as good athletes. Bill Polian always understood this in assembling Colts rosters. The people who run the Pacers understand it, too, and worked long and hard to make it true once again of Indy's first major league franchise.
A lot of folks were part of that. They include owner Herb Simon, who's stayed committed to our town, and team President Jim Morris, who was working for Mayor Dick Lugar back when Market Square Arena was on the drawing board. They include Donnie Walsh, back from his sojourn to the dark side with the Knicks, and Rick Fuson, Pacers COO and my fellow Arlington High School grad, whose dad, Wayne, was a great sports editor and columnist.
Larry Bird, who played a key role in putting the current team together, is obviously high up on the list. So, too, is Coach Frank Vogel, who appears to be the NBA version of Butler's Brad Stevens. I'm glad they're both working here.
To all these and all now on the roster, thanks. Thanks from those of us who remember the red, white and blue ball days at the coliseum, back when the 3-point shot was an ABA innovation. Thanks on behalf of younger fans, for whom today's squad will be the first they remember.
Thanks for restoring our Pacers. We missed them. It's great to have them back.•
__________
Rusthoven, an Indianapolis attorney and graduate of Harvard College and Harvard Law School, was associate counsel to President Reagan. Send comments on this column to ibjedit@ibj.com.
Please enable JavaScript to view this content.