Billie Dragoo could not make it through a recent breakfast at The Capital Grille without multiple pauses to greet passersby she knew.
Being one of the most influential women entrepreneurs in the country will do that.
She'll work herself even deeper into professional networking in July as she takes a new role as board chairwoman for the National Association of Women Business Owners. She hopes the connections she's made over 18 years in business for herself will benefit the group's members.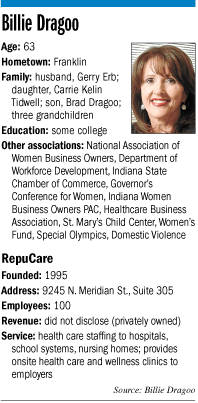 Dragoo, with little financial support as a single mother with two children in early adulthood, launched Indianapolis-based health care staffing and service provider RepuCare out of her home in 1995, as well as spinoffs of a staffing business in 2004 and an on-site-care business in 2011.
She enjoys explaining how she navigates the intricacies of health care, talent recruitment and government contracting.
But the 63-year-old mother of two and grandmother of three from Franklin lights up the most when she discusses her family or the people she has mentored.
Among a list of distinctions, Fortune magazine named Dragoo one of the "most powerful women entrepreneurs" in the United States.
She's proud of the accolades but said she's more focused on helping other women step up in the business world.
Dragoo stressed the educational element NAWBO provides as a way to help women business owners find the money they need to start or grow their companies.
"I think the education on venture money with business owners, whether they're minorities or women, needs to be there," she said.
Nationally, the organization has more than 7,000 members spread across 80 chapters. The group promotes women-owned businesses by providing them with educational and networking events, as well as lobbying for women-related business issues.
Colleagues credit Dragoo with a lot of progress NAWBO's local chapter made under her leadership as well as an improving business climate for women.
A member of the organization since 1999, she served as Indiana president in 2005 and 2006. Within a year, the group grew from 20 members to 165.
"We've become the largest and most powerful chapter in the country," she said.
Kathy Cabello, a board member for the Indianapolis chapter, credited Dragoo with developing corporate relationships—including recruiting area executives to serve on NAWBO's board—that have helped the group grow as well as help its members network with major companies.
Cabello noted that other NAWBO chapters have visited Indianapolis to learn how it operates.
"We're doing things at a whole different level on a local level that other chapters are saying, 'Wow. NAWBO can do that?' in a lot of other cities," she said.
Dragoo has dedicated about a third of her time to NAWBO while juggling her responsibilities at RepuCare.
"We all have passions that we chase and that are close to our hearts," she said. "Obviously, women's initiatives and issues are a big part of my life."
A lot of her effort relates to the organization's broader mission of helping women entrepreneurs, even when the work doesn't tie directly into running NAWBO's day-to-day business.
Dragoo was among a half dozen Indianapolis business leaders who traveled in late May to California to meet with Silicon Valley venture capitalists and companies as large as Google, Facebook, Oracle and PayPal.
The group aimed to cultivate interest in funneling investments to Indiana, especially through a $1 million, Elevate Ventures-managed fund for women- and minority-owned businesses that Dragoo has helped start.
"She can give a spotlight to the fund and the importance of it," said Deborah Collins Stephens, who is spearheading the effort for Elevate.
Meanwhile, Dragoo will have lobbying duties on behalf of NAWBO.
The organization has thrown its weight behind legislation to earmark more government contract funding for women-owned small businesses, which receive 3 percent of all federal contract funding.
Dragoo's perspective on the issue: "Are you kidding me?"
Her solution is more women in elected office.
"Hopefully, we can challenge women and say, 'Put your hand up. Let's go for it,'" she said.•
Please enable JavaScript to view this content.