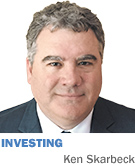 Student loan debt has increased at a 14-percent annual rate since 2005 and now totals more than $1 trillion—more than credit card and auto loan debt. The default rate on student loans is 13.4 percent during the first three years that students are required to make payments.

Statistics show that a college degree is still the best ticket toward advancing one's future earnings. However, the growing problems in student loans have observers wondering if this will be the next taxpayer bailout.

Congress estimates that, this summer, more than 9 million undergraduates will take out on average $6,700 each in federal loans to pay for college next year (over $60 billion). To earn their degrees, they will borrow, on average, a total of nearly $25,000.

Several factors have contributed to the skyrocketing volume of student loans. People who suffered job losses have gone back to school seeking to increase their skills. For-profit schools have been adept at enticing students to borrow the money to seek online degrees. Government policies have encouraged education advancement by increasing subsidized lending.

Perhaps most important, according to the National Center for Education Statistics, the average cost for tuition, lodging and boarding at a four-year college has jumped from $9,000 in 1980 to $22,000 today. However, the median family income has essentially been stagnant at $50,000 today, up from an inflation-adjusted $46,000 in 1980.

Public college costs have risen as states have cut back on funding because of their own strained budgets. Investment losses suffered during the Great Recession also damaged university endowments, resulting in less financial aid for students. And schools themselves, somewhat recklessly, have ramped up costs with new state-of-the-art buildings in an effort to stay competitive with peer institutions.

This student loan overhang also serves to dampen economic activity. College graduates with high loan balances are less able to start businesses, qualify to buy homes, and engage in other consumer purchases. To compound the situation, on July 1, the interest rate on existing government-subsidized Stafford loans is scheduled to double from as low as 3.4 percent to 6.8 percent unless Congress takes action, which does appear likely. Private student loans offered from banks and Sallie Mae carry rates near 8 percent.

The Indiana 529 Direct Savings Plan is a well-designed plan for Indiana residents who are planning to send children to college, and can help early savers defray or eliminate the need to tap student loans. Indiana taxpayers receive an attractive 20-percent state tax credit on their Indiana 529 Plan contributions up to $1,000.

Therefore, an annual $5,000 contribution to your child's education account reduces your yearly Indiana tax liability by $1,000 and is analogous to a 25-percent annual return on your investment—just for writing the check.

In addition, selecting the Indiana 529 Direct Savings Plan avoids the extra cost of using a broker or adviser, allowing you to choose your investment options from a concise list of low-cost stock and bond index funds. Setting up your account is easy. The website is www.collegechoicedirect.com.•

__________

Skarbeck is managing partner of Indianapolis-based Aldebaran Capital LLC, a money-management firm. His column appears every other week. Views expressed are his own. He can be reached at 818-7827 or ken@aldebarancapital.com.