Fifteen minutes before the radio show is to start, producer Molly Head is getting antsy.

Head
She's yet to put an eye on this week's guest: former four-term Indianapolis Mayor Bill Hudnut.

"He'd better be here. This is a live show," she says, worrying aloud that host Nelson Price sans guest would … well, a mushroom cloud comes to mind.

It turns out Hudnut had somehow slipped past her and already is sitting behind a microphone in the studio of WICR-FM 88.7, at the University of Indianapolis.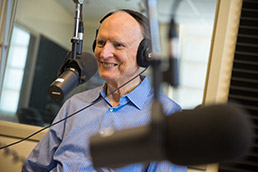 Former mayor Bill Hudnut (IBJ photo/Aaron P. Bernstein)
"It's time for 'Hoosier History Live!'" rolls the intro, as show No. 250 begins. It's believed to be the nation's only live, call-in show about a state's history. The 5-year-old show has only an estimated 1,000 listeners, but they tend to be those who are passionate about all things Hoosier heritage.

Historical groups around the state, such as Indiana Landmarks, certainly don't mind such a show expanding public awareness of the past.

"It's a positive, appealing program … very cheerful," said Marsh Davis, president of Indiana Landmarks, which is a sponsor. Hoosier Landmarks provides space for an annual event for "Hoosier History Live!" that draws a variety of attendees, including the mayor.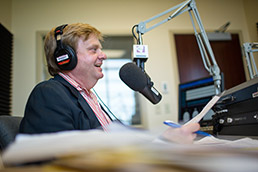 Show host Nelson Price (IBJ photo/Aaron P. Bernstein)
"It's not just for history geeks," Davis added.

Show host Price, "a fifth generation Hoosier," is clearly a history geek, however. If you've ever browsed the history aisle of a bookstore, chances are you've seen his books, including "Indianapolis Then and Now" and "Indiana Legends: Famous Hoosiers from Johnny Appleseed to David Letterman."

In his former career, Price was a reporter at the Indianapolis News Indianapolis Star, where former co-worker Richard Sullivan remembers that Price would diligently pursue interviews with famous folks with uncommon "patience and intestinal fortitude."

"Nelson has his own style, and he gets the interviews," Sullivan added.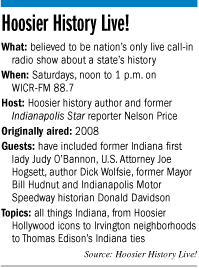 Today's show is a big one. Price reads his biographical notes on Hudnut, but he could just as easily ad lib. By the time he's finished introducing the former mayor, listeners know practically everything about Hudnut but his blood type.

"Nelson, it's fantastic to be here. Just like old times. We're going to stroll down memory lane," replies Hudnut, now graying and with a voice that's a little softer but still charismatic.

And stroll down memory lane they do.

Do tell

"Let's talk blizzard. Let's start there," Price says.

"Oh my goodness," Hudnut replies, "worst blizzard in our history," he says of the 1978 event that's become the benchmark against which all winter snowstorms are measured.

The mayor recalls tidbits from the storm, such as having to cancel an appearance at a meeting of mayors with President Jimmy Carter and having to use a helicopter to get around after streets drifted shut. It was the biggest test of his political career.

"If I'd have flunked that test, I'm not sure I'd ever have been re-elected. I called it the most important political event in my life," Hudnut says.

"Really?" replies Price, in a tell-me-more pose.

Price asks Hudnut about his arrival in Indianapolis in the early 1960s to serve as a preacher at Second Presbyterian Church.

Price shows his knowledge of the city back then, when Indianapolis was referred to as "Naptown," a put-down that some locals still embrace as part of some self-loathing ritual.

Price, with a healthy shock of blonde hair for a guy in his 50s, asks the former mayor why he'd wanted to come.

Hudnut tells Price he'd not heard the city had such a sleepy reputation.

You never know what historical tidbits you'll pick up from the show. For example, Hudnut tells Price that one of his dreams never accomplished as mayor was to get a bigger mass transit system in place, "to get some interurbans going," referring to streetcars and trolleys that once thrived here.

It's an interesting comment, given that city leaders in recent years have launched an initiative aimed at expanding bus service and introducing rail service to northeastern suburbs.

Suddenly, it's time to take a call from Chris Della Rocco, the show's "road tripper" correspondent. This day, he's at the White Water Canal Historic Site in Metamora. He provides listeners an update about summer happenings there.

Detail hound

But Price isn't done with Hudnut—by no means.

The conversation turns to the city's decision to build the Hoosier Dome (later renamed the RCA Dome) despite not having an NFL team to play there.

Hudnut says many people didn't realize the stadium was viable to some extent even without an NFL team, since it would draw millions in business booked at the attached Indiana Convention Center.

Then there was the time Hudnut showed the new stadium to then-Baltimore Colts owner Bob Irsay, who noted the new seats were in Colts blue.

"He said he thought, 'We're destined to be here,'" Hudnut says.

Price asks Hudnut how Indianapolis lost out on an outdoor amphitheater for concerts. A venue—Deer Creek, now Klipsch Music Center—ended up opening in Hamilton County in 1990.

Here, Hudnut drops the name of City-County Council members who opposed the venue that had been contemplated for White River State Park in downtown Indianapolis.

"The conservative evangelicals in town were kind of opposed to it," Hudnut says, noting that such venues draw rock 'n' roll types (read: Grateful Dead) and their groupies.

Yes, but Price wants to know if opposition was also out of concerns an amphitheater might disturb the animals at nearby Indianapolis Zoo.

"Maybe they would have learned to dance. Who knows?" says Hudnut, chuckling.

Diverse topics, guests

"Hoosier History Live!" has come a long way since 2008, when the first show listed in the archives was "Indy as the divorce capital of the 1850s."

Price and Head have managed to recruit a steady stream of guests to discuss a broad range of topics: Jewish heritage, Indiana cafeterias, racing greats—even Hoosier connections with the Titanic and with Thomas Edison. It seems there's always a Hoosier connection to world events.

"It's almost like running a small restaurant," said Head, a former fundraiser for WFYI-FM 90.1, who produced two other radio shows over the years: "Chef's Rendezvous" and "Too Many Cooks."

Head raises the money. Backers include Indiana Humanities, Story Inn, Aesop's Table, Second Presbyterian Church and Lucas Oil Products. Among the bigger-name individual donors on the show's website is Emmis Communications Corp. Chairman Jeff Smulyan.

Head would love to find a home for the show at additional stations around the state. But so far her small crew has its hands full.

"All of us work out of our homes. Probably none of us would be good at a real job," she said.

The team also includes local graphic designer Pam Fraizer—and Sullivan, whose day job is running Monomedia, a provider of Web and digital services. He took over the show's newsletter, and ended up editing it.

Sullivan said the show's topics never really go stale, calling it "evergreen journalism."

He's mindful that it keeps ex-reporters such as him and Price practicing their trade. Journalists, Sullivan said, "are disappearing as a species. I think civilization needs them."

The show has value to the University of Indianapolis as well. President Robert Manuel noted that guests such as Hudnut offer public policy expertise that can be tapped for educational purposes. In fact, the reason Head couldn't find Hudnut before the show was that he was busy granting an interview to the university's archivists.

Hudnut had worked with Manuel when the latter was associate provost and dean of the school of continuing studies at Georgetown University. Hudnut is on the staff at Georgetown's professional studies in real estate program. He and his wife, Beverly, live in the Washington, D.C., area.

One tip if you listen and call in to answer Price's weekly trivia question: Don't let him know you looked up the answer on the Internet.

Head thinks Price shouldn't pooh-pooh the Web as a research tool, but Price is a purist: When a 12-year-old boy called in with the correct answer one week, Price was thrilled to learn the kid knew the answer because he'd just learned it in school.•