The world of philanthropy, where shoestring budgets dominate, is nonetheless proving lucrative for BidPal Inc., a 108-employee company led by tech veteran Scott Webber.
BidPal this summer plans to more than double its office space at Keystone at the Crossing to 27,000 square feet, an expansion that's part of its goal of boosting revenue to $100 million and employment to 237 by 2017.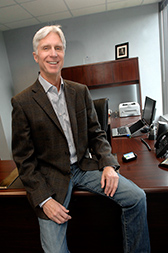 BidPal CEO Scott Webber plans to take the company from $10 million in revenue in 2012 to $100 million in the next few years. (IBJ photo/Perry Reichanadter)
The company saw revenue rocket from $1.8 million in 2010 to $10.2 million last year, making it the city's second-fastest-growing private company, according to IBJ's annual list.
BidPal got a boost in March from WTI Ventures in Portola, Calif., which provided $2.5 million in venture debt.
Investors and technology observers have rallied behind BidPal's ability to bring technological innovation to the $16 billion market for charity auctions.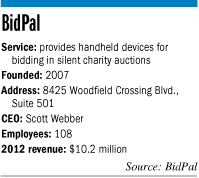 "The market opportunity is huge," said investor Don Aquilano, managing director at Allos Ventures in Carmel. Allos, along with MK Capital in Northbrook, Ill., invested $5.6 million in BidPal in September 2011.
"It's a very fast-growth company that effectively is accelerating due to the number of products that they have out now," Aquilano said.
BidPal, founded in 2007, digitizes the silent auction process by ditching the paper bid slips and replacing them with handheld devices. Fundraiser guests use the program either on their smartphones or iPod Touches the company provides.
Users can peruse lists of auction items and bid without having to elbow their way through human barricades to get to tables. As soon as someone has plugged in a higher offer, bidders receive alerts to keep them engaged, driving up selling prices.
"We just paradigm-shift with the technology because there's so much more money," said Webber, a technology entrepreneur turned investor who in the 1990s was CEO of Software Artistry, the city's first software company to go public.
Employees also provide consultation services to help not-for-profits prepare and run their auctions.
As revenue rose 467 percent from 2010 to 2012, employment swelled from 30 to more than 100.
Webber would not forecast 2013 sales, noting only "continued substantial growth."
But he said the 5-year-old company should "reach nine figures" by years seven or eight.
BidPal has 75 employees working in Indianapolis. Another 33 are scattered in about 30 major markets. Webber expects to reach into another 20 markets within the next year or two.
Perks trump costs
BidPal has a lot of numbers to pitch to not-for-profits.
Typically, donors provide auction items, and charities raise about 50 percent of the retail value, often less.
Webber boasts that BidPal can collect 80 percent to 100 percent on retail values, occasionally more, effectively doubling proceeds for charities.
He described the additional costs for not-for-profits for using BidPal "irrelevant" because they raise so much more money.
Those costs vary based on the size of the charity event and scope of services provided but can run several thousand dollars.
"BidPal makes a very big difference to these folks," Aquilano said. "They're willing to pay for it not only to make more money but do it with significantly less headaches."
Jennifer Sanner, executive director of Washington Township Schools Foundation in Indianapolis, credited BidPal with boosting proceeds from the not-for-profit's largest fundraiser, the Fall Bash, from $20,000 before incorporating the service in 2008 to more than $55,000 last year. The group hopes to hit $100,000 in a few years.
"Their price point is a little bit higher, but to me, it's worth it," said Sanner, whose organization has beta-tested BidPal over the past four years.
In addition, digitizing the process provides a flood of data.
"We can see what demographics are buying which items," she said. "It's very interesting. You can see who your top bidders are. You can see that 20 percent of the people made three or four bids."
Collecting awards
The company took home two of 14 Mira Awards judges gave out at TechPoint's annual soiree in April. The wins were in the Mobile Technology Excellence and Innovation and Emerging Technology Company of the Year categories.
Award judge Kristian Andersen, president of design consultant Kristian Andersen and Associates, admitted that BidPal's model did not jump out as lucrative when he first heard about it.
"If you look at that idea on paper for the first time, you get that it's a great idea in terms of its mission," Andersen said. "You don't necessarily get how big the [business] opportunity is."
However, Webber and his team's track record combined with BidPal's ability to use technology to help charities while making money won over the judges.
"Most people that get involved with tailoring solutions to nonprofits operate like a nonprofit," Andersen said. "BidPal understood they were serving nonprofits, but they were very much a business."
Webber said BidPal didn't encounter much competition in the market for mobile silent auction devices until about 18 months ago.
The field now has several players, including Indianapolis-based Qtego, Colorado-based HandBid, Massachusetts-based BiddingForGood and Washington-based ReadySetAuction.
Webber said BidPal also has the potential to expand into the for-profit auction business. But the $16 billion charity auction market offers plenty of "head room," he said, so there isn't much incentive to do so.
"We don't want to lose our focus," he said.•
Please enable JavaScript to view this content.