Hostess Brands LLC is taking steps toward re-opening its Indianapolis plant well ahead of a city commission approving its requested tax abatement on $10 million in new equipment.
The Metropolitan Development Commission is scheduled to vote on the abatement request July 3, but the company already has started hiring and is testing and inspecting equipment, said Ryan Hunt, senior project manager in the Department of Metropolitan Development.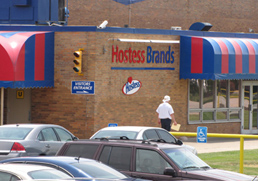 The plant at 2929 Shadeland Ave. has started hiring, and its parking lot is often nearly full. (IBJ Photo)
The activity is obvious, as the plant's parking lot at 2929 Shadeland Ave., recently repaved and striped, is nearly full during daytime hours. Workers wearing hard hats and white coveralls can be see going in and out. The firm's tax abatement request said that the east-side facility could employ up to 145 people.
Hostess Brands spokeswoman Hannah Arnold said no one from the company was available to comment on its plans for Indianapolis. It is not immediately clear when the plant would start production or whether the equipment covered in the abatement request already has been purchased.
Department of Metropolitan Development staff has recommended approving the abatement, determining that the new investment in equipment wouldn't be economically feasible for Hostess without it. The tax break on personal property taxes would be worth up to $536,220 over eight years.
Hunt said the company should remain eligible for the tax break, despite the activity already under way at the plant. The Metropolitan Development Commission doesn't usually grant abatements on existing equipment, but can do so by waiving a statutory prohibition.
The MDC recently granted two 10-year abatements worth $30.6 million to Eli Lilly and Co., which because of an unexpected procedural delay already has installed some the equipment that's part of a $400 million upgrade and expansion of a facility southwest of downtown, Hunt said.
The MDC ends up waiving the statutory prohibition on abatements for existing equipment a couple of times a year, Hunt said. Hostess doesn't plan to install the new equipment in the Indianapolis plant before July 3, he said.
Hostess announced in April its plans to re-open the Indianapolis facility  but didn't apply for the abatement until May 28. The new company, owned by private-equity firms Apollo Global Management and Metropolis & Co., bought five factories out of bankruptcy in March and has received taxpayer-funded incentives in Columbus, Ga., and Emporia, Kan.
In Schiller Park, Ill., Hostess started cranking out cupcakes again without discussing tax abatements with village officials, Village Manager Kevin Barr said.  
The company has said it would have Twinkies back on store shelves by July 15, but those are not made in the Indianapolis plant, which in the past produced buns, mini doughnuts and muffins.
The nine-member MDC isn't likely to question whether Hostess needs the abatement to make re-opening feasible, because members would hesitate to pull the rug out from under a company that proceeded with its plans based on a positive recommendation from MDC staff , said outgoing president Ed Mahern.
Mahern and Cornelius Brown will lose their seats on the commission after July 1, under a new state law that expands the mayor of Indianapolis' budget authority and gives him five out of nine appointments on the MDC. Mahern and Brown were appointed by the county commissioners, but after July 1 the mayor and City-County Council will split those seats.  
Please enable JavaScript to view this content.