A mural slated for one wall of the Broad Ripple parking garage will be the first new artwork within view of the Central Canal Towpath, which a group of north-side institutions would like to rebrand as the Art2Art trail.

The idea behind Art2Art was to make the towpath, which connects the Indianapolis Museum of Art and Indianapolis Art Center, more of a destination for art seekers.

The original concept, unveiled last year, called for placing new work along the path, but that drew opposition from a citizens group led by Clarke Kahlo, and it had a practical limitation. Citizens Energy Group, which owns the canal and 20 feet to 40 feet of land on either side, won't allow any structures that would impede access, spokeswoman Sarah Holsapple said.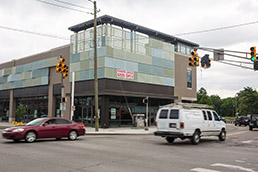 Keystone Construction plans to install a mural on its new parking garage in Broad Ripple. The mural will be visible to users of the Central Canal Towpath. (IBJ photo/Aaron P. Bernstein)
"The reality is, we are formulating something more concrete and incremental," said Carter Wolf, CEO of the Indianapolis Art Center and head of an ad-hoc committee working on Art2Art. Other members include representatives from the art museum, Butler University, Midtown Inc. and the Central Indiana Community Foundation.

Art2Art promoters are looking for sites and opportunities within view of the path, Wolf said, and they landed a big one with Keystone Construction's decision to have a mural painted on the northeast corner of the parking garage at the busy intersection of College and Broad Ripple avenues.

Keystone hired the art center to issue a request for proposals from local artists for the mural. Wolf said he's encouraging the company to also install a three-dimensional work on a bit of green space on the west side of the garage.

The art center assembled a panel that came up with the mural finalists, but as the property owner, Keystone will make the selection. Keystone executives hadn't made a decision by IBJ's deadline.

Wolf also is anticipating redevelopment of the vacant Shell gas station site northeast of the same intersection. He said he is talking to the developer of that proposed project, Browning Investments, about ways to include artwork near the canal.

Wolf said Art2Art proponents never wanted to plunk down sculptures in the natural settings of the 4-1/2-mile trail.

"There's certain areas along the trail that are beautiful, beautiful sites," he said. "As a longtime runner, I wouldn't want to see anything deface the trail."

Another priority site for Art2Art is the intersection of Westfield Boulevard and Illinois Street, which could be redesigned to accommodate a new Army Corps of Engineers floodwall. Wolf said the group is trying to encourage the city of Indianapolis to create green space, which could hold a new work of art.

Wolf said that makes more sense than ripping out green space along the path to accommodate art.

The Art2Art concept emerged from Midtown Inc.'s master plan for neighborhoods north of 38th Street. Department of Metropolitan Development Director Adam Thies' former urban-planning firm, Eden Collaborative, came up with Art2Art, but he said he's not using his role with the city to promote it.

When Art2Art rolled out last year, Thies said he thought its execution could be as simple as posting some signs along the towpath and Monon Trail.

"Branding needs substance as well," Wolf said. He thinks developing Art2Art will be a five-year process.

Art2Art has a couple of financial boosters in the Broad Ripple Alliance for Progress, which is the fundraising arm of the Broad Ripple Village Association, and the Central Indiana Community Foundation.

The alliance landed a small matching grant, $17,500, from the Indianapolis Foundation this year to make improvements along the Monon Trail from the art center to the canal, President Tom Healy said. The alliance is considering hiring artists to repurpose old telephone poles along the Monon and taking down an old mural that's become an eyesore.

"Art2Art isn't just about installing statuary or fountains, or posters or murals," Healy said. "It's about enhancing the greenway. Right now, we're sort of prepping the canvas."

The original Art2Art plan called attention to erosion and other problems with the towpath. Citizens hired a consultant, Storrow and Kinsella, to study the canal from an urban-planning perspective, but the study isn't complete, Holsapple said.

The consultants are looking at options for erosion control and at whether the towpath could be widened in some areas, she said.

"Once the Storrow and Kinsella study comes back, then we might have an idea of what Art2Art projects we might be able to approve."

Citizens can't use ratepayer money to pay for beautification of its property.•