When it opens next spring, the aptly named Grand Park Sports Campus in Westfield will be the largest youth sports complex of its kind in the country.

Grand also describes the massive four-year design, engineering and construction effort behind the $45 million project about 10 miles north of Indianapolis.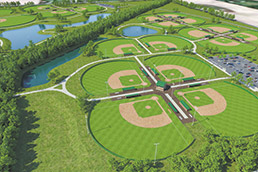 Grand Park Sports Campus will have 26 diamonds and 31 multi-purpose fields. The biggest challenge has been grading the property absolutely flat. (Image courtesy of Context Landscape LLC)
Before it's completed, more than 80 companies will have been involved in turning 360 acres of undeveloped land into 26 diamonds for baseball and softball; 31 multipurpose fields for soccer, lacrosse, football, rugby and field hockey; and two huge indoor facilities to accommodate off-season play and training.

Planners studied numerous youth sports complexes throughout the country before arriving on the size of Grand Park. A few other parks around the country may contain more multipurpose fields, but none will have as many baseball and softball diamonds.

Of the 26 diamonds, six will be designed primarily for softball. Eight of the baseball diamonds, including four high-school-size fields, will feature synthetic turf to allow for quicker drainage and heavier usage. Nine diamonds will be lighted, including a stadium diamond that will eventually contain seating for up to 2,500 spectators.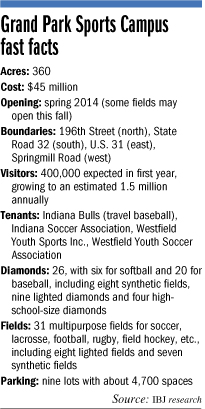 Seven of the multipurpose fields will be synthetic and eight will be lighted. Two stadium fields will initially seat up to 750 spectators each, with plans to eventually expand seating to 2,500.

The complex will include nine manmade ponds for drainage and irrigation, and nine paved and grass parking lots with room for 4,700 vehicles. The lots are scattered throughout the park so visitors can avoid long walks to their playing fields.

The 360,000-square-foot soccer building is expected to feature four to five indoor fields, and the 96,000-square-foot baseball building will contain two full-size infields. The buildings are expected to open in fall 2014.

Construction crews have already installed a pedestrian tunnel under Grand Park Boulevard, the main thoroughfare through the sports campus, so visitors can walk from the baseball side of the park to the soccer side without having to cross through traffic.

"As you can imagine, there are quite a few infrastructure and engineering issues with a site this large—utilities, drainage, irrigation, retention ponds, parking lots, electrical engineering, fiber optics ... ," said Steve Henke, president of park developer Henke Development Group LLC. "They've moved about 1.2 million to 1.3 million yards of earth to make everything work."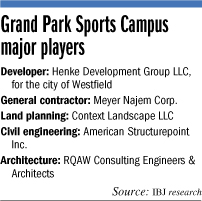 Natural setting

The site—bounded by State Road 32 on the south, 196th Street on the north, U.S. 31 to the east, and Springmill Road to the west—features a wealth of trees, nine miles of trails, and a long stretch of Cool Creek. The Monon Trail cuts through the east side of the property, near the baseball fields.

The nine manmade ponds covering 25 acres on the property will be stocked with bass and blue gill to control mosquitoes and sterile grass carp to reduce algae.

"The park was designed around the natural features of the site," Henke said. "We wanted to preserve the park-like setting."

Fortville-based Context Landscape LLC, which did the land planning for the site, preserved knolls and shady groves of trees when possible, said partner Fred Prazeau.

However, when it comes to sports fields, uneven topography is a no-no.

"Probably the biggest challenge was the grade differences and making sure everything was flat enough," said Andy Taylor, an engineer with Indianapolis-based American Structurepoint Inc., which is handling the infrastructure engineering work for the site. "We're trying to make almost 400 acres almost as flat as possible."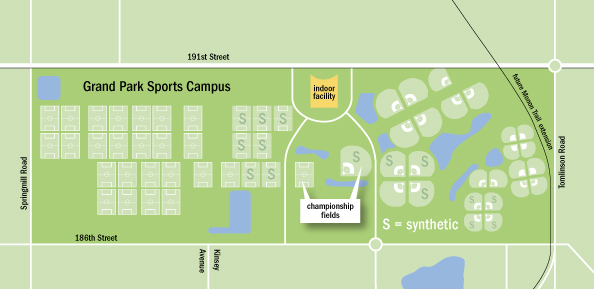 The undeveloped site was somewhat of a challenge because there was nothing there for planners to work with. On the other hand, it gave engineers a clean slate.

"In some respects, it makes it easier because you don't have to deal with existing problems," Taylor said.

Keeping them dry and wet

While drainage is of utmost importance in the complex, so is irrigation for the 24 grass multiuse fields and 18 grass diamonds. Eleven of the fields will be covered with 30 acres of bluegrass sod and 13 will be seeded with Bermudagrass.

A pump house was built to move water from ponds to the fields to keep them irrigated. Thirty miles of irrigation pipe and 35-1/2 miles of drainage pipe were installed for the grass multipurpose fields. In addition, about 4,000 tons of sand and 5,000 tons of gravel were used under the grass fields to aid in drainage. Seven miles of storm-sewer pipes have been installed throughout the complex.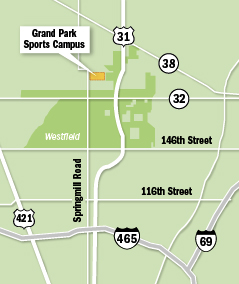 Nod toward playability

Field designers worked closely with the Indiana Bulls travel baseball organization to make sure the baseball diamonds met their specifications. The Bulls are moving their headquarters to the campus and will host as many as 1,500 teams in tournaments annually at the site.

Some multi-diamond youth baseball facilities cut down on foul territory and make other concessions to cram more diamonds into a complex. The Bulls insisted that didn't happen, according to Prazeau. Careful attention is being paid to quality of play, seating, crowd circulation between games and shade structure, he said.

The facility may have more synthetic diamonds than any other in the country. Such surfaces cost four to five times more than natural surfaces, but can be cost-effective over the long haul because they virtually eliminate rainouts and have much lower maintenance costs.

Every diamond will feature state-of-the-art netting systems similar to the ones seen in major-league parks to keep foul balls away from spectators. The custom-made cable-tension systems will eliminate vertical poles that interfere with visibility.

Classic look

Planners studied numerous youth sports venues in the years before construction got under way, said Prazeau, who worked pro bono for Westfield during the early design stages and site-selection process before being hired by Henke to do the land planning.

One venue they closely studied was 180 miles away, in Elizabethtown, Ky., which opened last fall with 12 baseball diamonds and 12 multi-sports fields.

"We took some of the best features the researchers found, but we paid closer attention to Elizabethtown than others because it's closer to us and will compete for some of the same tournaments," he said.

One similarity to Elizabethtown might be the classic architecture that is commonly found in some of Henke's other developments, including the Bridgewater golf community in Westfield.

The look will include heavy use of stone and brick, including the backstops on all 26 diamonds. Almost six miles of black, four-board Lexington-style horse fence will be installed around the park and parking lots.

"The look will be familiar to those familiar with Henke Development's other projects," Prazeau said. "The architecture will definitely have a classic Westfield aura."•