WRTV-TV Channel 6 plans to begin broadcasting high school sporting events over a streaming service for smartphones and tablets.

The service, available by first downloading an app from the station, would enable fans sitting in the bleachers to watch the game and hear commentary simultaneously broadcast on WRTV-TV 6.2. That's WRTV's digital sub-channel, known as HomeTown Sports & News.

HTSN, as it is known, can be viewed on a television via an antenna, or on cable television including Comcast and Brighthouse.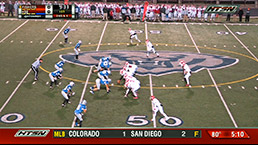 Smartphones and tablets would receive a version of broadcasts on HomeTown Sports and News, TV Channel 6.2, including high school football games.(Image courtesy of WRTV-TV Channel 6)
WRTV began experimenting with online streaming of HTSN content last year, with streaming versions of Indianapolis Indians games on HTSN 6.2. WRTV then presented the idea to officials at high schools whose games are broadcast on HTSN.

The initial reaction was reluctance, said Larry Blackerby, vice president and general manager of WRTV. Some athletic directors were concerned the video streaming was too much, that it might keep fans at home instead of coming out to the game.

Station officials countered that streaming would allow alumni who live outside the area to look in on the games. They also pointed out that an app allows folks sitting in the stands to rewind an exciting play. Most high school sports stadiums don't have the big video screens found at professional venues.

With schools assured, streaming is expected to begin in August, when HTSN begins its season premiere of broadcasts including Center Grove-Warren Central and Hamilton Southeastern-Fishers games.

"With our Friday Football Frenzy kick-off in late August, this will be our first full push" with streaming, said Paul Montgomery, director of audience development at WRTV.

HTSN also broadcasts a number of IUPUI games and those of the University of Indianapolis, for which streaming also will be available.

Most every local television station has an app that allows viewers to obtain weather and news information. WRTV will be the boldest in making use of an app to broadcast sporting events.

It's also the only station in the local market to produce as much local content for a digital sub-channel. Most station managers are still trying to figure out how to generate more money from this leftover spectrum of their digital signals. The default position has largely been to load them with syndicated programming such as reruns of old sitcoms or old movies.

When HTSN isn't showing local sporting events, it runs replays of weather or news from WRTV newscasts. Sending crews to cover sporting events does incur extra costs, however, with at least four cameras and crew needed for a game.

Blackerby won't say what it costs to produce programming for HTSN or how much money it's generating, other than to say HTSN is "profitable."

The streaming version has the potential to generate a unique revenue stream of its own, said Guyanne Taylor, director of sales at WRTV. "We just haven't pursued that yet."

But she envisions interest from sponsors such as a local insurance agency in a community where a high school game is being played "that would not normally be able to afford television ads."

The streaming venue may be particularly appealing to youth-oriented advertisers. The potential of television stations to generate revenue via streaming is being played out on a national stage, as well.

In 2011, media conglomerate Disney/ABC Television Group rolled out a streaming service to allow paying cable subscribers to watch ESPN and several other of its networks over their smartphones and tablets.

Such schemes are requiring the television industry to get creative. Indeed, WRTV's broadcast of Indians games consists of a revenue-sharing arrangement of sorts.

The Indians buy time on HTSN. The team also employs its own announcers. But the team and WRTV share ad revenue.

WRTV gets to place ads at the ballpark that promote HTSN, while the station in turn promotes Indians games.

High school teams will not pay for airtime or collect a percentage of ad revenue.•