A little less than five years ago, Indianapolis was flying 32 eighth-graders all over the country to hand-deliver the city's bid for the 2012 Super Bowl.
It was the first time a city had used anything besides a standard courier service to deliver its bid, and NFL insiders said that had a lot to do with grabbing team owners' attention and winning Indianapolis the game.

Melangton
Allison Melangton, CEO of the city's 2012 Super Bowl Host Committee and leader of the 2018 Super Bowl Bid Committee, is promising to come up with another attention-grabber to deliver the bid early next May—if the city proceeds with a bid as expected.
Melangton, a detail-oriented task master, isn't one to put the cart before the horse. And though Mayor Greg Ballard and Indianapolis Colts owner Jim Irsay have endorsed the effort to go after the 2018 Super Bowl, Melangton pointed out that the bid committee has not yet voted to do so. One reason is, the city is likely to face an unusually large field of competitors.
"We have to do our due diligence and that's what we're doing right now," Melangton said. "We're carefully doing our homework. And if there are no red flags between now and August, it is our intent to bid. Making an informed decision is a big part of my job."
While the probability is high that Indianapolis will pursue the 2018 Super Bowl, this process is no easy score, Melangton emphasized.
If the city fails in its bid this time around, there's no safety net—no backup plan to go after another Super Bowl. After losing the 2011 Super Bowl on a close vote to Dallas, Indianapolis pursued the 2012 game.
Melangton and Colts Chief Operating Officer Pete Ward are leading the due diligence effort for the city. As part of that process, they're checking to see if any hosting criteria have changed since the city last bid in 2008 and they're putting together information about the stadium's seating capacity and other capabilities, the city's overall size, and information about the city's corporate landscape.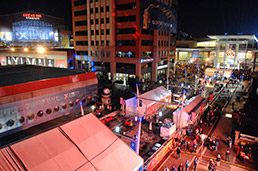 2012's Super Bowl Village on Georgia Street was a unique idea created by local organizers. The concept received universally rave reviews. Local leaders are planning for more out-of-the-box thinking to lure the game back in 2018. (IBJ file photo)
Melangton expects the local bid committee, which is the executive committee for the city's 2012 Super Bowl Host Committee, to officially vote on whether to go ahead with the bid sometime later this month or early August.
'Cutthroat' competition
There's something more nebulous that could derail the city's decision to bid.
Melangton admitted that part of the early due diligence is focusing on potential competitors. That list is long, and full of big cities that are home to some new stadiums and powerful NFL owners.
The NFL has promised to let no more than four cities become finalists—and give oral presentations at the May owners' meeting—for any one Super Bowl.
If bid committee officials think the deck is stacked too much against them, they might decide not to pursue a bid.
"We're looking closely at who we think will be bidding and assessing our strengths," said Melangton, president of the Indiana Sports Corp. "There are a lot of moving pieces."
Other interested host cities will go after Indianapolis' weaknesses and Melangton promises to do the same.
"That's just the way it is. It's a competitive business," she said.
If the committee votes to go forward with its bid, it must submit a two-page document with basic information about city and stadium infrastructure and amenities along with demographic information about Indianapolis to the NFL by the end of August.
Sources with NFL ties expect other cities going after the 2018 Super Bowl to hammer away at Indianapolis' relatively small city and venue size, its lack of downtown hotels, and its weather. And some potential hosts with new stadiums will point out that Lucas Oil Stadium, in addition to being one of the smallest venues ever to host a Super Bowl, isn't as new and spiffy as it used to be.
"These bidding processes can be cutthroat," said Marc Ganis, president of Chicago-based Sports Corp. Ltd., a sports business consultancy that counts several NFL teams as clients. "I expect the bid for the 2018 Super Bowl to be a no-holds-barred affair, especially given how many cities are competing."
In addition to Indianapolis, the list of interested cities includes Miami, New Orleans, Dallas, Denver, Atlanta, Minneapolis and Tampa. There have rarely been this many cities bidding to host a single Super Bowl, Ganis said.
"There are some real heavy-hitters on that list, both in terms of cities and the NFL owners involved," Ganis said.

Making the situation even trickier for Melangton and Ward to gauge is that many cities keep their intent to bid quiet so other cities can't prepare for them.
Measuring opponents' weaknesses
So far, Melangton remains confident.
"At this point, I don't see any red flags," Melangton said, adding that Indianapolis still has enough hotels—downtown and otherwise—to meet bid specifications and Lucas Oil Stadium "has consistently been rated as one of the top venues in the NFL."
And, Melangton emphasized, Indianapolis has the 2012 Super Bowl to reference.
"I would think we'd have an advantage this time because we've proved ourselves," Melangton said. "Last time, there were so many questions about our ability to host the event."
The Colts' Ward said NFL team owners and the league's top brass in New York "are still talking about what a great job Indianapolis did. It went down as one of the greatest Super Bowls ever from a host-city perspective."
Besides, Melangton points out, many of the other cities interested in hosting the 2018 Super Bowl have eye-catching weaknesses. She declined to detail those for this story.
But those weaknesses aren't difficult to discern, said a number of NFL sources.
Miami, for instance, has a great history of hosting Super Bowls, but has an outdated stadium. And local officials are unwilling to pay to update it.
Denver has strong community support and a good stadium, but NFL officials are likely going to want to see how the first outdoor Super Bowl in a cold-weather climate (New York in 2014) goes before considering another. That means 2019 would be the first Super Bowl they would let Denver bid on.
Atlanta will have a new stadium opening for the 2017-2018 season, but NFL owners often want two full seasons played in a venue to work out the glitches before a Super Bowl is played there.
Dallas, with its massive stadium, would appear to be a front-runner, and Cowboys owner Jerry Jones has voiced interest. But there are two big problems with Dallas' desire.
First, the NFL has already agreed to play the 2017 Super Bowl in Houston, and league sources said owners aren't crazy about playing the big game in Texas in consecutive years.
The biggest problem, however, is that a number of fans who attended the 2011 Super Bowl in Dallas still have lawsuits pending concerning tickets they bought, but whose seats weren't available because of incorrect set-up of temporary seats. Several NFL sources said owners don't want to return to Dallas until those lawsuits are resolved.
Likely finalists
Most NFL insiders think that leaves four cities standing: Indianapolis, New Orleans, Minneapolis and Tampa.
All have strong pluses. New Orleans is promising to throw the biggest Super Bowl party ever as it celebrates its tricentennial. As host of 10 Super Bowls, no city has more experience with the big game. But some have complained that New Orleans' venue is outdated. A power outage there during the 2013 Super Bowl didn't help its case.
Minneapolis has a new stadium opening for the 2016-2017 season and NFL owners are still buzzing about the masterful hosting job Tampa did for the 2009 Super Bowl.
"Both Tampa and New Orleans will be really tough competition," Melangton said. "They both have stellar reputations as a Super Bowl host. And [Minneapolis] with its new stadium also has something to tout."
If Melangton and Ward get the nod from the local bid committee and if the NFL issues Indianapolis an invitation to bid after reviewing its two-page application, the duo will start considering a new attention-grabbing way of delivering those bids in May 2014. The written proposal is due to be delivered the first week in May and the oral presentation will be given at the annual owners' meeting the next week.
"That topic [the delivery of the bid] does frequently come to my mind. We'll actually probably get on that in early September," Melangton said. "Not that we're taking anything for granted. But we want to be prepared. … It's essential that the owners take notice of our bid from the beginning."
Keeping secrets
Melangton doesn't expect to use many of the tactics from the city's previous bid process.
"Everyone realizes we have to raise the bar and to do that we have to have some out-of-the-box thinking," she stressed.
Don't expect Melangton to tip her hand on how the bid will be delivered or what's in it.
"We won't divulge any of that until after it's delivered," Melangton said.
In fact, some of the plan could be altered at the last minute.
"We're constantly measuring what everyone else is doing," she said.
And if Indianapolis loses out on this bid? Melangton isn't eager to consider that.
"The honest answer is, I don't know what we'd do," Melangton said. "I know this much; it's not automatic we'd go to 2019 and bid."•
Please enable JavaScript to view this content.