With cyclists at this month's Tour de France hurtling down the Pyrenees and Alps mountains at speeds nearing 70 miles an hour, it can be tough to see a logo on a bicycle and its components.

But when wheels turn so fast that they're nothing more than a blur of black carbon rims and silver spokes moving like a supersonic egg beater, Indianapolis-based Zipp Speed Weaponry is shining its brightest.

"Cycling fans may have to wait for them to slow down a bit to get a look, but followers of this sport are always looking at what products the pros use, especially those in the Tour de France," said Charles Pelkey, a longtime cycling industry observer and former senior editor of VeloNews, which covers the sport and industry. "And Zipp has gotten noticed for being at the front of the pack."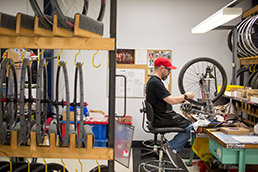 Master wheel-builder Nic James helps manufacture some of the fastest bicycle wheels in the world from Zipp Speed Weaponry's West 56th Street plant. (IBJ photo/Aaron P. Bernstein)
Zipp's position as market leader has only grown stronger since the local company formed in 1988 was acquired in 2007 by Chicago-based SRAM Corp.

When SRAM announced it was gobbling up the much smaller Zipp, the local company's future here was anything but certain.

"When a company gets acquired, you just never know what's going to happen to their local presence, and there was speculation within the industry about what would happen [to Zipp]," said Bob Locke, manager of the Bicycle Garage Indy's south-side store. "A lot of people here were hopeful that SRAM would discover the experienced work force at Zipp."

That's exactly what happened. Zipp has doubled its employee head count in the last four years, to 250, and is looking to expand again.

"Within Zipp, there's a design expertise you just can't replicate, and there was a strong motivation to see that brand continue to develop here," said Jason West, vice president of aftermarket for SRAM and all of its brands. "The employees here were highly charged and we certainly wanted to take advantage of that."

Workers at Zipp and SRAM, which has acquired five major bicycle component brands since 1998, was a match made in cycling heaven, industry analysts said.

"Zipp had good people and a good product and SRAM helped them grow it," Pelkey said.

Big breakthroughs

Fueled by the added resources, Zipp employees have made several breakthroughs.

SRAM Vice President Jason West says Zipp workers' skills are rare.
Shortly after the buyout, Zipp engineers came up with a string of developments including new aerodynamic shapes for its wheels, an all-carbon wheel that could be used with a tire and tube that didn't require being glued to the rim, a faster rolling wheel hub and other advancements including carbon fiber handlebars, handlebar stems and seat posts.

Those products began hitting the market in 2010, and took off, West said.

"You can really tell a difference in those new wheels. They're better aerodynamically and they offer a better ride," said Locke of the Bicycle Garage. "We've definitely sold more Zipp wheels since they've come out."

Locke added that Zipp now has few equals in wheel building.

"There might be five companies worldwide that make the quality of wheel Zipp is right now," he said.

In 2010, a decade after having its wheels first appear at the Tour de France, Zipp produced the first carbon wheel to win two of Europe's most fabled races, the Tour of Flanders in Belgium and Paris-Roubaix in France. Both races are known for traversing some of the roughest cobblestone roads in all of Europe.

"Exposure in big European races is huge for any company in the bike business," Pelkey said. "Not only is the market there huge, but a lot of U.S. bike consumers have their attention focused there because that's where most of the biggest bike races and best racers are. Simply put, people want to use what the best pros use."

Zipp's $2,500- to $3,000-a-pair wheels are ridden by some of the biggest stars animating this month's Tour de France, including British sprint star Mark Cavendish and Spaniard Alberto Contador, a two-time Tour winner.

SRAM's and Zipp's involvement in this year's Tour de France and other big races "is a reminder we're still investing in the sport and we're being tested at the top end of the sport," West said.



Zipp doubles sales

The company's continued success in Europe has meant growth here. Zipp has doubled its sales and its work force since the SRAM acquisition. Not only that, but so valued is the local work force that SRAM this year began moving its "aftermarket nerve center" to Indianapolis, West said.

While SRAM officials don't divulge sales of individual brands, West said overall company revenue has grown from just under $300 million in 2007 to more than $600 million during its most recent fiscal year.

"Zipp and the growth we've seen here are a big part of that," said West, a 43-year-old lifelong cycling enthusiast.

SRAM did move Zipp's headquarters, but they didn't move far. Shortly after acquiring Zipp, West said, SRAM officials realized they'd need more space.

In 2010, SRAM moved Zipp from a 60,000-sqaure-foot facility on Main Street in Speedway to 70,000 square feet near West 56th Street and Guion Road. Less than a year later, the Zipp facility was expanded to 100,000 square feet. With the work force here doubling in the last four years, SRAM now is looking to expand again.

West isn't surprised by the growth.

"The acquisition of Zipp was carefully considered," he said. "We felt there were some synergies there, and we really liked what the Zipp work force brought to the table. You can't underestimate the advancement Zipp [developers] made in their technologies. The breakthroughs coming out of that local facility have been absolutely huge in this industry."

More growth planned

The reach of SRAM, which has 2,400 employees globally, also has helped, West added.

Zipp, too, has helped SRAM—even beyond wheel and component making. The local firm had become known in the industry, Pelkey said, as a customer service expert.

That expertise, West said, prompted SRAM to move its aftermarket customer call center for all six of its brands to Indianapolis. That move started earlier this year and should be complete by December, he added. When finished, the call center will employ 30.

And due to the facility's central location and local expertise, it has become a Midwest distribution hub for all of SRAM's brands. The future for the local Zipp plant, one of SRAM's five manufacturing facilities, appears bright.

"Growth there is definitely expected," he said. "Could that operation double in size again in the next five years? It's certainly possible."•