Gov. Mike Pence in June signed an executive order that folded a tiny northern Indiana not-for-profit called Partners in Contracting Corp. into a new state Office of Small Business and Entrepreneurship.
What he didn't say was that Partners in Contracting was in trouble and likely would have folded operations had the state not stepped in.
For almost 30 years, Partners in Contracting has used one-on-one coaching to help small businesses tap contract dollars from the federal government. But its survival has been in doubt for the last few years because of persistent troubles with the organization's finances and management and a failed attempt to expand statewide, an IBJ review found.

Ellspermann
The Hammond-based group with four employees failed to secure its own federal funding in 2009 and 2010 and has lobbied for a state takeover for years, people familiar with the group said.
A December 2009 letter from the federal Defense Logistics Agency, which oversees the group's grant program, cited a wide range of concerns. Among them: a lack of non-federal-income sources, a lack of financial audits and reports, unrealistic expansion plans and an executive director whose board placed her on probation. (She has since left the organization.)
Judy Perkinson, Partners in Contracting's board chairwoman, offered a different explanation. She said the government office changed how it processed grant applications in 2009 and 2010, and the "growing pains" caused grant officers to lose the not-for-profit's application.
Either way, the agency denied Partners in Contracting's grant requests for those years. By the end of 2011, the group reported a $160,000 deficit, Internal Revenue Service records show. The organization burned through almost all its cash reserves that year to cover its costs.
Partners in Contracting's financial woes pushed it to lobby for money from the state of Indiana.
The organization had failed to match federal money it received with funds from other sources. So in 2009, the state started giving grants, plus an extra infusion in late 2011 to keep the group's doors open.
At press time, the not-for-profit had not filed its 2012 financial statement with the IRS. But Perkinson said the group had stabilized, regaining its federal funding, before the state takeover. Pending legislative approval, the organization eventually will disappear into the new state agency and operate out of Indianapolis.
No money changed hands in the deal, but it wasn't clear whether the state will shoulder any unpaid debts since the group declined to share its 2012 financials. State officials also declined to discuss the group's financials.
The group is merging with a much larger agency, the Indiana Small Business Development Center, to create Pence's new Office of Small Business and Entrepreneurship.
Partners in Contracting's four employees and $300,000 annual budget will pair with the 50-employee Small Business Development Center organization that operates on close to $3 million a year.
Lt. Gov. Sue Ellspermann, who will oversee the new office, said Partners in Contracting programming will be expanded statewide. Previously, the group had one counselor in each of its offices in Hammond, Fort Wayne and Bedford, which limited its reach. The group had tried unsuccessfully for years to expand its small-business coaching services across the state.
Ellspermann said the contract assistance will blend well with other small-business initiatives Pence has pushed since he took office in January.
The governor wants more state investment in helping small businesses grow by providing advice ranging from business-plan creation to raising capital.
Wider reach wanted
Partners in Contracting began in 1984 to manage so-called procurement technical assistance centers. The centers are part of a federal program designed to help small businesses obtain government contracts.
Most centers throughout the country are part of a state agency or are attached to a university, whereas Partners in Contracting stood alone.
The group—whose four employees share about $164,000 in total annual pay—claims it helped 458 clients reap almost $10.8 million in government contracts and subcontracts in the past year. Overall, the state pulled in $1.6 billion in federal contracts over that same time, according to USASpending.gov.
Ellspermann said the state hopes to expand the operation to help more small businesses snag government-funded work. Partners in Contracting's services will likely stay the same, she said.
"This is really about getting those [centers'] services the ability to provide those tools across the state of Indiana," she said.
David Terrell, senior adviser to Ellspermann, said the state wanted Partners in Contracting to expand its reach years ago.
The problem was that the Defense Logistics Agency didn't think in 2009 that those plans were feasible, given the way the not-for-profit was operating at that time.
Feds find flaws
The Defense Logistics Agency described expansion plans as "unrealistic" because a review yielded only a "marginal rating" for how well the organization was providing grant-funded services at its three existing offices.
Partners in Contracting also wasn't securing enough funding from other sources.
A grant agreement with the federal agency required the group to secure another 50 cents for every federal dollar it received. In other words, if the agency gave $200,000, the not-for-profit needed to pull in another $100,000.
But the group wasn't doing that.
It also wasn't maintaining adequate financial records, keeping board members abreast of finances, spending money how it was supposed to, or auditing itself, federal records say. The group didn't even notify the Defense Logistics Agency that it changed its address in 2009.
The executive director at the time, Mary Kaczka, no longer works for Partners in Contracting. She is on a 27-month Peace Corps assignment in Azerbaijan, The Times of Northwest Indiana reported in September 2012.
Her successor, Patrick Reardon, would not say why she left Partners in Contracting. He does not plan to remain with the organization as it moves to Indianapolis.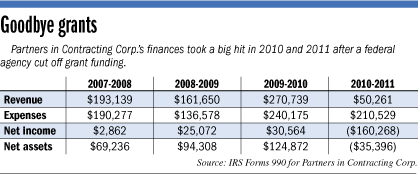 But the Defense Logistics Agency's rejection letter describes "management capability concerns."
The letter mentions a May 2009 email in which Perkinson said she intended to place Kaczka on a 90-day probation.
State steps in
The organization's first two fiscal years without federal funding, 2009 and 2010, weren't so bad because the group had help from two $157,000 grants from the Indiana Office of Community and Rural Affairs.
The next year was tougher because the state office, facing its own post-recession budget cuts, planned to cut its grant by more than half, according to an agency spokesman.
But Partners in Contracting's revenue plummeted that year, so the state bailed it out with another $50,000 in October 2011.
Terrell, who headed the state agency at the time, said officials saw too much value in Partners in Contracting's services to let them slip away.
"[The organization] picked up the ball where nobody else picked up the ball, and we wanted to see where they would go with it," Terrell said. "They just didn't have the organizational capacity to do it from northwest Indiana."
Bailout fuels merger
The not-for-profit's board wanted to hand over the reins to the state years ago.
"It's always been our concerted opinion that this would be a stronger and more stable service if, in fact, the state of Indiana" took over, Perkinson said.
Discussions became more serious after the federal government pulled funding in 2009.
Terrell said state officials agreed Partners in Contracting could be more effective and more stable if it joined a larger, government-run program.
The program will work hand-in-hand with other agencies, in particular Pence's new Office of Defense Development, which will focus on developing defense industry contracts, Ellspermann said.
Perkinson expects the state to pump more money into the program in the next few years. But Ellspermann and Terrell declined to discuss finances.
The federal program that funds the contract assistance centers grants up to $600,000 a year per organization. If the state matched 50 percent of it, as it has been, that would make for a total $900,000, Perkinson noted.
However, as Ellspermann put it, "We don't have additional funds earmarked or identified at this time. We will look at the performance of this program and its impact on Indiana."
Government contracts often aren't the most logical source of business for small companies, said Bruce Kidd, former director of entrepreneurship for the Indiana Economic Development Corp.
Federal agencies tend to prefer large, established corporations that already have a track record of providing services well, said Kidd, who is now senior vice president of business development for Walker Information.
Partners in Contracting's service has a lot of virtues, he said. But startups, especially, need more funding for research and development, not with chasing down business from the government.
"It's just not natural for a lot of small businesses to go after those kinds of contracts."•
 
Please enable JavaScript to view this content.