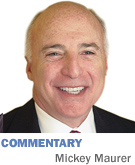 Blessed last spring with the electrifying Indianapolis 500-mile race and the resurgence of the Indiana Pacers, our community was bursting with civic pride. I, too, am proud of the achievements of our athletes, but professional sports is not high on my list of civic pride motivators. Public safety, public education and community leadership top the list and were the subjects of my last three columns. Over the next few weeks, this space will feature additional civic pride motivators.
No. 4 on my list is cultural and recreational facilities. Is there anything here we can be proud of? Not according to The Trust for Public Land, a not-for-profit that in June ranked Indianapolis parks 47th out of the 50 largest cities in America. The criteria used were size, access and services and investment.
Indianapolis was penalized because only 32 percent of our residents live within a 10-minute walk of a park. The Trust missed the point. Indianapolis, unlike top-ranked New York City, spreads its population over a large geographical area. We rely heavily on the automobile for access to the job site, grocery store and recreational and cultural venues.
We can be proud of our park system. Eagle Creek Park, located on West 56th Street and accessible by car and bicycle, is one of the largest municipal parks in the United States. Indianapolis has other fine parks, including Garfield Park and Holliday Park. I favor the decision to invest in our mega parks so that once you get there you can enjoy additional amenities, including swimming pools, marinas, and zip line and tree top adventures.
White River State Park boasts a number of recreational opportunities, including the Indianapolis Zoo, a world-class facility hosting a million visitors each year. The zoo was the first attraction triple-accredited by the Association of Zoos and Aquariums and the American Association of Museums as a zoo and aquarium and a botanic garden—a beautiful walk on a Hoosier summer day.
I doubt the study considered our lineal parks, the popular Monon Trail and the new Cultural Trail, an urban bike-and-pedestrian path that connects neighborhoods, cultural districts and entertainment amenities and serves as a downtown hub for the central Indiana greenway system. Nor does the survey evaluate parks of the non-public variety, including The Virginia B. Fairbanks Art and Nature Park on the grounds of the Indianapolis Museum of Art. It is one of the largest museum/contemporary sculpture parks in the world and is available for picnics and hikes at no charge.
Regarding access to recreational facilities, the YMCA has added two Ys to its list: the Indy Bike Hub YMCA at City Market serving downtown and the Urban Mission/Avondale Meadows YMCA, to open soon serving the city's near-northeast side.
A more accurate ranking of recreational opportunities would include other cultural facilities that require exercise to enjoy. If so, Indianapolis would rank high. For example, the Children's Museum, housed in an almost-500,000-square-foot facility, is the world's largest children's museum. Chase your children around that one afternoon and you'll see what I mean—and it is accessible to many within that 10-minute walk. The Children's Museum Neighborhood Club offers free admission for anyone who lives within one of six neighborhoods in the mid-north area that surrounds the museum.
A recent editorial in The Indianapolis Star linked the health of our citizens to a neglect of our parks system. I disagree. Perhaps that is a small factor, but clearly the health of our citizens is correlated to our propensity to smoke and to overeat.
Am I bursting with civic pride? Yes, of course. And do I care about our professional sports? I'm a loyal fan. Professional sports support economic development and enrich our culture—important elements of civic pride, but would I rather brag about having the best cultural and recreational facilities in America? Think about it.•
__________
Maurer is a shareholder in IBJ Corp., which owns Indianapolis Business Journal.  His column appears every other week. To comment on this column, send e-mail to mmaurer@ibj.com.
 
Please enable JavaScript to view this content.