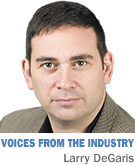 The mayor's $6 million plan to renovate an east-side park to accommodate cricket, rugby, hurling and lacrosse has generated a lot of controversy, with the idea of cricket in Indianapolis receiving particularly close scrutiny. While it might be true that the city has more urgent funding needs, the investment in the World Sports Park could pay substantial dividends.
Indianapolis' reputation as a sports capital is well-deserved. As supporters of the plan have noted, the city has a strong track record of using sports to spur economic development, and is widely considered an innovator in attracting amateur sports events as a means of increasing economic activity.
Typically, the economic success of hosting events is measured in direct spending from visitors, with economic multipliers applied to estimate the total economic impact. But "heads and beds" are only part of the story.
There's a bigger story here. And a bigger opportunity.
As I tell my students in Intro to Marketing, business markets are huge compared to consumer markets. That's true in sports, too. It's been estimated that 60 percent of revenue from ticket sales among the big four pro leagues comes from corporate sources. From a financial perspective, then, sports organizations are primarily in the business of client entertainment and corporate hospitality.
A study conducted by economists from Cal Berkley and the San Francisco Fed found that exports increase an average of 20 percent for cities that host international mega-events. The authors of that study attribute the benefit to "signaling," and certainly there are benefits to a city's brand when it hosts a mega-event, not the least of which is exposure. Like direct spending, media exposure is a popular measure of success for hosting events because it's easy to measure.
While not providing an easily measurable direct economic benefit, developing and maintaining business relationships can yield much larger financial returns than hotel and restaurant receipts and media exposure.
While analyzing sponsorships for UPS as a research consultant, I pointed to a deal that did not really move the needle among consumers, but UPS executives pointed out to me that the sponsorship led to a huge contract with a major consumer goods company. The deal was huge, and directly attributable to the sports involvement.
Among the sports included at World Sports Park, cricket presents the biggest opportunities for corporate hospitality and client entertainment. Simply put, cricket is huge in India. Think soccer in Brazil and multiply it by five.
Cricket is by far the most popular sport among the Indian subcontinent's nearly 2 billion people. Teams in India Premier League, the professional league for 20/20 cricket, rank among the most valuable sports franchises in the world, including any sport and any country.
Indianapolis already has a sister city relationship with Hyderabad, India. It makes a lot of sense to connect Indianapolis' BioCrossroads with Hyderabad's Genome Valley, where the labs rival those of Massachusetts Institute of Technology or anywhere else in the world.
Cricket presents an opportunity to make more direct, personal connections with Indian business executives. From an economic perspective, Indianapolis could recoup its entire investment in the park with one sizable business deal between Indianapolis and Genome Valley businesses, which is entirely possible, even likely, provided the appropriate steps are taken.
Cricket presents corporate hospitality opportunities, not guaranteed returns. Local businesses need to leverage the opportunity.
Based on my research with more than 100 professional sports teams and leagues, I have found evidence that many corporate executives regard sports settings as a unique opportunity to develop business relationships. Sports can attract executives who would not otherwise come and provide memorable life experiences that help develop business and personal relationships.
Spending a day at the "oval" with potential or existing customers presents a unique opportunity to learn about their businesses in an informal setting, which is more likely to yield more candid information and deeper insights.
The World Sports Park puts Indianapolis in play to host international cricket events. A similar facility in Florida hosted a cricket match between Sri Lanka and New Zealand. A match between India and the West Indies in Indianapolis, or an event of similar magnitude, would attract substantial interest among both mass audiences and corporate hospitality guests.
The World Sports Park presents the Indianapolis business community with an exciting opportunity to gain access to new markets. Based on Indy's demonstrated expertise in working with sports governing bodies and corporate sponsors to attract and execute mega-events, I'm optimistic about cricket in Indy.•
__________
DeGaris is an associate marketing professor and director of the Academic Sports Marketing Program at the University of Indianapolis. Views expressed here are the author's.
Please enable JavaScript to view this content.