Mark Newman is trying desperately to raise more money for the Indiana Office of Tourism Development, the agency he has led since late 2012. And with good reason.

Since 2009, the agency has seen its budget slashed from $3.9 million to less than $2 million. In the last decade, the department's staff has been cut from 12 to four, and several of its marketing publications have been discontinued since 2010.

Although the budget for the office is expected to rebound to nearly $2.3 million this year, Indiana ranks only 47th in tourism spending, according to the U.S. Travel Association.



As Indiana slashed its tourism budget, Michigan increased its widespread Pure Michigan ad campaign from $17 million to $27.4 million. Illinois, where budget problems have earned the state the nation's worst credit rating—A3 by Moody's Investors Service—spends more than twice as much as Michigan.

And travel budgets in Ohio and Kentucky are two to four times larger than Indiana's.

"The main thing any [municipal] tourism agency is doing is outreach," said Denise Miller, who was Indiana Office of Tourism Development director from 1989-1992 and is now vice president of Carmel-based Strategic Marketing and Research Inc., a tourism and hospitality research firm with clients nationwide.

"How do you outreach? The most effective method is advertising, and that costs money."

With every passing year, Miller said, Indiana tourism efforts fall further behind its neighbors'. Indiana has great attractions but no one to tell the story.

Critical condition

Bruce Bryant, president of locally based Promotus Advertising Co., which formerly worked on the state's tourism account, said the budget has gotten so bad that Hoosiers don't even know the attractions in their own state.

"I'd say on a scale of one to 10, our brand awareness is a two. I'd hesitate to give it a three," Bryant said. "We're losing people from Indiana who are passing over attractions we have right here at home. They're doing it because they're being bombarded with those Pure Michigan ads and messages from Ohio and Illinois."

Leonard Hoops, CEO of Visit Indy, the city's tourism arm, agrees.

"Even within the state, there's a real lack of awareness of the rolling hills of southern Indiana, the Dunes and the lakeshore and Amish Country in northern Indiana, and attractions such as French Lick, New Harmony, our great golf courses and the architecture of Columbus," said Hoops, who joined Visit Indy after working for the San Francisco Travel Association for five years.

Throwing money away?

That, he added, has a dramatic impact on every county- and city-run convention and visitors bureau in Indiana.

"People, potential travelers, often start with the perception of the state," Hoops said. "You don't start with the perception of Los Angeles, San Francisco, Yosemite and the Redwoods. You start with your perception of California. It's the same way here. The Indianapolis brand is tied directly to the Indiana brand."

At the current budget level, Bryant admitted, the problems are more easily identifiable than the solutions.

"To overcome that in some way, you have to be creative and savvy," Bryant said. "That's a lot easier said than done."

Despite the difficulty of the task that lies ahead of him, Newman, who was hired by Gov. Mitch Daniels and retained by Gov. Mike Pence, is undaunted.

Ambitious plans

The stack of plans Newman has to fight the problem is much higher than the stack of money the governor and Legislature have given him to execute those plans. That's why, Newman said, one of his top priorities is making the department more financially self-sufficient.

That means raising money itself.

Newman wants a $4 million budget—$2 million from tax dollars and another $2 million in self-generated funds. If Newman reaches his goal, the agency would quadruple the money it generates.

Newman's agenda includes the following initiatives:

• Working with West Chester, Pa.-based Rockport Analytics LLC to create a "research platform" that better tells the story of statewide economic impact and how tourism fits into it.

• Replacing the tag line "Restart your engines" with one that more closely relates to some of the state's more rural areas. The process is in the second of four phases. Locally based Williams Randall Marketing has been hired to help.

• Launching a marketing campaign this fall that features the new tag line.

• Overhauling the travel guide and changing the way it gets pushed to outside markets. Newman wants it to be more of a magazine, and will direct-mail it to homes and businesses in Indianapolis, Evansville, Fort Wayne, Chicago, Cincinnati and Louisville. He hopes to sell ads.

• Increasing emphasis and reliance on social media to push out marketing messages.

• Working on plans for the bicentennial celebration.

• Developing programs to promote sports, culinary, and cultural and arts tourism attractions.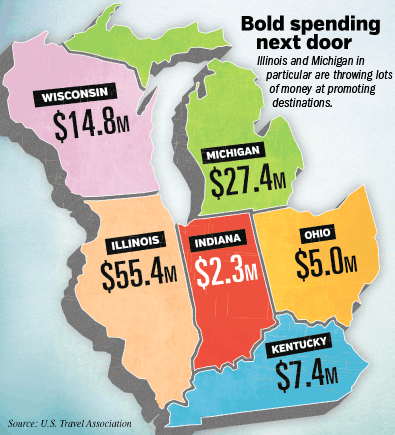 • Taking over sole responsibility for publishing and selling the state road map (the Department of Transportation has published a map in the past) and selling ads. The map also could promote tourism destinations.

• Developing a tourism curriculum for fourth-graders combining elements of history and tourism. Having tested the curriculum last year at Promise Road Elementary School in Noblesville, Newman is searching for sponsors.

• Developing a travel app for mobile devices on which the agency could sell ads.

The idea of a state's tourism department raising as much money as it gets in tax dollars is relatively new, industry insiders say, though Florida, Utah and Missouri have had some luck with it in recent years. One thing the Indiana Office of Tourism Development is missing, though, is big-time private tourism-related businesses like those in Orlando, Fla., or Branson, Mo., to help it accomplish its goals, said Miller, the former tourism director.

Untapped potential

Newman thinks that, with improvements to U.S. 31 from Indianapolis to South Bend and construction of Interstate 69 from Indianapolis to Evansville, the time is ripe to grow tourism.

"These roads are important tourism tools for our state," Newman said. "It creates a connectivity that Indiana has simply never had before."

With the extra money he aims to bring in, Newman wants to double his staff and at least double the advertising budget.

Newman hopes that accomplishing all or most of the items on his agenda will send a message to lawmakers who approve the agency's budget.

"We have to communicate that this is what we can do with a small staff and budget," Newman said. "Imagine what we could do with a larger staff and a few more resources."

Newman faces a curious dilemma with those who approve his budget, Miller said.

"There seems to be a lack of appreciation of the potential of tourism in Indiana," she said. "It's like [lawmakers] don't believe in the product. This is a state that constantly says it wants to operate more like a business. But they don't advertise their products."

Newman, who holds a bachelor's degree in psychology from the University of Massachusetts and a master's in sport psychology from the University of Virginia, has lots of experience raising revenue for programs and stretching resources.

Before becoming state tourism director, he was vice president of marketing and communications for the often-cash-strapped Indianapolis Symphony Orchestra. Before that, he worked on some of the city's biggest sporting events as chief operating officer of the Indiana Sports Corp.

Becky Skillman, who was lieutenant governor when Newman was hired to lead the state's tourism department, called Newman "a proven strategist recognized for his ability to increase revenue and engage customers."

Rep. Tim Brown, R-Crawfordsville, said lawmakers would consider restoring some of the agency's budget as the economy improves. But he added that Newman and his staff would have to prove that a dollar spent means more than a dollar made for the state.

"Most people would agree this department is not a critical function of state government," said Brown, chairman of the House Ways and Means Committee, which has considerable sway over budget matters.

Brown acknowledged, though, that the agency's budget is a problem.

"I know we're severely lagging our Midwestern neighbors in regional tourism spending," Brown said. "I think most [state lawmakers] are keenly aware of that. You see all those Michigan.org ads and they do make you bristle. We understand that if our tourism department isn't out there advertising we're not out there in the public eye and that can hurt us economically."•