Five global financing and construction teams want to build the next stage of Interstate 69 from Bloomington to Martinsville.

Indiana Finance Authority Director Kendra York said she was pleasantly surprised to see five responses to a request for qualifications. She's been authorized to narrow the list by July 30, then work with teams on the short list on a request for proposals that would go out in October.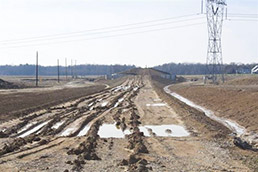 Construction on new stretches of Interstate 69 has been slow-going, as funding is tougher to come by. (IBJ File Photo)
The IFA, which is responsible for vetting bidders' financing wherewithal, will work closely with Indiana Department of Transportation engineers.

The state hopes to start converting the 21-mile stretch of interstate early next year. The project is estimated to cost $394 million, but there is no money left in Indiana's Major Moves fund for I-69 expansion.

As a result, Indiana officials hope to pay for the project by exploring creative financing options that rely on existing state revenue.

The five teams and their equity members are as follows:

• Connect Indiana Development Partners—Macquarie Capital Group Ltd., Lane Infrastructure Inc. and Lane Industries Inc., all based in Australia.

• I-69 Development Partners—OHL Concesiones of Madrid, Star America Fund LLC of Roslyn, N.Y., and UIF GP LLC of Delaware.

• Isolux Infrastructure Netherlands SV—Public Sector Pension Investment Board of Canada and Grupo Isolux Corsan SA of Madrid.

• Plenary Roads Indiana—Plenary Group of Melbourne, Australia.

• WM I-69 Partners—Walsh Investors LLC of Chicago and Meridam Infrastructure of Paris.