Sure, health care and oil companies—with their extensive technology needs and massive markets—provide plenty of business to Carmel-based Blue Horseshoe Solutions Inc.
But booze is leading the way.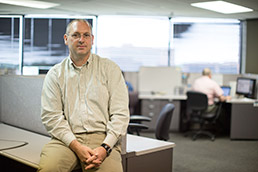 Blue Horseshoe President Chris Cason says when his company does good work in one niche, another inevitably opens, because "activity begets activity and opportunity." (IBJ photo/Aaron P. Bernstein)
The privately held company develops software that manages supplies, warehousing, deliveries, worker productivity and a gamut of other logistical complexities connected with any number of goods-producing businesses.
About 25 percent of the firm's business falls within the beverage category, followed by transportation, retail, health care and energy. The boozy focus started out of personal interest (co-founder and Executive Vice President Kevin Paul, 43, is an owner of the Brockway Public House in Carmel). And it grew when the firm found few competitors among software companies serving the alcohol market.
Blue Horseshoe President Christopher Cason, 47, and Paul said the company has targeted its niches based largely on what interested the people in charge.
Industry dynamics haven't hurt: A flurry of beverage industry acquisitions in the past decade—notably, the mergers of Molson and Coors in 2005 and Anheuser-Busch and AB InBev in 2008—created multinational beer conglomerates with larger IT needs.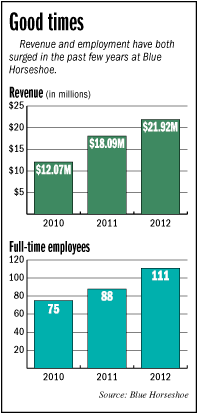 Craft breweries also have sprouted around the United States, adding another dynamic for distributors to tackle as bar customers began to expect more options.
"Now, it's not just every bar has all Miller products or all Anheuser products," Paul said. "The tap handles grew from five to 25 at every bar. So did the [stock unit] count. So did the providers. So did the need to ship product from California to Indiana to Maryland to New York.
"The supply chain and the ability for all these distributors to provide service to customers and make money off it got a lot more complicated."
That's where Blue Horseshoe, which began in 2001, has stepped in.
Business bubbles
The beverage industry has evolved into one that is surprisingly high-tech.
"We often deal with folks that think we're still on horse and buggies," said David Christman, senior director of state and industry affairs for the National Beer Wholesalers Association.
Blue Horseshoe is one of only six or so software firms nationwide that have established themselves as players in beer distribution, Christman said.
The entire beer industry is a $30-billion-a-year U.S. market. The company also has customers in wine ($10.5 billion U.S. market), spirits ($21 billion) and non-alcoholic energy drinks ($12.5 billion).
Blue Horseshoe targets midsize companies as customers across all its industries—those with $200 million to $2 billion a year in revenue.
The average customer account is worth about $500,000. The firm has 130 employees, 24 of whom are shareholders. Six of the seven founders remain involved.
The name Blue Horseshoe is a reference to the movie "Wall Street," in which Michael Douglas' character uses the code "Blue Horseshoe Loves Anacott Steel" to execute an insider trade. As the principals of the Carmel company tried out several names, they said them aloud, replacing Anacott Steel in the infamous quote. They wound up preferring Blue Horseshoe to the other options.
'White space'
Paul described the company's maneuvers into new markets as identifying "white space," meaning niches that are void of competition. He said they've found some even in the nearly $3 trillion U.S. health care industry.
"It's very fragmented. The industry is so large and the needs are so great and diverse everybody is kind of picking what is needed," he said, listing niches such as operation scheduling, patient payments, pharmaceutical management and security.
A lot of the business in existing markets has pushed the company into new areas.
Illinois' largest alcohol distributor and a Blue Horseshoe customer, Wirtz Beverage Group, helped steer the company toward the athletic industry since Wirtz owns the Chicago Blackhawks. The relationship led to deals with the Dallas Cowboys and a joint venture between the New York Yankees and Manchester United soccer team.
"We market real hard to one industry," Cason said. "It never fails. We would get three really good opportunities completely outside that industry that we would close, deliver and do a great job on.
"So it's the old adage, activity begets activity and opportunity. We try to focus where it's applicable and grow that market. And do it in a very sustainable fashion. But you also get a lot of crossover."
Industries divide
Beer and wine distributors are focused on selling large volumes at low costs, while liquor is much more focused on high margins, said John Wolff, information technology director for Monarch Beverage Co. in Indianapolis.
That means Blue Horseshoe can't provide the same software to a Budweiser distributor that it would to a Jim Beam distributor.
There are only a handful of software developers that tailor themselves specifically to the beverage industry, and many more that focus more broadly, developing general software that can manage supply chains in any industry, Wolff said.
"I have a choice; do I want to go with one that's made for my industry that's more tailored, but it's a smaller company with limitations? I don't know if they're going to be open next year," Wolff said. "Or do I go with one of the bigger brands with broader application?"
What Blue Horseshoe does well, he said, is partnering with major corporations such as SAP and Microsoft.
Blue Horseshoe can develop a program—something as specific as software to handle shipping for a small, privately owned liquor distributor—and roll it into a massive software suite such as Microsoft Dynamics. Microsoft offers a variety of services while an alcohol distributor can still address its specific needs with Blue Horseshoe's solution, he said.
Expansion afoot
Blue Horseshoe ranked as Indiana's 25th-fastest-growing company in 2012, according to data collected for IBJ's Book of Lists.
The year ended just shy of $22 million in revenue, up 21 percent from 2011.
Cason said the company targets 25 percent growth every year and appears on track to do so for several years.
The firm has struggled to keep up with hiring. About 100 people work at fifth-floor headquarters in Meridian Crossing off U.S. 31 in Carmel. Another 11 people work in Columbus, Ohio, with about 20 in a Denver office that handles business in the western United States.
The company wrapped consulting services into its offerings in 2010, when it acquired Columbus, Ohio-based TransTech Consulting Inc.
Blue Horseshoe has hired about 30 people so far this year and plans about 10 more by the end of 2013. The company hopes to begin looking for more office space in the next year or so.•
Please enable JavaScript to view this content.