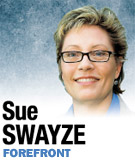 It hurts to watch crime escalate in Indianapolis, especially among African-American boys and girls.
After the shooting of a teenager during the July 4 fireworks, Mayor Greg Ballard vowed to find solutions. "[We] need to redouble our efforts to confront the problem of unsupervised youth roaming free downtown and the parents who allow it," Ballard said.
Yet as I watch the response of the public safety community, the Ten Point Coalition and key community leaders, I confess I'm a bit cynical. We've studied this repeatedly, funded programs and added cops to treat the symptoms, not the cause.
We need a new approach. Maybe Ballard gave us a clue when he included in his statement … "and the parents who allow it." This isn't the first time he's noted that the majority of people in jails come from fatherless, unmarried homes.
The root cause of angry children and those who seek to belong stems from instability in the home, where there typically is no father and the mother struggles financially and emotionally. She tries her best, but the odds are against her. If she's attempting to find a suitable male partner, she's likely had boyfriends in the home who might not have her safety and security as a top priority.
Kids, especially boys, rebel against this; their needs are invalidated and they lack assurance as they mature. Everyone struggles when Dad won't commit to his family. Add drugs and alcohol and you've got wounded children.
Today in Indiana, 44 percent of children are born to unmarried parents. Economist Robert Lerman found that mothers with low academic abilities who married saw their living standards rise 65 percent higher than similar single mothers living with no other adult, over 50 percent higher than single mothers living with another adult, and 20 percent higher than mothers who were cohabitating.
Marriage matters as an economic tool, as well as a reduction in complex households (boyfriends in-and-out). So much so that Indiana Black Expo prophetically recommended increased marriage rates in its 2005 edition of The State of Our Black Youth Report, as did the Indiana Commission on the Social Status of Black Males in its 2007-2008 annual report.
It's time to talk as a community about the role of parental commitment (marriage, cohabitation, divorce) in creating poverty and stacking the odds against our children. We've tried to avoid it, but it continues to wreak havoc.
As a single mother, I know the loneliness and desperation from being responsible for downright everything. And in my work of teaching healthy relationships, more than 2,000 people have shared their stories with me. They tire of baby-mama-drama and don't mean to take it out on their kids. They enjoy learning new skills, and I often hear, "Can you teach these skills to my children before they make my same mistakes?"
I recently visited the Indiana Women's Prison to hear Keith Blackburn, a former gang-banger, talk about how he shot Misty Wallace, and her story of forgiveness. Today, they visit prisons talking about a growing approach called "restorative justice." Restorative: to make whole again. Justice: a response that is righteous and just.
From a public safety standpoint and the traditional "scared straight" approach, young people need to understand the consequences of their actions, and victims need restorative justice to move on.
But maybe we should also consider these same principles to help estranged mothers and fathers restore their families … and help children find justice in their homes long before they enter the system.•
__________
Swayze leads the Indiana Family Institute's Hoosier Congressional Policy Leadership Series and has held numerous lobbying positions with not-for-profit organizations. Send comments on this column to [email protected].
Please enable JavaScript to view this content.