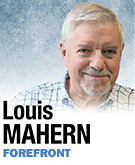 Shortly after his 2008 inauguration, Mayor Ballard approached the Indianapolis economic development folks with a plan for international strategy—meaning foreign trips for him, his wife, staff members and security.
Private donors were to pay all travel expenses of the mayor and his entourage through an organization eventually known as Develop Indy and operated under the Indianapolis Chamber of Commerce.
IBJ documented all of this earlier this year. The article also noted, "A chamber spokeswomen was unable to provide information on Develop Indy's total international travel expenses by IBJ's deadline."
Develop Indy still hasn't provided such information. In fact, when I asked for itineraries of the eight foreign trips, it refused.
"How much was spent on the mayor and Mrs. Ballard's expenses?"
"Who contributed to the mayor's expenses?"
"Who accompanied the mayor?"
"What sporting events or venues, concerts, museums, galleries or performances did the mayor attend while on these trips?"
All refused.
I did not ask for the names of any private companies the mayor might have met with or any proprietary information that might aid competing American cities or states.
Develop Indy refused on the basis that it is not a public agency, thus not subject to Indiana's open records law. Develop Indy makes this claim despite its 2011 (the most recent year available) not-for-profit tax return that lists the mayor as the sole stockholder of Develop Indy and that states he appoints the entire board.
According to an E-1 form filed by Develop Indy with the State Board of Accounts in May this year, Develop Indy in 2012 received $2.7 million in grants from the city, which composed 70 percent of Develop Indy's total disbursements for that year. Yet it claims not to be a public agency.
What we do know is that Ersal Ozdemir, recipient of $6.3 million from the city to build the Broad Ripple Garagemahal, has accompanied the mayor on overseas travel. As have officers of American Structure Point, managers of the mayor's Rebuild Indy initiative. So have attorneys from some of the largest law firms in the city, law firms with substantial business ties with the city.
I believe private donors are getting first crack at going on the trips and a week to 10 days of quality face time with the mayor. I further believe at least some of the donors do substantial business with the city.
I also believe the foreign trips Develop Indy puts together are essentially a gift-laundering scheme to allow major contractors, developers, architects and law firms to lavish on the mayor and his wife business-class air fares, five-star accommodations, gourmet dinning, and attendance at sporting and cultural events without having to report such largess.
Can I prove these speculations? Not yet.
Including the trip to Cologne, Germany, next month, the mayor and his wife will have traveled over 130,000 miles courtesy of secret donors. The cheapest business class air fares I could find on the Internet for the destinations amount to more than $100,000. This does not include in-country travel, hotel accommodations, food and beverages, or admissions to sporting and cultural events.
What is the success rate of these junkets? In the IBJ article, neither the mayor nor the Develop Indy folks could point to a single job or investment brought to Indianapolis as a result of this five-year program.
All the mayor has to do is tell Develop Indy to cough up the information. Or would he rather spend economic development money fighting my lawsuit?•
__________
Mahern has been an assistant to U.S. Rep. Andy Jacobs and U.S. Sen. Birch Bayh and served in the Indiana Senate. Send comments on this column to ibjedit@ibj.com.
Please enable JavaScript to view this content.