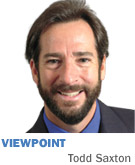 The recent cutbacks sweeping central Indiana hospital systems are part of a larger epidemic affecting the entire U.S. health care system.

For decades, skyrocketing costs have consumed dollars that could have gone toward business investment, personal incomes and public priorities like infrastructure and education.

Today, the pressure on hospitals and physicians is even more intense: Medicare and Medicaid reimbursements tighten as the government seeks to expand coverage while controlling costs, while insurers adopt tough negotiating tactics as they confront their own regulatory uncertainties.

Locally, we've seen the consequences in massive layoffs at St. Vincent Health and Community Hospitals. I'm sure we haven't seen the last dire headlines about hospitals making hard choices in the face of fiscal calamity.

I'm all for efficiency, and don't claim to have enough information to evaluate the specific cuts made by these hospitals. But I fear that cost-cutting might be taking a back seat to strategy as health care executives try to downsize their way into solvency.

Trying to survive tough times armed with only a green eyeshade and a budget ax isn't a prescription for success—it's just postponing the inevitable.

Strategy research demonstrates that firms focused exclusively on internal operations and cost-cutting are likely to be less effective, and in fact might risk long-term survivability. These studies show that businesses too focused on operations and internal matters are much more likely to enter a bankruptcy spiral.

Those that focus on evolving and innovating to meet external demands of customers, competition and changing industry dynamics are more likely to survive and thrive.

Strategy guru Michael Porter refers to this contrast as focusing on operational effectiveness versus strategic positioning. Colloquially, think of it as the dichotomy between saving a penny versus making a dollar.

Ideally, great leaders achieve both—but certainly, more weight should be given to strategic positioning and innovation than to simple cost-cutting.

Indeed, tough times often give birth to the most disruptive innovations. A well-publicized study by Kauffman Foundation found that half the nation's largest (Fortune 500) and fastest-growing (Inc. 5,000) were launched during a recession. While mature companies try to ride out the storm and retrench, startups seize market opportunities—and, eventually, market share.

Certainly, the health care sector is far different from other industries. And recessions are part of a business cycle with the expectation of rekindled growth, whereas the current turmoil in the health care market might represent a new normal struggling to be born.

But just as an economic downturn can be a fertile ground for big ideas, the changing health system is also yielding innovative thinking.

For example, Indiana has been a pioneer in health information exchange systems and leveraging clinical data through resources like the Regenstrief Institute. This has spawned a new supply chain of firms applying information technologies to health care challenges—for example, ventures like Diagnotes, a startup that provides tools to improve communication and collaborative decision-making among care team members.

Other innovations from startups, such as those championed by the Hoosier Health Care Innovation Challenge, allow health care providers to outsource their toughest bottlenecks and barriers to the best minds in technology and other disciplines.

However, leveraging these opportunities and brokering strategic partnerships take organizations that are willing to invest and focus externally—values that don't easily co-exist with top priorities of reducing headcounts and shrinking the expense side of the ledger.

Similarly, there is promise in new models of health care delivery—not trying to manage to new reimbursement rates, but rather to transcend them by shifting from fee-for-service to outcome-based and accountable-care models. Again, this type of shift takes visionary leadership and cultural buy-in, an organizational cohesion not typically found in the midst of painful cuts.

I don't intend to minimize the need to trim bureaucratic waste and find ways to right-size operational budgets. But as an interested observer and management strategist, I fear that a "cut first, ask questions later" approach will leave hospital systems shrunken, possibly bankrupt, and ill-prepared to transform themselves to provide quality patient care in an age of reduced health care spending.

In my many interactions with health care professionals and administrators, I have become even more convinced that all are sincerely interested in better care and reducing the upward cost spiral. A climate of fear caused by layoffs without leadership is not productive for innovation and change.

With the right strategic focus, however, it's possible to achieve both efficiency (doing things right) and execute the "big ideas" that will transform the system (doing the right things).•

__________

Saxton is an associate professor of management at the Indiana University Kelley School of Business Indianapolis, where he also serves as the Indiana Venture Faculty Fellow. Send comments on this column to ibjedit@ibj.com.