City Securities Corp. has dominated the Indiana municipal bond market for decades—in the last 30 years underwriting $23 billion, or more than 60 percent, of issues for schools and communities.
But the firm's recent $580,000 settlement with the U.S. Securities and Exchange Commission could give issuers pause and competitors a foot in the door in the underwriting business, observers said.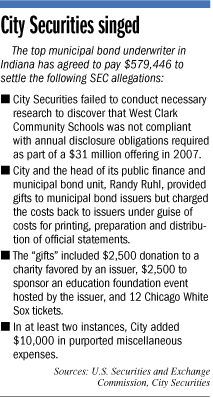 The SEC charged that City failed to detect false statements to bond investors by client West Clark Community Schools. The district said it had been providing annual financial information and notices as required under a previous offering but in fact had not.
Perhaps more problematic for City Securities from a competitive perspective is that regulators charged that City and its former municipal finance head, Randy Ruhl, provided improper gifts to bond issuers and later fraudulently charged the expenses back to the issuers without their knowledge.
While the settlement gets the SEC off City's back, uncertain is whether the matter becomes a concern for bond-issuer clients, said Mark Maddox, founder of Fishers securities litigation firm Maddox Hargett & Caruso and former Indiana securities commissioner.
"Might [bond issuers] perhaps put them under a little more scrutiny?" he asked.
Others doubt the matter will do lasting damage given City's long tenure and dominant position in municipal finance.
"They're the go-to guys if you're looking to buy Indiana bonds and the place to go if you're an issuer," said a partner of an Indianapolis financial firm who asked not to be identified. "This is not an insider trading case."
Such is City Securities' presence in the local market that several financial executives in town declined to talk about the firm's prospects following the SEC sanctions.
Before this case, City hasn't been severely chastised by regulators in recent years. In 2009, however, it agreed to pay a $250,000 fine to the Financial Industry Regulatory Authority concerning an auction rate securities case.
Indeed, while City is a firm "you almost never see about having problems" with regulators, Maddox said, the SEC matter will be a black eye.
Gifts in name only
If the SEC's allegations are accurate, the shiner would be deserved.
In a statement for a $31 million bond offering on behalf of West Clark Schools in 2007, which was underwritten by City Securities, the school district said it was in compliance with its disclosure obligations for a bond offering two years earlier.
The SEC contends the school didn't make those disclosures and that City Securities didn't conduct adequate due diligence to detect the false statement.
"City Securities relied solely on the assertions of the issuer" as to its compliance with continuing disclosure agreements, the agency said.
Observers say the SEC's charge that City provided large gifts and back-billed the costs to clients could be a bigger problem as the firm attempts to cultivate new business.
The SEC said Ruhl and City disregarded the firm's compliance manual—and violated Municipal Securities Rulemaking Board rules—by providing "valuable and excessive" gifts.
Those gifts included $1,500 in catering expenses for a lunch and evening dinner reception for a newly installed school superintendent. The SEC also cited $800 in travel expenses for an out-of-state golf trip, $1,250 for a group outing to a Chicago Cubs game for six issuer officials and guests, and a $2,500 donation to a charity favored by an issuer.
Making matters worse, City later billed such expenses back to the issuers under the guise of "printing, preparation and distribution of official statement."
"City Securities fostered a long-standing and pervasive culture of lax supervision and loose internal controls as it related to expense reimbursement," the SEC said.
The SEC became aware of the problems as part of a routine regulatory exam in 2009, according to documents the firm filed with the SEC.
Initially, the agency found problems such as that City had failed to preserve properly 18 of 24 requested municipal underwriting files the agency had sought, according to records of Financial Industry Regulatory Authority, or FINRA.
City's practice was to purge its records and destroy underwriting files upon maturity or redemption of the bond issue, according to FINRA.
"The firm failed to establish, maintain or implement adequate written supervisory procedures that were reasonably designed to achieve compliance" with recordkeeping regulations, said FINRA, which in 2011 fined City Securities $7,500 over the records issue.
That was spare change compared to the eventual settlement with SEC over the West Clark Schools and gift-billing violations.
City Securities initially offered to settle with the SEC for $606,564, according to the firm's 2012 annual report filed with the SEC. It was unclear why the settlement was lowered.
City set aside an expense for a settlement for the fiscal year ending last Sept. 30. That annual report filing does not disclose the firm's profitability. However, the same report filed a year earlier said City had 2011 profit of $1.6 million.
Prior fine

Bosway
The last time City Securities had a major scrape with regulators was in 2009.
That September, FINRA fined City Securities $250,000, alleging the firm failed to adequately disclose to customers risks of auction rate securities.
City wasn't unique, however—it was among hundreds of securities firms around the country pursued by FINRA over auction rate securities. Interest rates on those corporate and municipal bonds, many with long-term maturities, normally were reset through an auction process, but the securities became illiquid when auctions froze in early 2008.
Besides the $250,000 fine, the settlement required City to offer to buy back, at par value, auction rate securities that investors and some institutions purchased dating back to 2006.
For City, that amounted to $13.1 million in auction rate securities.
Ultimately, the Indianapolis firm didn't have to buy back the securities because they were highly rated and could be refinanced.
"No investors lost anything," said Mike Bosway, CEO of City Securities. "Everybody received 100 cents on the dollar.
"That was a very unusual markets environment," he added.
Asked whether the recent SEC settlement might hurt business prospects, Bosway declined to discuss the matter. He told IBJ on July 29 that City responded with "immediate and substantial" changes to prevent a reoccurrence.
"We kind of viewed this as an opportunity to improve as a company and as industry professionals … our cooperation in this matter has strengthened the company."
City Securities has a number of competitors in the market, such as regional banks Fifth Third and KeyBank and the investment firm Raymond James.
But the municipal bond market is somewhat less crowded than it used to be.  Big Wall Street firms lately are focusing on underwriting deals that are $500 million or larger, said Mike Nicholas, CEO of the industry group Bond Dealers of America.
There was a time big firms would chase smaller deals in middle markets like Indianapolis. But regulatory changes made it harder for them to hire partners in local markets that gave them inroads with potential issuers.
City Securities is one of the larger regional firms and benefits because "they know the area, they know the issuers, they know [their] needs," Nicholas said.
"It's hard to find any firm that doesn't run into some kind of trouble" with regulators these days, Nicholas said. "The industry is so heavily regulated."
Executive departs
The senior vice president at the center of the expense complaint, Ruhl, 56, is no longer with City Securities.
Under his settlement with the SEC, Ruhl agreed to pay $38,475 and accept a one-year ban from working in the securities industry. He received a permanent ban from working as a supervisor in the industry.
City Securities isn't the only local securities firm to be slapped with sanctions in recent days.
On July 31, the SEC said Indianapolis-based Gregory W. Goelzer and his Goelzer Investment Management agreed to pay nearly $500,000 in a settlement with the agency, without admitting or denying the agency's findings.
The SEC said the firm misrepresented to clients that it conducted a comparative analysis of which brokers conducted trades under the best terms before selecting itself for the work.•
Please enable JavaScript to view this content.