Flaherty & Collins Properties is floating two redevelopment ideas for a seven-acre parcel on the edge of Carmel's tony downtown, but both require public support that casts uncertainty over the project.
Indianapolis-based Flaherty & Collins was the only firm to respond to a May request for proposals from the Carmel Redevelopment Commission, which owns the former Party Time Rental property at 1212 S. Range Line Road, near Carmel Drive.

Flaherty
The prolific developer pitched two possibilities: a $33.2 million, 265-unit apartment building with ground-floor amenity space that eventually could be converted to retail use, and a $65 million mixed-use project that includes about 450 apartments, 5,000 square feet of retail space, and a 500-space parking garage.
Each option would need public help to close a "funding gap"—$5.7 million and $18.5 million, respectively, after the developer's contribution. And that's far from a sure thing in the current political environment.
Carmel's City Council agreed late last year to refinance $184 million in redevelopment-related debt, gaining control of future CRC borrowing and certain expenses in the process. An increasingly hawkish four-member council majority has been keeping a lid on spending ever since.
"We're on a very narrow edge, financially," said council President Rick Sharp. "I'm leery of getting into more 'all-in' deals to encourage development."
Mayor Jim Brainard, the visionary behind Carmel's ambitious decade-long downtown overhaul, said he's confident the city can find a way to get the project done.
"I think we're close enough that it can happen and the city can get a very nice development in the process," he said. "There are a lot of moving parts."
Further complicating the matter: the city's desire to include two adjacent (and privately owned) parcels in any redevelopment plans.
Flaherty & Collins' response incorporates the property at 1224 Range Line to the south, now home to an Arby's restaurant that could land elsewhere on the site, but does not include related costs.
It recommends waiting to build a 45,000-square-foot mixed-use building to the north at 1132 Range Line, citing plans for a roundabout and new entry road running between that property and the Party Time land.
Company President David Flaherty declined to comment on the specifics of the proposal, which IBJ obtained through a public records request, but he said the firm is "very interested" in the project, which it has been working on for years.
"It's a great site," he said of the property, which planners envision becoming a gateway to Carmel City Center and the Arts & Design District.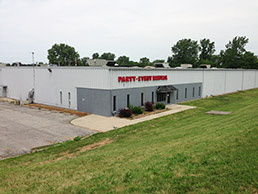 Carmel city planners envision the former Party Time Rental site as a future gateway to Carmel City Center and the Arts & Design District. (IBJ file photo)
Flaherty & Collins is working on a number of other high-profile projects, including a $35 million project in downtown Fishers and an $81 million skyscraper planned for a portion of the former Market Square Arena site in Indianapolis. But it has yet to build in Carmel, the local pioneer in a so-called "new urbanism" movement that champions such retail-residential combinations.
Its cheaper "base" proposal for the Party Time site includes a 343,000-square-foot main building—designed to look like three separate structures—and about 265 upscale one- and two-bedroom apartments wrapped around "pedestrian mews," a resort-style pool area and community clubhouse. Surface parking is divided among two lots and a few dozen private garages.
The developer did not comply with CRC's request for first-floor retail, but the proposal said resident amenity areas along Range Line Road are intended to be flex space that can be converted "if the viability of retail has been solidified in the market."
About 11 percent of retail space within a one-mile radius of the Party Time site was vacant in the second quarter of 2013, according to data from real estate brokerage Cassidy Turley. Citywide, the vacancy rate is about 7 percent.
Flaherty & Collins' $65 million "alternate" plan for the property builds in the required retail areas as well as a parking structure, which drives up costs. The site plan for that proposal shows about 465 apartments in two buildings.
Carmel's apartment market is booming, with an occupancy rate that hovers around 95 percent, according to data from Tikijian Associates. But with a number of multifamily projects already in the construction pipeline, observers are starting to worry about overbuilding.
"We have to look at that very, very carefully," said Sharp, the council president.
As part of a zoning change approved in March, the council must sign off on final development plans for the site. It also would have to agree to any tax-increment financing arrangements, a tool the city has used previously to help pay for redevelopment projects.
The council majority has signaled that it won't be easy to land another TIF deal anytime soon. In June, it turned down a request to help Pedcor Cos. apply for a state tax credit for a $100 million project in Carmel's Midtown area over concerns the developer would seek financial assistance.

"The redevelopment commission has no wiggle room left," Sharp said.
Indeed, CRC members voted last month to reject the Flaherty & Collins proposal, a procedural move that allows the commission to negotiate directly with the developer after a 30-day waiting period.
In recommending the action, Executive Director Les Olds said the bid met the CRC's $4.35 million asking price for the property, but the proposal included caveats that "at the present time are beyond the ability of the commission."
Flaherty said the move was expected, and the company intends to keep pursuing the project.
It remains to be seen who will be representing the CRC in negotiations after the City Council voted Aug. 5 to reject a $60,000 contract extension that would pay Olds for the rest of this year.
Brainard called the Party Time development a priority, but said it's unlikely much will happen this year due to the complexity of the deal.
The city expects to replace a traffic light at the heavily traveled intersection with one of its signature roundabouts, and officials also are contemplating an extension of Veterans Way from City Hall south to Carmel Drive, opening up access to the property.
"Even in the most ideal circumstances, we're talking 2014 at best," he said.•
Please enable JavaScript to view this content.