While Indianapolis Colts quarterback Andrew Luck is exceeding off-the-chart expectations on the field heading into his second NFL season, some marketers think he's underachieved as a corporate spokesman and product sponsor.
He's certainly been left in the dust by fellow second-year NFL signal caller, Robert Griffin III, of the Washington Redskins.
All that, though, might be about to change.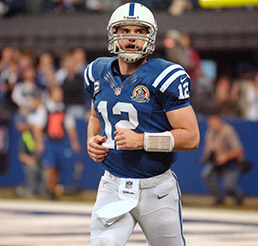 Andrew Luck's commercial profile was fairly low-key in his rookie year. (IBJ file photo)
Luck this week is expected to make a major announcement about a partnership with Klipsch, an Indianapolis maker of audio equipment, including high-end speakers and headphones.
Luck declined to discuss his commercial deals for this story, but the agreement with Klipsch is expected to be a multiyear deal worth a six- or seven-figure payday for the soon-to-be 24-year-old Stanford University graduate.
"Any commercial deal with a guy of his profile starts at a bare minimum of $100,000," said Nova Lanktree, executive vice president of marketing services for Virginia-based Octagon, which represents some of the biggest names in sports. "And the value of those deals can easily escalate to $1 million-plus, plus."
The Klipsch deal, sources familiar with it said, could include a tie-in with Luck's charities of choice. Luck last year became involved with Riley Hospital for Children, Indianapolis Public Schools and the Indianapolis-Marion County Public Library.
"Companies love a charitable tie-in, because it's authentic," said Ken Ungar, president of U.S. Sports Advisors, an Indianapolis sports-branding consultancy whose clients include the Los Angeles Dodgers and National Basketball Players Association.
A comprehensive commercial deal with a charitable tie-in could go a long way in boosting Luck's image off the field, something sports marketers say is critical to maximizing his value.
"If Andrew Luck never lets people get to know him beyond the X's and O's on the field, he has limited value to sponsors" and to his charitable causes, said Larry DeGaris, director of academic sports marketing programs at the University of Indianapolis.

Luck sought out Klipsch, sources said, because he wanted to deepen his roots in Indianapolis. He also wanted to work with a local company so he wouldn't have to take time from football flying to the East or West coasts to shoot commercials and make appearances.
"That's just what we've come to expect from a guy like Andrew," Ungar said. "His desire to be involved here is part of what makes him so endearing."
A single deal—no matter how big—isn't going to convince many marketers that Luck is meeting his potential as a pitchman or even catching up with Griffin, who is widely known as RGIII and has mega deals with Subway and Adidas.
"Luck has been a bit overshadowed by RGIII and I think some of the comparisons have been a little unfair," said Darin David, senior director for The Marketing Arm, a Dallas marketing research firm that counts many of the top sponsors in American sports as clients.
"RGIII was the Heisman Trophy winner; he has a unique, outspoken personality and he has a wide-open style of play that made him instantly exciting," David said. "But most athletes take some time to craft their image. I think Andrew Luck is doing the work it takes to build his brand."
Risky business
Last year, Luck said he wanted to focus on football and making the transition from college to professional ranks. But many marketers then expected a flurry of off-season charity work, possibly the formation of a foundation bearing Luck's name, and some big commercial deals. None of that materialized.
"There are different strategies for different types of players and people," said Andrew "Buddy" Baker, founder of Indianapolis-based Exclusive Sports Group and a registered agent who represents several NBA and NFL players. "Everything a player is able to achieve, and I mean everything, is a derivative of what they do on the field or court. I think [Luck] and his agent understand that."
There's an inherent risk in coming out with commercial deals too fast—the way some say Griffin has.
"As a marketer, you try to avoid the Anna Kournikova effect," DeGaris said. "You don't want to be seen as all sizzle and no steak. It can kill an athlete later."
Sports marketing goliath IMG practiced that lesson with another tennis star, Maria Sharipova, DeGaris said.
"They held her back on sponsorship deals until she won her first tournament," he said. "They didn't sign her with Canon until she was well-established as a serious player."
"With RGIII," DeGaris added, "if he doesn't perform at a high level, you risk an empty consumer reaction."
Luck faced an additional risk if he came out of the marketing gates fast. That would have ratcheted up comparisons with the man he replaced, Peyton Manning, who has the most commercial deals of any NFL player.
"That's a no-win proposition," David said.
But there's also risk in marketing too slowly.
Most athletes, "especially NFL players, have very short playing careers," Baker said.
Time to shine
Ungar said Luck has been smart to carefully "carve out his own place in the market," but thinks now's the time for the young quarterback to raise his profile.
"It will be a big mistake if he doesn't really put a flag in the ground during the 2013-2014 season," Ungar said. "We need to see more of his personality. He needs to become more known, more respected and more trusted to fans and consumers."
Luck has already shown flashes of brilliance off the field, marketers said.
"He's handled himself well with the media, and that's his first audition as a corporate spokesman," David said.
Both on the field and off, he said, Luck has exhibited many traits companies are salivating over.
"The first big thing he's demonstrated is leadership abilities, and that's huge with companies looking for a spokesman," David said. "He's also positive, he smiles a lot, and he's articulate. … I'm only seeing the interest in him increase."
Ungar credited Luck with two other vital characteristics.
"The traits I've heard most often associated with Andrew Luck is that he's authentic and genuine," he said. "That's the Achilles' heel for most athletes; they're not seen as genuine."
Despite his positive attributes, Luck and his agent—his uncle Will Wilson—have their work cut out for them this year.
According to The Davie-Brown Index, an independent research database compiled by The Marketing Arm and used by companies and marketers globally, Luck ranks far behind the NFL's biggest stars in almost every category measured.
For instance, only 36 percent of U.S. consumers know who Luck is, compared with 45 percent who are aware of RGIII. Manning is known by 83 percent of U.S. consumers. Of more than 3,000 celebrities—including everyone from TV and movie stars, singers and athletes—Griffin rated No. 18 in terms of how much the American public aspires to be like him. Luck ranked No. 126 in that category.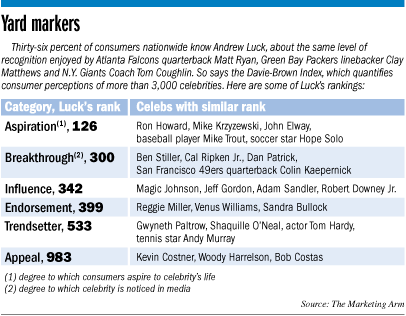 In terms of his endorsement power, Griffin ranked No. 43, while Luck was No. 399. And the power of Griffin's overall influence ranked him No. 23, while Luck ranked No. 342, according to the index. As a trendsetter, Griffin ranks No. 23; Luck ranks No. 553.
"[Luck] is still in some really good company and has comparable value to some really big stars," The Marketing Arm's David said. "And it's only going to get better for him."
Bigger than Peyton?
Though Luck hasn't been trumpeted by his sponsors the way Griffin or Manning have, that doesn't mean his cupboard is bare. He has deals with Nike and Gatorade and was recently featured in TV commercials alongside Snoop Dog for EA Sports video games. Oddly, that commercial was for a soccer game.
The EA Sports commercial demonstrated more than the fact that Luck is a huge soccer fan, DeGaris said.
"That EA Sports spot is brilliant," DeGaris said. "This is a guy you could see in your living room playing video games."
DeGaris said that commercial shows that Luck is "a regular guy. And that's not easy to do with star athletes."
"Andrew Luck is not Tom Brady or Derek Jeter," he added. "Those guys are matinee idols. Luck is a blue-collar-looking guy who's losing his hair. This is not a shortcoming. Luck is a regular guy in a glamorous position, and there's tremendous potential for someone like that."
David thinks Luck could make deals with a variety of companies, including those in electronics, entertainment, financial services, food and beverage, fitness, and health care.
Ungar, the former Indianapolis Motor Speedway chief of staff, knows Luck's agent, Wilson, from his days as head of sales and marketing for Champ Car from 2005 to 2006.
"Will is very capable and I think he has very deliberately positioned Andrew for bigger things in the future," Ungar said.
But how big? Peyton Manning big?
"Have you seen this guy?" Baker asked. "With his task-oriented mentality, quick wit and intelligence, any company could build a campaign around him. A really big campaign.
"There's no doubt in my mind, if he continues to progress on the field, that he has the potential to be every bit as big as Peyton Manning. If he wants to be."•
Please enable JavaScript to view this content.