Supporters say it will protect children and a society imperiled by moral decline.

Opponents say it's an assault on equality and civil rights that will hurt business.

Whatever one's take on a proposed 2014 referendum to amend Indiana's constitution to define marriage as between one man and one woman—on top of an existing ban on gay marriage—there's no debating the issue could be a bonanza for media outlets.

Television and radio stations have grown fond of income from "issue ads" in recent years on everything from right-to-work legislation to immigration reform.

"There is a lot of talk in the industry about a lot of issue money—gay marriage being one of them," said Bill Perkins, principal of Perkins Nichols Media, which buys air time for advertisers. Stations "love the issues stuff."

It's not hard to see why. Six issue-ads campaigns—from immigration reform to gun control—in the first half of this year reaped WTHR-TV Channel 13 $373,000, according to reports filed by the station.

The largest was $85,000 for 131 spots on WTHR from Mayors for Illegal Guns, a group funded in part by New York City Mayor Michael Bloomberg.

And unlike election ads that run only certain times of the year, issues ads can pop up any time. Not only that, but stations can charge higher rates on issues ads than they can to political candidates during an election cycle.

"I can tell you that issues [ads] is at the top of the rate card," said Sue Doron, media director at Miller Brooks and a longtime media buyer locally.

But the topic of gay marriage is one that could bring ad money cascading into the state like no other issue in recent years.

Groups supporting gay marriage from around the country are emboldened by recent victories in states such as Minnesota. Efforts there to create a constitutional ban on same-sex marriage backfired. Last May, Minnesota became the 12th state to change its laws to allow gay marriage, which is prohibited under Indiana law.

Groups in Minnesota spent $15 million to $18 million on messaging, estimated Rick Sutton, president of Indiana Equality Action, a group supporting gay marriage rights.

That's roughly how much Micah Clark, of the American Family Association of Indiana, anticipates opponents could spend on messaging to bring gay marriage to Indiana if the Legislature proceeds with a referendum to amend Indiana's constitution to ban gay marriage.

"We expect the other side to spend at least $15 million," Clark said. "I don't think Indiana will have seen anything like it before."

Like no other?

One reason the topic could generate media ads by the megaton is that gay rights proponents have been on a roll as far as court and legislative victories, and because Indiana is not known for statewide referendum as other states.

Exactly how much money will be showered on the state's broadcasters and other media outlets is unclear.

"It's hard to say. It depends on who the groups are that want to affect that change," Doron said. "You could have one group coming in or you could have 12 groups."

Lots of groups might be more likely.

"The momentum on the issue is national and it won't escape Indiana," said Equality Action's Sutton, which is affiliated with the national organization Equality Federation.

You can count Sutton's group in on any statewide referendum fight, he said.

"It will probably be the biggest statewide issue next year in Indiana," Sutton added.

Polls suggest Hoosiers are pretty evenly divided on the possibility of a constitutional amendment, suggesting both supporters and opponents might calculate that media buys here could pay off.

In a Howey Politics Indiana Poll conducted last April by Republican pollster Christine Matthews, for example, 50 percent supported a constitutional marriage amendment while 46 percent were opposed.

In June, the U.S. Supreme Court struck down a part of the federal Defense of Marriage Act that denied benefits and recognition to same-sex couples married in states that allow it.

The ruling did not force other states to recognize gay marriage, but Gov. Mike Pence and the Republican-controlled Indiana General Assembly have indicated they want to put the matter to a vote as part of a referendum proposed for 2014.

The General Assembly is likely to take the first step when it convenes in January toward a statewide referendum asking Hoosiers to constitutionally define marriage as the union of one man and one woman.

About 30 states have amended their constitutions in such a way. But groups such as the Human Rights Campaign have vowed to battle in these states and others that are considering similar constitutional amendments.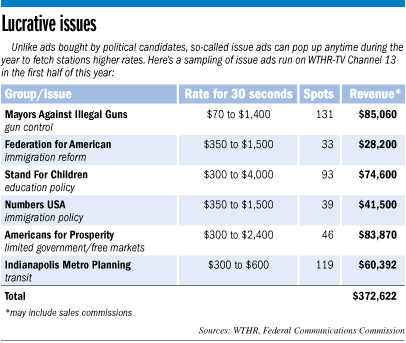 Their approach often has been to depict gay marriage as worthy of protection under civil rights laws in place to protect racial minorities. Gay-marriage proponents are already vowing to return to the U.S. Supreme Court as a way to get around state declarations.

An advertising edge?

Clark said it's likely that groups advocating same-sex marriage will have the funding advantage, saying wealthy liberal donors have been passionate about supporting their cause.

Many major corporations—including Columbus, Ind.-based Cummins Inc. and Indianapolis-based Eli Lilly and Co.—have also advocated for gay marriage rights. They claim it's harder to recruit employees to a state seen as discriminating against gay employees.

"It will be interesting to see if they actually give money" for messaging here, said Ryan McCann, director of public policy at Indiana Family Institute, which opposes gay marriage.

"A lot of corporate money is going to the other side," noted IFA's Clark.

The Indiana State Chamber of Commerce has said it doesn't intend to get involved in the issue. That could reduce the spending on issue ads on the topic—at least from within Indiana.

The Greater Indianapolis Chamber of Commerce has not taken a position, saying it doesn't anticipate taking up the issue until a new CEO is selected and settles in, said chamber spokeswoman Molly Deuberry.

If, indeed, the Legislature sets the wheels in motion for a statewide referendum, issue advertising might not focus as much on radio and TV buys as in past years.

Locally based Emmis Communications Corp., which owns the conservative news/talker WIBC-FM 93.1—a favorite for groups placing issue ads—in recent years created an advertising arm known as Incite, which uses various forms of media including social media, video, print, mobile and transit ads.

Clients have included the Friedman Foundation, for a statewide campaign on educational choice. Incite also has bulked up its capabilities through an anti-bullying campaign for the New York City Department of Health and Mental Hygiene.

Emmis spokeswoman Kate Snedeker said she wasn't aware of Incite's conducting any work for clients involving the gay marriage issue at this time.•