Indianapolis is losing manufacturing jobs at a steady, some would say alarming, rate.
And the Circle City is not alone, as many metro areas face serious challenges in retaining and attracting manufacturers.
Off-shore competition isn't the only concern. Large cities are also losing out to towns with abundant land, low living costs and taxes, and minimal government and union hassles.
"The market is telling us something," said University of Notre Dame economist Richard Sheehan.
The General Motors stamping plant, developers say, is simply too expensive for another manufacturer to come in and use. Most manufacturers prefer to build a facility where land is cheaper. (IBJ file photo)
But what? Economic developers can't agree, and building a consensus of what to do is even more difficult, Sheehan said.
In Indianapolis, one thing is certain. City leaders, despite the considerable obstacles, haven't given up on being a manufacturing hub.
"We continue to go after every type of manufacturer until they tell us, 'No, you don't have what we're looking for,'" said Deron Kintner, deputy mayor of economic development and work-force development.
The numbers are hard to ignore.
Marion County has lost nearly a third of its manufacturing jobs since 1990, leaving only 54,920 positions in 2012, according to the U.S. Bureau of Labor Statistics. In 1990, almost one in five jobs in the county was in manufacturing. A dozen years later, it was barely one in 10.
The concern goes beyond jobs to wages, said Carol Rogers, deputy director of Indiana University's Indiana Business Research Center.
Since 1990, Indianapolis manufacturing workers have made at least 15 percent more than the average for Marion County, according to the U.S. Bureau of Labor Statistics. In 2012, the $83,943 average for manufacturing wages and benefits was well over the $50,074 average.
Also, manufacturing wages have increased 43.2 percent since 1990, while wages for all Indianapolis workers have increased 37.1 percent, mostly because many lower-paying manufacturing jobs have moved off shore.
Indiana Manufacturing Association Vice President Brian Burton thinks there's "a misunderstanding of the value of manufacturing jobs in Indiana and central Indiana."
That misunderstanding, said Rogers, might have caused Indianapolis leaders in the 1990s and early 2000s to focus more on recruiting companies in health care, real estate and technology at the expense of retaining and building the area's manufacturing base.
Heavy losses
Indianapolis has suffered a string of big factory closings in recent years, including:
• Daimler Chrysler AG's west-side foundry in 2005, 881 jobs.
• Ford Motor Co.'s east-side steering plant in 2011, 900 jobs.
• Navistar International Corp.'s east-side castings facility in 2010, 700 jobs.
• General Motors Corp.'s downtown stamping plant in 2011, 700 jobs.
Plenty of smaller manufacturing losses also are dealing the economy a heavy blow and causing economic development officials to wonder if Indiana's biggest city can still be a major player in the sector.
The trend for manufacturers to move into outlying areas gained momentum in the 1980s and accelerated in the 1990s, and some economists say the trend hasn't let up due to the same factors of costs, land and unions.

Gildea
Some solutions focus on better marketing for big cities. Others on improved education and work-force training.
Mayor Greg Ballard is trying to come up with a battle plan, Kintner said, adding that Indianapolis' skilled work force, density of suppliers and support companies, manufacturing history, and strength of the city's name keep it competitive.
Still, Kintner added, "We know some companies are going to be a tough sell. We know there are certain reasons that push some manufacturers out of big cities."
Economists and economic development experts say cities can forget about companies like Honda and Toyota and their demands for huge, cheap chunks of land and lower taxes.
The median property tax rate in Marion County last year of $3.07 per $100 of assessed valuation, according to the Indiana Department of Local Government Finance, was almost double the level in Gibson County, where Toyota has its plant, and nearly triple the median rate in Decatur County, where Honda makes vehicles.
Indianapolis officials can also forget about trying to sell existing plants.
Not only is the cost of the land too high, but, "It's simply cheaper to build a new facility than it is to retrofit an existing plant," said Brian Gildea, executive director of Develop Indy, a unit of the Indianapolis Chamber of Commerce that works with the Mayor's Office to attract and retain jobs in Indianapolis.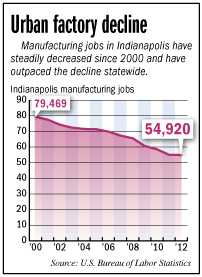 Indianapolis also would be wise not to waste time pursuing manufacturers looking to dodge unions and that primarily offer unskilled, lower-paying jobs, since those jobs can be sent overseas or to rural areas where people will work for less money.
Indy's strengths
Because of Indianapolis' manufacturing background and several training programs, the city has a huge advantage in numbers of machine operators, welders and other skilled laborers, Gildea said.
"Ideally, we'd like to go after higher-end manufacturing in advanced manufacturing, automotive and electronics, things like semi-conductors," Gildea said.
While Indianapolis might have difficulty landing huge manufacturers, the city can attract manufacturers that service and support the facilities.
"And we think our transportation infrastructure competes with anyone's," he said.
Indianapolis' efforts to sell its strengths to manufacturers is paying off, Gildea said. He noted that 548 manufacturing jobs at companies such as Polaris Labs LLC, SpaceKraft Inc., Hostess Brands LLC and Miller Pipeline LLC have been added since March.
Indianapolis must stay diversified, Sheehan said.
"You see what happens in cities like Detroit which are too heavy in one sector and that sector collapses," he said. "Cities of all sizes have to insulate themselves from that type of doomsday situation."
Gildea pointed to Pittsburgh, where officials diversified into financial services and other sectors when the steel industry started to falter more than a decade ago. He added that abandoning efforts to retain and attract manufacturers here "would leave a big hole in the local economy."•
Please enable JavaScript to view this content.